'Cats wrap up season with tie vs. Cards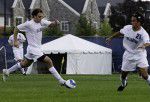 The men's soccer team completed its '07 regular season by earning a 1-1 tie with Big East foe Louisville this past Saturday. Prior to the match, both the Wildcats and Cardinals had qualified for the Big East Tournament; however, the matchup was critical as each team was jockeying for higher seeding. A victory by Villanova could have propelled the Wildcats to a No. 4 seed in the tournament, guaranteeing them at least one home game.
The teams played under tough conditions with 20 mph winds swirling around the Villanova West Campus Soccer Complex. Louisville was able to garner an early advantage with the wind to its back, and the Cardinals were able to generate six shots on goal. By the end of the half, Louisville earned a 10-3 advantage in shots, yet the Villanova defense combated the Cardinal offensive attack with a stalwart defense led by senior goaltender Jason Friel.
"A lot of our success has come because of Jason's play," Villanova Head Coach Larry Sullivan said. "This year he has done a tremendous job handling the pressure and staying composed. It's all about being a senior and playing smarter and more aggressively."
With neither team registering a first-half goal, the Wildcats broke the scoreless affair when freshman defender Chris Christian connected a bicycle kick that sailed past Louisville sophomore goaltender David Simolike to give the Wildcats a 1-0 lead.
"That goal was all about pure athleticism and great skill," Sullivan said. "If you watched another 1,000 games, you probably wouldn't see a goal like that."
The momentum the Wildcats captured with Christian's goal was only sustained temporarily as Louisville countered with a fury of offensive attacks. The Cardinals initially believed they had tied the game when Louisville freshman forward J.T. Murray connected on a goal, but it was disallowed due to a dead ball foul. Minutes later, junior Frank Jonke rocketed a shot past a diving Friel that ricocheted off the post.
Continuing to apply tremendous offensive pressure, Louisville was finally able to penetrate Villanova's defense, earning the game's equalizer with less than five minutes in regulation. Junior Ryan McDonald sent a long throw ball into the Villanova midfield where teammate junir Aaron Clapham was able to gather the feed. Clapman then sent a cross to Jonke, who lofted the ball over the outstretched hands of Friel to send the game to overtime.
This was the Wildcats' fourth consecutive overtime period. Although both teams generated a couple of scoring chances, neither team was able to deliver the decisive goal.
Overall, the Wildcats were pleased with their effort and performance.
"I thought we played pretty well given the fact that we have had to deal with a lot of nagging injuries, which has shortened our depth," Sullivan said. "Louisville is a tremendous team, and I thought we played very well during that overtime period. That overtime period was ours, and we almost came away with a victory, but one of our goals was called back because of an offside penalty."
As the sixth-seeded Wildcats prepared to face West Virginia, who earned the No. 3 seed in the Big East Tournament and is currently ranked No. 20 in the national poll, the team remains focused and confident at the task at hand.
"West Virginia is going to be a tough matchup," Sullivan said before the game. "They are big and athletic and very effective with set pieces. It all comes down to execution; when we execute, we win. Toward the end of the season our younger players have developed nicely and have handled the high pressure situations very well."