Out of Bounds: NBA teams caught lying in their slogans, Bud Selig doesn't seem to understand his job, and Week 13 NFL Picks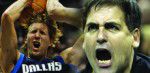 NBA: Where lying in team slogans happens
This space has been used in the past to urge kids to skip class (but it was to see the Phillies play in the postseason, and that might not happen again until 2021). This week, however, I've actually used something I learned in class to create the heart of Out of Bounds. My sports marketing class, led by the amazing Kristi Kopach, analyzed a number of NBA team slogans for the '07-'08 season. The results and reactions were marked by everything from mocking laughter to yawns, giving me the sense that many of these teams either weren't in touch with their true personalities, or they're really just kidding themselves. After doing a bit of research, I discovered that some rejected alternatives may have suited these teams much better and given their loyal fans a true sense of where they were heading this season.
CLEVELAND CAVALIERSActual: "All for one. One for all"Rejected: "Until we can clone LeBron, this is pretty much the best we can do."
DALLAS MAVERICKSActual: "It's all about the D."Rejected: "Mark Cuban plays better defense than at least half our roster."
MINNESOTA TIMBERWOLVESActual: "See what they can do."Rejected: "We really have no idea what any of these guyscan do."
NEW YORK KNICKSActual: "Experience Knicks basketball."Rejected: "Seriously, you've gotta see some of this crap to believe it.Even Spielberg couldn't make this stuff up."
WASHINGTON WIZARDSActual: "Ready to rule."Rejected: "We don't play enough defense to shut down some high school teams, but at least Gilbert got the cover of NBA Live."
SAN ANTONIO SPURSActual: "Team is everything."Rejected: "If we stay healthy, you're all screwed."
HOUSTON ROCKETSActual: "It's time."Rejected: "McGrady's got to get out of the first round one of theseyears, right?"
UTAH JAZZActual: "It's a pure adrenaline rush."Rejected: "Bring the family! Even your wife/wives will love it!"
ATLANTA HAWKSActual: "The highlight factory."Rejected: "Watch our team get posterized by the NBA's brightest stars."
This Bud's for you
Johan Santana has hit the trade market. If you haven't heard about it, go ahead a take a wild guess who's lining up to get him. Your answer, in the words of Michael Wilbon, would be "da Yanks" and "da Sawks." Surprised? I didn't think so.If you're not a fan of either of those teams and were upset to find out that baseball's two highest payrolls are the leading candidates to add Johan Santana to the list, you're not alone. Bud Selig says that he's tired of seeing the rich get richer. Man, if only he had the power to do something about it …Oh, wait. He's commissioner of Major League Baseball! It must have slipped his mind. If he remembers and has some free time on his hands, maybe he can consider instituting a salary cap, like the other major sports leagues to help control this.Money has been thrown around like crazy the last few years, and it's really about time that teams were saved from their own stupidity. Even the successful teams aren't immune to the "What the hell were they thinking?" signing (e.g. J.D. Drew and Kei Igawa).So, Bud, we beg you. If you ever get some power in baseball, think it over, would ya?
Lucky 7 NFL PicksWeek 13
Packers (+7) over COWBOYS: Jessica Simpson is only dating Tony Romo again because Brett turned her down. In other news, no one gets to see this game. Thanks, NFL.
BRONCOS (-3.5) over Raiders: As much as they might want to, there's no way the Broncos can kick to Hester this week.
Jets (Pick 'em) over DOLPHINS: Do you want to know what it's like to be a Jets' fan this year? This line sums it up. They're not favored against an 0-11 team that, in recent history, they've pretty much owned. I'm really just making this pick to make myself feel even worse when the Jets find a way to blow it and make me wonder why I even follow the NFL.
Chargers (-5) over CHIEFS: "You play to win the game. You don't just play to tie." That must have been Herm's rationale in blowing last week's game by going for it on fourth down instead of kicking the field goal. It's more likely that Herm can't even manage the timer on an Easy-Bake Oven.
NY Giants (-1.5) over BEARS: I'm taking Eli on the road late in the season. Lord have mercy.
Browns (+1.5) over CARDINALS: Vegas continues to love the Cards at home, even after they got "Dilfered" against the Niners. Derek Anderson continues his trek as the 2007 version of Drew Brees.
UPSET SPECIAL
49ers (+3) over PANTHERS: If Jeff George wants to make a comeback, he would probably get a look in Carolina. Enough said.Last Week: 3-4-0Season: 48-30-5
Real Men of Genius
This week, we salute you, Manu Ginobili. It's unfair to single you out, really, but you were the first person that came to mind while I witnessed the flop by Gavin Grant in Sunday's Old Spice Classic championship game between Villanova and NC State. Did Dante make contact? Yes. Should it have caused the spastic reaction Grant had while hoisting up a half-hearted attempt at a 3-pointer? Not at all. The flopping epidemic has been made popular in the NBA by a number of the league's international players, and now the disease may be spreading to the collegiate ranks. Ultimately, soccer is to blame, since many of the players during the last World Cup went down faster than (insert Paris Hilton joke here). New rule: any player found to be guilty of flopping should be immediately whistled for being a wuss and forced to shoot his free throws Granny-style for the remainder of the game.
YouTubin' Clip of the Week
See the video atyoutube.com/villanovansports
Villanova's shooting contest participants have, in more cases, ranged from bad to terrible the last few years. After seeing this clip, I thought maybe the dance team should be the ones shooting for a gas card or free meal plan. This Clippers dancer, just messing around before the actual contestant took his shot, swished the half-court shot … backwards.