NCAA Basketball: UNC team to beat in new season of madness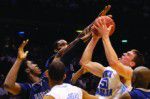 Last season saw the emergence of super-freshmen Kevin Durant and Greg Oden, who were top picks in last summer's NBA Draft. The new season will usher in new freshman sensations. Names like O.J. Mayo, Michael Beasley, Derrick Rose, and Kevin Love will soon be in the national spotlight, and the current crop of freshman may be hailed as the best in years. The freshmen class is only one of many topics experts are talking about going into the new season. There are many familiar teams returning to the top of the preseason rankings. However, by the end of the season there will be a few surprises as well as a few major disappointments. Now, let's take a look at the Top 15:
1. North CarolinaThe Tar Heels are led by Player-of-the-Year candidate Tyler Hansbrough and heady guards Ty Lawson and Wayne Ellington. Roy Williams and company are looking to avenge their Elite Eight overtime loss to Georgetown and will do so in the considerably weaker ACC.
2. UCLAWe do not hear much about Pac-10 schools here at Villanova, but the Bruins are ready to show the nation that they are returning to the glory days as a collegiate powerhouse. After losing Arron Afflalo to the NBA, juniors Darren Collison and Josh Shipp and freshman Love will try to power UCLA to another Final Four berth.
3. MemphisHead Coach John Calipari has done an amazing job building a program at Memphis through recruiting since his arrival. With quite possibly the most athletic starting five in the nation, Memphis should steamroll through Conference USA. Watch out for ultra-talented freshman Rose, who can really fill up a stat sheet. Swingmen Joey Dorsey and Chris Douglas-Roberts are the backbone of this team, and Memphis will go only as far as they take the team.
4. KansasHead Coach Bill Self has yet to lead the Jayhawks to the Final Four. With the amount of depth at each position this team boasts, a Final Four berth seems probable. A key factor will be guard Brandon Rush's comeback from ACL surgery.
5. LouisvilleRanked over Georgetown as the best team in the Big East, Louisville finally looks like a complete team. The emergence of Derrick Caracter and the steady play of Juan Palacios, David Padgett and Edgar Sosa are reasons for Rick Pitino to be smiling come March.
6. TennesseeHead Coach Bruce Pearl and his Volunteers finally look like the class of the SEC (sorry Florida). The Vols have the ultimate floor general in Chris Lofton. Their backcourt is stacked with Lofton, JaJuan Smith and Ramar Smith.
7. GeorgetownThe Hoyas' success will depend heavily on the leadership of Jonathan Wallace and DaJuan Summers. Center Roy Hibbert is still not completely developed and will need to find ways to stay out of foul trouble so that he can put up double-double numbers.
8. IndianaBehind Rose, frosh Hoosier guard Eric Gordon is the best newcomer in the nation. Gordon's arrival and D.J. White's decision to stay in school has put Indiana back in the forefront of Big 10 basketball and college hoops in general.9. Michigan StateTom Izzo's squad has disappointed in previous years, but it is hard to bet against them again while Drew Nietzel is still on the roster. Besides Nietzel, the Spartans have arguably the stingiest defense in the land.
10. DukeThe Blue Devils are the biggest wildcard among the top teams. They have the talent to play with anyone but are often upset by lesser teams. Frosh forward Kyle Singler along with guards Gerald Henderson and Greg Paulus will lead the inside-out scoring attack.
11. Washington StateWho? Yes, Washington State is ready to make a run at the national championship after a strong '06-'07 showing. The Cougars are led by athletic senior guard Derrick Low and Kyle Weaver, who can do pretty much anything on the court. Interestingly enough, Jay Wright coached both of these men over the summer while representing U.S.A. in the Pan-American games.
12. OregonThe Ducks' emergence is one of the main reasons the Pac 10 is being recognized as the best conference in the nation. Oregon has lost its leader and sharp-shooter Aaron Brooks, but the team still returns four double-digit scorers, including 5 foot-6-inch sniper guard Tajuan Porter.
13. TexasBesides the former Longhorn Kevin Durant and Ohio State Buckeye Greg Oden, the most valuable freshman last year was arguably Texas's D.J. Augustin. Villanova has seen the guard's brilliance when he dropped 25 points in a losing effort at the Wachovia Center last season. This dynamic guard plays next to another dynamic scorer in A.J. Abrams. The Longhorns do, however, have serious questions in the frontcourt.
14. MarquetteThis is a very generous ranking for the Golden Eagles who underachieved last season. One encouraging thing about this team is that they did not lose any players. With increased chemistry, better defense and a better Dominic James, Marquette will be atop the Big East.
15. SyracuseMany people are afraid to trust the 'Cuse anymore, but Jim Boeheim's crew is young and talented. Alongside returning juniors Eric Devendorf and Andy Rautins and sophomore Paul Harris, Syracuse welcomes two McDonald's All-American freshman: Johnny Flynn and Donte Green. Like 'Nova, if the Orange cannot get the job done this season, they are sure to be national-champion favorites next year.