Cross Country: Curtis takes fourth at NCAAs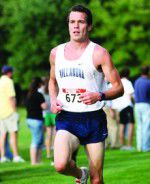 Heading to the '07 NCAA Division I cross country finals held on Indiana State University's LaVern Gibson Champions Cross Country Course, Villanova senior Bobby Curtis was a competitive threat with many experts placing him within the top five. Running a flawless race that featured an epic comeback during the backstretch of the race, Curtis flew past six runners during the remaining 1,000 meters of the 10K course to capture a fourth-place finish with a time of 29 minutes and 47 seconds.
During the race's early moments, Curtis darted out in front of the pack, capturing the lead split time at the 3K mark with a time of 8:56, one second ahead of eventual champion Liberty's Josh McDougal and runner-up Galen Rupp of Oregon. The early pace of the race, which was 30 seconds slower than anticipated, suited Curtis's running style.
"I don't like to run in traffic, and the pace allowed me to go out front without exerting too much energy," Curtis said. "I am most effective when I run out in the open and am able to stride feely."
About midway through the race, Rupp and Lopez separated themselves from the rest of the pack, running impressive 8K split times of 23:39. Unfortunately, Curtis experienced a difficult stretch during the middle of the race.
"I wasn't feeling that great during the middle of the race," Curtis said. "I just hung out in the middle of the pack, just trying to keep my form and pace."
However, Curtis's deft closing speed paid dividends, as he was able to find a resurgence of energy that allowed him to bypass six runners during the last 1,000 meters of the race.
"I am not primarily at 10K runner and probably run one of the best mile times, which enabled me to run faster than the others down the stretch," Curtis said. "I think my speed advantage definitely helped down the stretch. Because all the runners are going all out at the end, basically it comes down to who is the fastest."
Overall, Curtis was pleased with his performance, as his fourth-place showing eclipsed his previous best finish of 15th. Curtis' feat will forever be entrenched in Villanova's cross-country history, as his fourth-place finish ranks among the highest finishes ever by a Villanova cross-country runner. In addition to Curtis' remarkable performance, several of Curtis' teammates ran strong races, including freshman Ben Guest, who clocked in at 31:08 to place 102nd and help propel Villanova to a 25th-place finish with a total of 526 points. Senior Michael Kerrigan and sophomore Bobby Papazian also ran solid races with times of 31:25 and 31:47, respectively. Rounding out the final three was freshman Brian Long, senior Geoffrey Doody and freshman Keith Capecci, capping off a sound performance.
"I am very proud of our team as a whole," Villanova Head Coach Marcus O'Sullivan said in an interview with Villanova.com. "We are walking away from this with more experience and are ready to conquer whatever the future seasons bring."
Although Curtis' career as a Villanova runner is reaching its culmination, his best running days may still lie ahead. After college, Curtis hopes to fulfill his aspirations of running professionally and qualifying for the Olympics. Based on his times, Curtis should be able to qualify for the 2008 time trials with a shot at qualifying for the team. By 2012, Villanova students could be witnessing another great Villanova runner dawn an Olympic uniform. Curtis' greatest achievements may lie in the future, yet, for now, his fourth-place finish at the '07 NCAA Division I cross country finals serves as one of his defining moments and a benchmark for future Villanova runners.