Villanova analyzed by Endowment Institute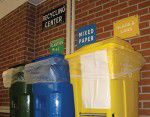 A new study of 200 colleges and universities revealed that Villanova strengths in environmental policies but weaknesses in endowment and shareholder categories.
The College Sustainability Report Card 2008 analyzed the 200 institutions in the United States and Canada with the largest endowments. This is the second time that the Sustainable Endowments Institute has issued such a report card but the first time that Villanova has been assessed.
The study focused on the application of environmentally friendly practices, or "green" initiatives, to various aspects of university function, including administration, climate change and energy, food and recycling, green building and transportation.
Two other categories included in the report were Endowment Transparency and Shareholder Engagement, both of which had a significantly higher percentage of failing grades.
The College Sustainability Report Card analyzed the information made available by each institution, including lists of investment holdings and proxy voting records, as well as the degree to which advisory committees and outside input on issues of investment were encouraged.
Villanova was awarded a "C" grade overall, along with 42 percent of the other institutions studied.
"I think anyone's reaction in this day and age is 'a C?' " Vice President for Administration and Finance Ken Valosky said. "I would say that a 'C' for first-time schools – and I think there were 94 first-time schools – puts us well above the median for those schools."
The University received a "B" in the administration category, largely because of the President's Climate Commitment signed by University President Rev. Peter Donohue, O.S.A. Villanova also has an Environmental Team made up of administrators, faculty, staff and students that focuses on recycling, conservation and green purchasing.
The many modifications pioneered by Dining Services over the past year contributed to the "B" that Villanova was awarded in the food and recycling category. The study commended universities, like Villanova, that purchase a large percentage of their food from local suppliers.
"Local produce is very important because the carbon footprint – the amount of energy needed to transport the product from where it is grown to where it is consumed – is substantially reduced," said Tim Dietzler, director of Dining Services.
Villanova also donates excess food to local shelters and composts all pre- and post-consumer food.
"We work with a redistributor called Philabundance throughout the school year," Dietzler said. "For instance, we decided we will not use sandwiches and salads from the day before, so Philabundance appropriately redistributes them to different institutions within the Philadelphia area that need the food."
The University's recycling program was commended by the study as well.
"We recycle over one million pounds of material a year," said Richard Laudenslager, recycling coordinator at Villanova. "That's about 25 percent of our waste at this point. One thing that will make it go up drastically is that we're implementing a composting program in the dining halls – right now it's just in Dougherty and Donahue. We'll have someone picking [food waste] up and taking it to a compost farm in Montgomery County."
The "C" grade in climate change and energy reflects Villanova's Energy Star purchasing policy and research into possibly implementing wind power as a future energy source.
Villanova's was awarded a "C" in the green building and transportation categories. The University's latest construction projects, the new College of Nursing and School of Law buildings, will both be certified by the Leadership in Energy and Environmental Design (LEED) rating system.
"It's really a guideline for building owners and building designers to follow to help really understand what it means to design a building that conserves energy and respects the environment that the building sits within," said John Cacciola, director of Engineering and Construction. "In each of our renovations, we always look for ways to conserve energy … We always try to evaluate and purchase the systems that do not waste energy and are typically the most energy-efficient."
Villanova also utilizes a fleet of electric-powered golf carts that are used by Facilities Management, Dining Services and Mail Services. Additionally, the Krapf shuttle buses that run on campus have switched to biodiesel fuel in support of environmental sustainability.
Investment priorities received a "C" as well. University policy views social responsibilities in keeping with the recommendations of the United States Conference of Catholic Bishops, which many are not aware includes directives about environmental sustainability, according to Valosky.
However, Villanova suffered in the endowment transparency and shareholder engagement categories, collecting grades of "F" and "D," respectively. Villanova does not publicize the investments it chooses to make with its $336 million endowment, but a resolution passed in October 2006 calls for the University Senate to examine expenditures on an annual basis, as well as more socially responsible considerations on the part of the Investment Committee of the Board of Trustees.
"To me, we are certainly much more transparent than what you would see here in terms of that grade," Valosky said. "For confidentiality reasons, we do not release these holdings from our investment managers because it's proprietary in nature to them. … Having said that, we're one of the few institutions where our investment committee, the board of trustees, actually has student and faculty representation, and they have full voting rights as trustees on this committee."
Villanova's overall grade is comparable to that of Boston College, College of the Holy Cross and University of Notre Dame, all of which also received "C" grades.
"As you look at our 'C' compared to the overlap schools, I think it does provide context for what our 'C' means," Valosky said. "If we had more fully explained what we already have in place in these categories, my hope is that the grade would be significantly better next year for these three categories and then pull up the overall grade of the institution."
"This is why I look forward to next year's survey," Valosky said. "We will sit down as a university team and put together a comprehensive response to each one of these categories, looking at all of the various criteria and making sure that this group fully understands what the initiatives are."