Men's Basketball: Clark drops 25 in season opener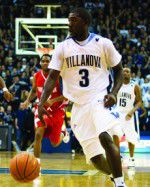 Following Villanova's season-opening win, Shane Clark said he felt like a new man.
It was Clark's career-high 25 points that is making much of 'Nova Nation enthusiastically agree.
The junior displayed a level of athleticism that knee injuries have prevented him from showing in his first two years at Villanova to lead the Wildcats (1-0) to an 86-64 win over the Stony Brook Seawolves (0-1) in the team's first regular-season game of the '07-'08 season.
"During the summer, I started feeling a lot stronger," Clark said. "I started doing a lot more running and lifting with my legs. I feel like I have a lot more explosion than I used to."
The 'Cats needed Clark's offense early to pull them ahead of Stony Brook, who had the score tied at 16-16 nine minutes into the contest. Villanova worked its way to the free-throw line numerous times to help establish a lead, going on a 16-6 run in the latter stages of the first half and building a margin that would not be challenged.
"It wasn't pretty, but that was a good start for us," Head Coach Jay Wright said. "We have a lot of work to do. We have to go through some experiences together."
Clark went 5-for-7 in the first half to lead Villanova, while Stony Brook guard Michael Tyree's 13 points helped keep the Seawolves close early.
"They have tough, gritty guards that controlled the tempo early, but we managed to gut it out," Wright said, "They have a real tough team."
The Wildcats continued to pull away after leading by 12 at the half. Malcolm Grant, in his Villanova debut, caught fire from behind the arc in the second half to help 'Nova cruise. The freshman from the Bronx went 4-for-5 from 3-point range and finished with 16 points. Every field goal he hit was a 3-pointer. Clark added a couple of 3s in the second half and also finished 4-for-5 from downtown for the Wildcats, who shot 50 percent (8-for-16) from deep for the game.
While 'Nova shot well from the outside, it was the Wildcats' play in the paint that really gave them an edge over Stony Brook. 'Nova outrebounded Stony Brook 35-19 and did what it needed to offensively, finishing well at the rim in a game where the team held a significant size advantage over its opponents.
"We've always needed to be a balanced team," Wright said. "We just haven't always been, but I think that it's going to be important for us to be, especially in the Big East."
Dante Cunningham finished with 16 points, most of which came inside the paint. But the junior also showed some range, connecting on a deep shot from the left wing just inside the 3-point arc, displaying a new facet to his game.
Sophomore Casiem Drummond made four of his seven field-goal attempts to finish with eight points, all of which came in the paint as he used his body to establish position against his defenders.
Scottie Reynolds, meanwhile, had a quietly solid evening for as well. On a night where Clark and Grant were scoring in bunches, Reynolds ran point and played distributor, dishing out a team-high six assists in addition to his 13 points.
Tyree finished with a team-high 18 points for Stony Brook, while Nick Carter and Mitchell Beauford finished with 13 points each. The Seawolves shot over 50 percent and hit nine 3s, raising a bit of a red flag for Wright.
"When they shoot 51 percent, we've got some work to do defensively, but you've got to give them some credit," Wright said.
Wright will be taking on his alma mater when the 'Cats play Bucknell on Sunday at 5 p.m. at the Pavilion.