Out of Bounds: The Villanova-Bloomsburg Basketball Game Blog, Midseason Fantasy Football Awards, and Week 10 Picks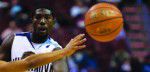 If a basketball game falls in the woods …
Most of 'Nova Nation did not see Villanova's exhibition romp over the Division II Bloomsburg Huskies on Tuesday night at the Wach. Not a single person was in the upper deck, and only the south side of the stands was open to students. Still, those who were there got to see a pretty exciting preview of this year's team and Will D. Cat "crankin' dat."
Here's my running "live blog" of the night's action:
First Half
20:00 – Scottie, Reggie, Corey Stokes, Dante and Casiem make up the starting five. Shane and Corey Fisher are both sitting this one out with injuries. Since no one knows anyone on Bloomsburg, I'll be mostly referring to them as celebrity look-a-likes.
19:28 – And Bloomsburg takes the lead! A chip shot puts the Huskies up 2-0.
19:06 – Reggie pulls up for short jumper and ties the game. I'm sure Bloomsburg's lead was nice while it lasted.
17:22 – Stokes pulls up for a 3 off of a steal and dish from Scottie. He had an open lane but pulled up with plenty of confidence and knocked it down with a sweet stroke.
16:50 – The 'Cats' 13-0 run ends.
15:46 – Block leads to a fast break, then the 'Cats hit the floor for a loose ball. You wouldn't think this was an exhibition by looking at the guys tonight.
13:57 – Student section counts down the shot clock early and forces Bloomsburg into a miss. Good to see 'Nova Nation is in midseason form.
11:14 – 'Nova's moving the ball nicely, good to see out of a young team. Even the big fella Casiem hits Antonio Pena inside for an and-one.
10:32 – Stokes follows up with another 3, this one from the left wing. He's on fire.
9:37 – Coach Wright applauds as Scottie picks up some more floor burn.
8:37 – Drummond muscles his way inside for a baby hook, very Shaq like.
7:58 – Scottie with a sweet finger roll as the Cats take a 40-10 lead.
6:16 – Nice heady play by Grant. Works look-away give-and-go with Reggie, and Redding buries the 3.
4:13 – Stokes sinks his fourth 3, this one from the right wing, giving 'Nova a 50-10 lead. If this big lead drives even a few fans away, I may start to feel lonely.
1:38 – Scottie pulls a hesitation spin move and blows past his defender. He's just toying with the defense. 'Nova Nation agrees and hits Bloomsburg with a "You Can't Guard Him." I'll take blatantly obvious statements for $300, Alex.
0:00 – 'Cats end the half up 58-15 and get a golf clap on the way off the floor. Bloomsburg has to be worried that there aren't many witnesses for this murder.
Second Half
16:19 – Dante Cunningham proves there's still a crowd here by throwing down a big-time one-handed slam off a fast break feed from Scottie.
15:45 – 'Cats are up 66-20 and still diving to the floor. This is going to be a fun year.
15:26 – The most impressive thing about Bloomsburg to this point has to be Adon El's beard. He could seriously put an eye out with that thing.
13:08 – Grant hits the floor hard again, like he has all night competing for every loose ball. If there's not yet a Malcolm Grant Fan Club, I'd like to nominate myself for president. He's vocal, energetic, smart, plays hard and looks a little like Chris Rock.
8:45 – Pena's been a nice presence inside the paint, scoring, rebounding and competing for loose balls.
7:02 – Here are my other various Bloomsburg observations: Jason Green looks like a smaller version of Renaldo Balkman, Coach John Sanow looks like Moby and 5-foot-7 Drew Jerry (more like 5-foot-4) just has to be called "feisty" because of how small he is. It's a rule.
4:27 – With the game in the bag, the fans can enjoy one of the greatest Soulja Boy dances the world has ever seen, brought to you by Will D. Cat.
0:00 – 'Nova wins and signs autographs for the kids. Student section member Christopher Bellotti (who's written about the student section on multiple occasions) rated tonight's performance, while factoring in "petite-sized" fan base an 8 out of 10. Good start, 'Nova Nation.
MIDSEASON NFL FANTASY AWARDS
MVP
Tom Brady
All due respect to Adrian Peterson (more on him later), but Brady has seriously been out of his mind with Moss, Welker and Stallworth in the fold. Brady has thrown 33 touchdown passes versus just four picks all season.
Rookie of the Century
Adrian Peterson
Reggie who? AP has been off the charts, and could be the best running back in the game today. Just eight games into his career, Peterson already owns the NFL single-game rushing record (296 yards) and the top two individual rushing performances in Minnesota history (in half a season!) He also has already topped 1,000 yards this year and leads the field by close to 300 yards.
The Assassin Award
T.J. Houshmandzadeh
T.J. doesn't get as much pub as his teammate Ocho Cinco, but he quietly has more TD receptions than anyone in the league not named Randy Moss.
Boulevard of Broken Backs
Shaun Alexander, Cedric Benson, Frank Gore, Reggie Bush, Steven Jackson, Laurence Maroney, Larry Johnson
If you own them, you know why.
Lucky 7 NFL PicksWeek 10
Bills (-3) over DOLPHINS: Tom Brady said the Pats' goal is still to win the AFC East. Does this mean they're actually worried about the Bills?
Bears (-3) over RAIDERS: The Raiders may sabotage themselves just to have an excuse never to start Daunte Culpepper or Josh McCown ever again. Cowboys (-1) over GIANTS: This may be the NFC's version of Colts-Pats right now. OK, that's a really big stretch, but nonetheless, this should be a really entertaining game. Eli had better have left what happened in London across the pond.
Colts (-3.5) over CHARGERS: Peyton Manning is going to be upset. Marvin Harrison is expected to play. Norv Turner is still the head coach. At the end of the week, the Chargers may be pining for facing Adrian Peterson.
REDSKINS (-3) over Eagles: Times are tough for the Birds, but the NFC East games are usually dogfights. If the Eagles lose, when does the "start Kevin Kolb" countdown start? Has it already?
SEAHAWKS (-10) over 49ers: Showing the Niners on a national television channel of Liechtenstein would be too much exposure, let alone on American national television. If Seattle blows this one, the NFC West really shouldn't get a playoff spot this year.
UPSET SPECIAL
Lions (+1) over CARDINALS: Is it unfair to call a 6-2 team beating a 3-5 team an upset? It absolutely is, but don't blame me; blame Vegas for this line.Last Week: 6-1-0Season: 38-22-3
Real Men of Genius
This week, we salute you, New England Patriots. Sure, you're 9-0 and on top of the sports galaxy right now, but wasn't it a little unnecessary to accuse the Colts of cheating during this week's matchup? If anyone would know cheating, it's Bill Belichick's gang, but seriously, trying to drag the Colts down to your level isn't going to hide what you did (though if you go 16-0 and win the Super Bowl, it probably will, so keep working on that). For those who didn't hear, the Pats thought that the Colts were illegally piping in extra crowd noise over the sound system at the RCA Dome during the Patriots 24-20 win in the "Game of the Millenium" on Sunday. The Colts begged to differ and, after an investigation, so did the NFL. Either the Colts didn't cheat or their audio guys are just much more covert and stealthy than the wealth of cinematography-related employees the Pats used to employ.
YouTubin' Clip of the Week
See the video online at youtube.com/villanovansports
Basketball season officially tips off tomorrow, so you're probably already pumped up and ready to chant "Let's Go 'Nova" 'til your hair hurts, but in case you need a little extra motivation, check out the best of the series of Villanova highlight videos commemorating our great teams of the recent past. "Nardi … for three and the lead!" still gives me chills.