Out of Bounds: New TV series to combat the writers strike, Marbury threatens to break up the band and Week 11 NFL Picks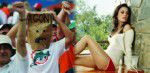 All new series, coming to a TV near you
The TV writers' strike is threatening to put everything from sitcoms to late-night talk shows on hiatus for a long time, possibly even until 2008. Now the strike is making its way to Broadway (see page M13 in the entertainment section … shameless plug). While many sitcoms and dramas are still on the air, they're running out of episodes and midseason favorites like "24" and "Lost" may not make it to air at all this year.
What will America do with all this time with so many forms of entertainment not around? Personally, I can't even picture what a college campus would look like without all the Thursday night "Grey's Anatomy" parties and Sunday night "60 Minutes" fiestas (it's no secret that college girls love Andy Rooney).
I've taken on the task of finding replacements for these series to fill the gap until the writers are no longer on strike, each with its own sports twist. Now, as a writer, I feel bad crossing the picket lines and writing pitches for these new series, but I don't think my career as a screenwriter is going anywhere. My best idea for a sitcom was an entire series centered around the cavemen from the Geico commercials. Something like that would never get on TV. However, I'm feeling good about the chances for some of these new series to make it (I mean, they can't be worse than some of the stuff on The CW, can they?).
"Cincinnati Prison Break" (Mondays, 8 p.m., FOX): Mired in last place in the AFC North with a record of 3-6, members of the Bengals decide to strike back. An elite group of players and coaches forms to break half of the team's roster out of incarceration. Starring: Carson Palmer and Marvin Lewis, with Chad Johnson as "Agent Ocho Cinco" and Roger Goodell as "The Warden."
"Torre" (Thursdays, 8 p.m., NBC): Joey Tribbiani had his spin-off, "Joey" after the 10-year run of "Friends." While Matt LeBlanc's series lasted less than two years, "Torre" has already been promised at least three years on air with Joe Torre's new contract with the Los Angeles Dodgers. After 12 years in New York, Joe has heads to La-La Land with his buddies to try to resurrect a struggling franchise. Starring: Joe Torre, Don Mattingly, Larry Bowa and Jeff Kent as "The Angry Neighbor."
"CSI: BALCO" (Thursdays, 9 p.m., CBS): A new crime drama series about federal investigators who try to bring down baseball performance-enhancing drug scandals. Starring: Bud Selig, George Mitchell and Victor Conte with Barry Bonds as "The Prime Suspect" and Jason Giambi as "Juice."
"The O … and 16" (Thursdays, 9 p.m., FOX): The Miami Dolphins struggle with trying to avoid being the first team to go 0-16, while their division rivals, the New England Patriots, threaten to dwarf the legacy of the undefeated 1972 Dolphins. Starring: Cam Cameron, Dan Marino and Cleo Lemon with Tom Brady as "Mr. Perfect" and Don Shula as "That Old Guy."
"The A-Scheme" (Tuesdays, 8 p.m., NBC): A superstar agent attempts to negotiate the first trillion dollar player contract. Meanwhile, 12 Major League Baseball franchises compete to win the grand prize: a Hall-of-Famer on-pace to break the all-time home run record, but can't seem to win the approval of any fans. Starring: Scott Boras, Alex Rodriguez, Arte Moreno and Mr. T as "B. A. Baracus."
"Eight is Enough" (Wednesdays, 8:30 p.m, ABC): A remake of a classic sitcom in which New York Knicks ownership tries to convince their president of basketball operations that he has too many shooting guards on his roster. Starring: Isiah Thomas, James Dolan, Jamal Crawford, Quentin Richardson, Nate Robinson, Mardy Collins, Allan Houston, Jalen Rose and Penny Hardaway with Stephon Marbury as "That Horrible Contract" and Steve Francis "That Awful Trade."
"Desperate Television Executives" (Sundays, 9 p.m., ABC): Fearing a deadfully boring 2007 NBA Finals pitting the San Antonio Spurs against the Detroit Pistons, the NBA, ABC and ESPN conspire to fix the Eastern Conference Finals to get a budding megastar onto the game's biggest stage. Starring: Tim Duncan, David Stern and Chauncey Billups with Rasheed Wallace as "The Man Who Knew Too Much" and LeBron James as "The Chosen One."
"Three and a Half Men" (Mondays, 9 p.m., CBS): Watch as an Angels pitcher attempts to slim down to the size one normally-sized professional athlete. Starring: Bartolo Colon, Dr. Phil, Richard Simmons and Arnold Schwarzenegger as "The Governator."
Don't tell me the band's breaking up!
Amid rumors of his role being reduced with the team and his contract potentially being bought out, Stephon Marbury didn't show up to practice with the New York Knicks on Tuesday. What does this mean for NBA fans?
The Knicks may finally be on the right track. Could it be that something has finally clicked in New York?
Maybe they're finally realizing that after years of futility that Marbury isn't the point guard to lead a contender? Maybe they suddenly get it that, after being a joke for several years, Jerome James is nothing more than a bad signing and a waste of space. Maybe, just maybe, they're starting to figure out that to become legit, they've got to (gulp) dump Isiah Thomas.Well, I won't give the Knicks too much credit until credit is due. I mean, Thomas, along with Charles and James Dolan, have much more resembled a famous comedy trio than a competent group of basketball executives.
The question is: if Marbury is finally let go, which team is crazy enough to sign a man who has been an albatross to every organization he's been with?Excuse me, Stephon? Billy King's on the phone.
Lucky 7 NFL PicksWeek 11
JAGUARS (-1.5) over Chargers: Somehow, the Jags keep getting it done. They'll be a real interesting team to watch down the stretch with Garrard back.
COLTS (-14.5) over Chiefs: Do you think Brodie Croyle is excited about the prospect of facing the Colts' defense? Neither do I. Plus, Peyton can't possibly pull the pick-six again.
VIKINGS (-5.5) over Raiders: Yes, this is with Adrian Peterson out, but the Raiders really stink. Plus, the Vikings are a pretty good home team. Ask the Chargers.
Browns (-3.5) over RAVENS: It's gotten so bad in Baltimore that Ravens fans were cheering for Kyle Boller, of all people, last Sunday. This week, they'll probably be rooting for the lights in the stadium to stop working properly.
EAGLES (-10) over Dolphins: Try not to get too upset, Dolphins fans. According to reports, the Cleo Lemon era might be over in Miami. If this memorable era in NFL history really does end this week, I'll be sure to look out for YouTube tributes to post next issue.
PACKERS (-10.5) over Panthers: Christmas commercials are on TV and Brett Favre's boys are still relevant in the playoff chase. Not only that, but we should get playoff football at Lambeau Field this year. Some things just feel right, don't they?
UPSET SPECIAL
BILLS (+16.5) over Patriots: I'm really tempting fate here. I'm just going to bank on the gauntlet that is Ralph Wilson Stadium bringing the Patriots down to earth.
Last Week: 3-3-1Season: 41-25-4
Real Men of Genius
This week, we salute you, Chicago Bulls. Sure, the offseason was rife with Kobe trade rumors, but everything could have been put to rest with the beginning of the season. Now, after a 1-5 start has put you in the basement of the Eastern Conference, your fans are chanting "KO-BE!" at the games. Who can blame them? Losing to the Sixers at home by 11 points is not a good way to treat the fans in the season's home opener. The slow start, which has also included losses to the Nets, Clippers, Bucks and Raptors, was the only spark needed to keep the Kobe Bryant talk distracting your players and coaches for a long time. The only things that can stop the bleeding are a big winning streak or, of course, a slow down by current conference front runners, the Boston Celtics. But don't count too much on the latter; Boston sports teams aren't allowed to lose games anymore, or at least it seems that way.
YouTubin'Clip of the Week
See the video atyoutube.com/villanovansportsWhen you go to a football game, it's easy to realize that the teams are highly competitive, but what about the bands? Cal's marching band takes a step past the usual pep band tunes in this clip from two weeks ago. The band compiled a mix of some of the most classic video game themes, including songs from Mario, Zelda, Pokemon and Tetris.