Men's Basketball: Penn no match for 'Nova in romp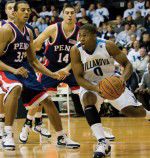 Michael Kach had one of the seemingly few easy shot attempts of the University of Pennsylvania's first half against Villanova on Saturday night, with no more than a couple inches of empty space separating his fingertips from the rim and a simple finger roll. When Dante Cunningham came out of nowhere to smack the ball out of Kach's right hand and direct it closer to press row than it had been to the rim, it sounded like The Pavilion was hosting the And 1 Mix Tape Tour instead of a classic, grind-it-out Big 5 game.
It wasn't just Cunningham that turned the first half of Villanova's (5-1) commanding 87-61 win over Penn (2-7) into an exhibition that rocked 'Nova Nation. Sweet crossover dribbles by Corey Fisher, diving steals by Scottie Reynolds and an emphatic two-hand jam by Antonio Peña were just some of the highlight-worthy moments that ran the youthful Quakers, who started three freshmen, out of the building early.
"They're a lot younger than us," Villanova Head Coach Jay Wright said. "We're young, but they're real young. When they grow up, those young kids are going to be good. But when you come to an environment like this and we start like that, I think it's tough."
The win marked the 12th straight for Villanova in Big 5 play, set by the Quakers from 1972-75.
Reynolds got the action going right from the opening tip, scoring the Wildcats' first seven points en route to his team-high 21. It didn't take long for his teammates to get into the act, as almost the entire first half served as a vehicle for multiple Wildcats to make miniature scoring runs. Drummond scored two straight buckets, followed by a five consecutive points by Peña, including a thunderous dunk that got the Pavilion crowd really going. Fisher caught fire just minutes later, scoring eight straight, including two 3 pointers. A jumper by Fisher put the Wildcats up 28-4 at the 12:25 mark in the first half. The Quakers finally cracked double digits at the 10:53 mark, but the Wildcats' lead continued to grow larger, getting up to 31 points at the end of the half.
Villanova shot a red-hot 60 percent (18-for-30) from the field in the first half, compared to a dismal 26 percent (6-for-23) for Penn. The Wildcats also hit six threes in the opening half, five of which coming from its budding backcourt stars Reynolds and Fisher. The duo combined to outscore the Quakers 27-22 by themselves by the end of the first half.
"We didn't exactly come into this game with a lot of confidence in ourselves," Penn Head Coach Glen Miller said following his team's 87-61 loss. "We're trying to build that confidence, but it was a tough stage to do that on. I think to some degree we were a little intimidated to start the game, but you can't dig yourself a hole like that."
Penn's freshmen felt the heat of playing their first Big 5 game on the road against a nationally ranked team.
"We came out, and we had some jitters in the first half," freshman guard Harrison Gaines said. "The pressure really got to us at the start. Overall, we just couldn't get our offense going."
Even Tyler Bernardini, who scored 21 points and hit four 3s in his Big 5 debut, hinted that he and his team weren't quite ready for the challenge.
"The anticipation was real high; we were excited for it," Bernardini said. "The atmosphere was everything we expected, with a packed house and a loud crowd, and we had those pre-game nerves. But I'm kind of glad that the first game is over. We got it out of the way, and now we can go into the second game a little calmer and start a whole lot better than we did in this game."
Fisher finished with 13 points, all in the first half and four steals. Pena, seeing increased action in the absence of an injured Shane Clark, scored 12 points and grabbed a team-high eight rebounds. Clark was said to be day-to-day while nursing a hip flexor and could be ready for LSU tonight, but Peña filled in more than admirably in the junior's absence.
The fact that Wright himself is leading a very young team wasn't lost on him after the game, despite his freshmen looking like a group of gritty veterans against Penn.
"We're going to go through a lot this year," Wright said. "We know what we're in for. Glen and I talked about that before the game. But it's fun and that's coaching."
'Nova will be playing on a "neutral" court tonight when it takes on LSU at the Wachovia Center in first ever Big East-SEC Invitational.