Men's Basketball Recap: Grant's spark lifts 'Cats to stunner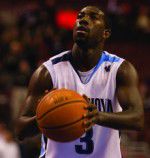 Villanova was staring its second loss in the face after 34 minutes of playing flat and letting LSU have its way in the final game of the first-ever Big East-SEC Invitational. Down 21 with under nine minutes to go and facing a 15-point deficit with just over three minutes to go, a number of fans left the game before its conclusion, thinking the game was over.
Malcolm Grant thought otherwise.
The freshman, who has already garnered the nickname "Microwave," came off the bench to score all of his team-high 18 points in the final six-and-a-half minutes to lead the Wildcats to a shocking 68-67 win at the Wachovia Center.
"If you had seen him play before Villanova, you knew he was capable, so there was no doubt that once he got it going we were going to stick with him," Villanova Head Coach Jay Wright said. "He makes plays. He is an incredible offensive player."
Grant, who scored 18 of the team's final 27 points and made numerous other key plays, seemed more relieved than excited following the exhilarating comeback.
"I'm just happy we got a win," Grant said. "Like coach said, we got lucky. I hit some shots but I wasn't doing it by myself. It was everybody. Dante [Cunningham] did a great job rebounding, and we played defense. We didn't play the way coach wanted us to, but we played hard enough to get a win."
Despite the furious comeback in the game's final minutes, Villanova still found itself trailing with a minute to go. Grant drove the ball with just seconds left on the clock and missed a heavily contested runner in the lane. Cunningham crashed the boards from the weak side and hit a putback layup attempt with six seconds left to win the game.
"Never in 32 years have I had a team do that," LSU Head Coach John Brady said. "Jay Wright said we deserved to win, but I never believe that any team that loses deserves to win. We committed fouls 40 feet from the goal and fouled 3-point shooters. We didn't make free throws when we needed to. It was extremely disappointing. We had the game in our hands to win it and didn't do the things we needed and that's why we lost."
Villanova was victorious despite shooting just 33.9 percent. Cunningham finished with a double-double, scoring 16 points and grabbing 12 rebounds. Casiem Drummond scored all 10 of his points in the first half to help keep 'Nova afloat through its early game struggles. The Wildcats overcame 14 blocks by the Tigers, who controlled the paint throughout most of the contest, to come away with the win.
The 'Cats had just two days off before traveling into Philadelphia to play Temple on Sunday night. 'Nova won an offensive shootout 101-93 over the Owls, upping its record to 7-1 on the season. The victory gave Villanova its record-breaking 13th consecutive win against its Philadelphia rivals, topping the University of Pennsylvania's mark. Villanova's last Big 5 loss came at the hands of Temple during the '04-'05 season.
Both teams shot over 50 percent in a pretty offensive display, something that has been atypical in the Big 5's hotly-contested rivalry series.
Temple got out to an early advantage on its home court, leading throughout most of the early part of the first half. Corey Fisher led Villanova's first-half attack, scoring the team's first 10 points of the game. The lead changed hands a number of times before Corey Stokes' 3-pointer with 16 seconds left in the first half put the Wildcats ahead for good.
'Nova got off to a hot start after halftime and never looked back. Villanova outscored the Owls 41-21 over the first 14 minutes of the half, building its lead to as much as 24 points. Both teams traded buckets at an incredible pace, shooting a combined 58 percent for the half.
Scottie Reynolds bounced back from a poor shooting performance against LSU to have a phenomenal game on Sunday, scoring a game-high 27 points and racking up nine assists, six rebounds and three steals. The guard shot 8-for-12 from the field and led the 'Cats, who went 11-for-20 from 3-point range, with four 3-pointers.
Shane Clark, who has battled a recent hip injury, scored 17 points on 5-of-10 shooting. Antonio Peña had a near-perfect shooting night, hitting 7-of-8 shots from the field for a career-high 17 points. Fisher used his hot start to chip in 16 points for the 'Cats.
Villanova takes on Hartford tomorrow night at the Pavilion.