A brief overview of 2008 Republican candidates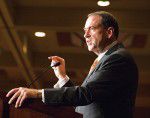 The list of 2008 Republican presidential candidates contains a wealth of political experience and national recognition. Unlike the Democratic primary, which is believed to fall to one of three candidates, the Republican race is more wide-open. Former New York City Mayor Rudolph "Rudy" Giuliani, Arizona Senator John McCain, former Massachusetts Governor Mitt Romney and former Arkansas Governor Mike Huckabee are just a handful of candidates competing for the Republican primary. There is no apparent frontrunner. The candidate elected president will be elected based on his or her ability to diplomatically end the War in Iraq, as well as improve domestic issues.
Rudy Giuliani
Although he has less political experience, Giuliani is a national favorite because of his 9/11 leadership. Giuliani is a graduate of Manhattan College and New York University Law School. He later became the United States Attorney for the Southern District of New York, where he established a reputation for taking down crime. He served as a United States Attorney from 1981 to 1989. Giuliani is best known for his service as mayor of New York from 1994 to 2001, where he cut overall crime by 56 percent, making New York City the safest large city in the United States, according to the FBI.
Giuliani stresses the importance of maintaining an offensive strategy for the War in Iraq and not setting a timetable for troop withdrawal of troops. Giuliani defines success in Iraq by saying, "Success in Iraq is a stable Iraq that will act as an ally for us in the terrorist war against us." He believes that Iraq is only a stepping-stone for the War on Terror. Giuliani wants to focus on making Iraq an ally in order to reduce the threat of terrorism.
He plans to carry his crime-fighting success in New York to the national level, making America safer while also reducing taxes.
"I would do these things for America because I know they work," he wrote on his Web site. "I know that reducing taxes creates more revenue."
John McCain
Arizona Senator McCain may be one of the most recognizable names on the ballot based on his decorated military history and his role in the 2000 primary. A graduate of the United States Naval Academy, McCain served in the U.S. Navy from 1958-1981. He was awarded the Silver Star, Legion of Merit, Purple Heart and Distinguished Flying Cross. McCain was also a prisoner of war from 1967-'73. Following his service in the Navy he was elected to the Senate in 1987.
McCain believes additional troops are needed in Iraq in order to achieve long-term success.
"More troops are necessary to clear and hold insurgent strongholds; to provide security for rebuilding local institutions and economies; to halt sectarian violence in Baghdad and disarm Sunni and Shia militias; to dismantle al Qaeda; to train the Iraqi Army; and to embed American personnel in Iraqi police units," as stated on McCain's Web site.
McCain also stresses the importance of building a capable Iraqi army. McCain proposes quicker training of Iraqi soldiers so they can secure their own country.
"Ultimately, Iraq's future lies in the hands of its people, government, and armed forces, and strengthening them is an essential requirement for bringing U.S. troops home from Iraq," McCain wrote on his Web site.
As a result of his military background, McCain is also concerned with the treatment of veterans. McCain has been a primary advocate for the disabled veterans.
The United States' treatment of its veterans has been a highly criticized matter over the past several years. Because of his decorated military history, McCain is someone Congress looks to when it comes to veteran issues, conflict and war.
Mitt Romney
Romney has recently been listed as a favorite to win the Republican primary. Romney received his bachelor's degree from Brigham Young University in 1971 and later continued his education at Harvard University, receiving degrees from its business and law schools. He is fairly new to the political arena, beginning his service in 2003 as governor of Massachusetts.
Based on Romney's Web site, he has not formulated a plan for ending the war in Iraq; rather he has focused on Americans' safety.
"Keeping Americans safe at home and abroad, confronting radical Jihad, [and] combating nuclear terrorism," as stated on his Web site.
Romney is pushing for a stronger military and national defense force, saying, "We need to increase our investment in national defense. This means adding at least 100,000 troops and making a long-overdue investment in equipment, armament, weapons systems and strategic defense."
Romney focuses on the heartstrings of Americans, comparing this war on terrorism and "jihadism," which Romney defines as "violent, radical, fundamental Islam," to fascism and Soviet communism.
In order to combat "jihadism" Romney seeks to create a "Special Partnership Force" that will focus on "all elements of national power under a new force with leadership drawn from a core group of our Army Special Forces trained to work with civilian governments and intelligence personnel."
This SPF unit will focus on winning American support in local countries, isolating and eliminating threats in those countries and coordinating a partnership with local governments on an intelligence-based system that will seek to strike out "sanctuaries of Jihadist groups," as claimed on his Web site.
Romney also seeks to diminish America's dependence on foreign oil.
In order to combat this issue Romney plans to make it a top priority if elected; investing in energy-storage research, energy efficiency and promotion of nuclear energy to ensure that nuclear power continues to provide a cleaner and reliable energy option.
Mike Huckabee
Former Arkansas Governor Mike Huckabee is the most religiously affiliated of the Republican candidates. Huckabee is a graduate of Ouachita Baptist University, completing his bachelor's degree in two-and-a-half years before receiving his master's degree from the Southwestern Baptist Theological Seminary. Before entering politics Huckabee was a pastor for several Southern Baptist churches in Arkansas. Huckabee then became Arkansas's lieutenant governor in 1993 and later served as governor from 1996 to 2007.
In Iraq, Huckabee is "focused on winning," saying withdrawal from Iraq would have more "serious strategic consequences for us and horrific humanitarian consequences for the Iraqis" on his Web site.
Huckabee believes that leaving would lead to a religious battle that would lead to "a refugee crisis."
Huckabee also proposes the "Secure America Plan," which focuses on immigration enforcement and border security. The main points of Huckabee's plan are ensuring that surveillance cameras are installed along the border by 2010, increasing the number of border patrol agents, imposing steep fines on employers of illegal immigrants, instituting mandatory citizenship verification as a part of the hiring process and promote the passage of FairTax, which would create a disincentive for immigrants to cross the border.
Huckabee plans to eliminate the visa lottery system, which allows entry into the United States for brothers and sisters of U.S. citizens. He hopes to "increase visas for high-skilled and highly-educated applicants" as well as "expedite processing for those who serve honorably in the U.S. Armed Forces," as stated on his Web site.