The advantage of 'going green'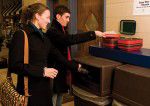 In an effort to cut down on non-renewable resources, Villanova Dining Services is now offering NatureWorks products in the Italian Kitchen and Corner Grille.
The products include disposable utensils, carry-out containers, napkins and even trash can liners that are 100 percent compostable, which notably reduces the amount of environmentally hazardous materials exiting the dining hall on a daily basis.
According to Director of Dining Services Timothy Dietzler, this idea has been in the works for quite some time.
"I have a lot of contacts with other colleges that have begun this process, such as UCLA-Berkeley and Stanford," Dietzler said. "Our main goal is to dispose of trash in an environmentally sound way."
This "going green" campaign has generated a spark of interest among Villanova students – specifically those already engaged in the promotion of environmental appreciation and sustainable resources.
Erin Brault, president of the Ecological Society of Villanova, believes that this initiative taken by Dining Services should be built upon and expanded to other areas on campus.
"Just by using reusable products or the new compostable NatureWorks products, Villanova can significantly reduce our waste and the fossil fuel consumption that goes into generating take-out packaging products," said Brault. "I think down the road it would be great to eventually expand the use of compostable products throughout campus."
According to Dining Services' Web site, the Italian Kitchen and Corner Grille usually generates 100 bags of trash per day. Through using the new NatureWorks products, this number can be cut down to merely 10 bags.
Derived solely from renewable resources, NatureWorks uses ingredients such as corn and bamboo to create their products, which supports their mission to produce and manufacture goods in a more sustainable fashion.
"Many compost products are currently being produced in China," said Dietzler. "However, there are many problems with relying on these production plants because they can be unregulated, which is why we looked to other sources to provide these compostable products."
According to Dietzler, the entire basis of the program lies in the education of students and faculty members on source reduction and environmentally sound practices of trash disposal.
It has also been pointed out that student and faculty participation and encouragement is key in continuing and expanding this process.
"We are going to be looking for feedback from students in an effort to continue expanding this project," Dietzler said. "We hope to introduce it to other areas on campus in the future."
A major problem to be taken into consideration when implementing a program such as this involves a higher cost for materials used to replace the non-compostable products.
"The products that we are now using are very expensive compared to Styrofoam," Dietzler said. "It comes at a good price, but it isn't necessarily good for the environment."
When compared to other endeavors to reduce strains on the environment that have been implemented at Villanova in the past, the usage of NatureWorks products is becoming another great success.
Laura Conciatori, president of the Villanova Environmental Group, believes that it is now up to the community to participate in this program if it wants to expand.
"Getting rid of disposable food containers will help decrease our waste production," Conciatori points out. "Students can even take part in the effort by cutting down on other disposables they use too, like using a Nalgene water bottle instead of a regular plastic one."
For those students interested in becoming more involved in source renewal, both the Villanova Environmental Group and the Ecological Society of Villanova offer a variety of events and trips geared towards raising awareness and education on the subject.
"These trips and the other activities we hold are aimed to encourage students to get outdoors, experience nature, and acquire an appreciation for the environment," Brault said.
It is safe to say that by introducing the usage of compostable products in Villanova's dining halls, the University is taking a step toward increading resource conservation. Many hope that this initiative can grow and be seen throughout Villanova's campus in the near future.