Out of Bounds: T.O. squirts some tears, the jerk vs. juicer debate, and NFL conference championship picks.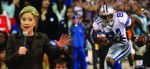 Don't cry for me, Terrell Owens
Tell me the Eagles didn't love every bit of this last Sunday. While the Eagles and Giants aren't going to be mistaken for old chums any time soon, there's no one the City of Brotherly Love loves to hate more than good old T.O. and his Dallas Cowboys. The game Sunday was pretty hard to figure out. As one of my friends (a die-hard Big Blue supporter) pointed out, if you just looked at the box score and didn't know who won, you'd probably say it was Dallas. The Giants won with a patchwork secondary, efficient play on the offensive end and some big -time pressure on Tony Romo in the second half. How the Giants won will continue to be dissected by many of the "experts," including ESPN's Mark Schlereth, on his never-ending quest to cram the word "football" into each of his sentences as much as humanly possible.
So Dallas lost, ending any chance of what once seemed like the inevitable Patriots-Cowboys Super Bowl where Romo would duke it out with Tom Brady to see which quarterback ruled not only the tabloids, but the NFL as well. Funny I should mention tabloids a week after Tony "Romeo" (as he is so fondly referred to by the numerous announcers with man crushes on him) took his new-old girlfriend Jessica Simpson to Cabo. Many argued about Romo's decision to take the trip. Was it right for Romo to leave the country and take his mind off of football? Would he be ready to play when he got back? Can Jessica Simpson locate Mexico on a world map?
The verdict is this: the Cowboys' loss has nothing to do with Romo going to Mexico with Jessica. Like ESPN Radio's Dave Dameshek said, "I guess some people just like to have dumb conversations with dumb people." Fair enough, and I don't have any desire to join the crowd of the unfair, harsh media members to criticize the trip after Terrell Owens' emotional outpouring over it. Owens started the waterworks display in defense of Romo, saying that he knew the media would blame the loss on the Mexico excursion and it just wasn't fair.
"That's my team," Owens said sobbing, bringing to mind the good cries Dick Vermeil used to let out after his team's especially trying intrasquad scrimmages. "That's my quarterback."
After T.O. cried and sniffled, I examined what the media's reaction was to the incident. Expectedly, it was mixed, with some saying the trip didn't matter, while others said Romo was irresponsible for taking such a high-profile vacation while he should have been preparing for the playoffs. My stance is that it's not Romo's fault, but the team's. Why should the Cowboys have been given so much freedom during the bye week? If the team says, "go ahead, take the week to do whatever you want," what do you think these guys are going to do? They're young, famous millionaires in the primes of their life. Anyone who gets on Romo for hanging out on a beach with Jessica Simpson is just like all those guys who complain that athletes signing huge contracts means that they sold out and don't care about the game. If someone offered you millions of dollars to play a game for a living and have offseasons to yourself, you'd take it too, wouldn't you?
The whole situation reminds me of one of my favorite Chris Rock bits of all time. In his 1999 HBO stand-up special, "Bigger and Blacker," Rock discussed the Bill Clinton sex scandal and the president's many detractors. Many Republicans were outspoken in their opposition, saying they'd never have an affair with a girl in her 20s because it was the wrong thing to do. Rock pointed out, however, (and I'm paraphrasing here, because Out of Bounds strives to be educational and family-friendly) that it was easy for old Republicans like Orrin Hatch to say that because no 26-year-old interns would ever be interested in them. Same goes for these NFL analysts. Jessica Simpson isn't inviting you to any fiestas, so be careful with your judgment.
Not to kick a man when he's down, but T.O. crying has to be further analyzed because of what happened when Hillary Clinton cried last week the day before the New Hampshire primaries. Polls released on the eve of the election had Barack Obama leading the Democratic pack by double digits. Hillary, told she needed to seem more human after years of drawing comparisons to Optimus Prime, shed a tear, saying how hard it was to run a presidential campaign (especially when you're actually losing for the first time, I guess). The result is now history, with Clinton capturing the New Hampshire vote and vaulting herself back into the race for the nomination.
Will T.O.'s cry endear himself to people the same way Hillary's did? Well, since T.O. is dealing largely with the male populous of the country, the answer is no, and it certainly won't win his Cowboys a trip to Super Bowl XLII.
JUICER OR JERK?
Amid all the football this weekend, some sports fans may have missed a trade that saw the St. Louis Cardinals and Toronto Blue Jays swap former All-Star third basemen. Scott Rolen, a member of the 2006 World Champion Cardinals, was sent packing for Canada in exchange for Troy Glaus, a big-time slugger who also won it all with the Angels in 2002.
The trade makes sense on a few basic levels and could be analyzed very simply. The Cardinals, needing a big bat in their lineup to protect Albert Pujols, picked up Glaus. The Blue Jays, wanting to emulate the recent success of the Boston Red Sox, wanted to get stronger defensively and added Rolen, a seven-time Gold Glove winner.
Where this trade gets interesting, however, is the debate it spurs. Glaus reportedly received shipments of steroids over the course of his professional career. Rolen has historically not gotten along with skipper Tony La Russa. They even gave each other the silent treatment as St. Louis made its recent championship run. So the question is: would you rather have an accused juicer or an alleged pain in the ass on your team?
After Rolen's dismal 2007 season, it seems that Glaus is the one with more value at this point, so the Blue Jays made the decision that getting rid of the 'roid abuser was worth it. As we follow the careers of those named in the Mitchell Report and other investigations, it will be interesting to see just how much their value is affected. Rolen just better hope there's never a "jerk list" issued.
NFL Lucky 7 Picks
PATRIOTS (-14) over Chargers: The Pats are just two games away from going 19-0, completing a season for the ages and silencing (we hope) the '72 Dolphins for good. These Patriots will be remembered for a lot if they do have a perfect season, but one of those things still doesn't make sense to me and will play a role this week. The Pats have walked around with a huge chip on their shoulders the entire season because the media has reminded us every week why the Patriots should be mad at any given team: Mangini turned them in for cheating, Paul Spicer said they should be banned from the playoffs, and LDT hates Belichick. Somehow, the Patriots have been able to turn their showing up of the Chargers after last year's playoff game into San Diego's fault and will get to use that to their motivation to obliterate the Bolts at the Razor this Sunday.
Giants (+7) over PACKERS: Has Eli Manning turned the corner? This will be the game to answer it. No more Florida weather. No more cushy indoor playing conditions. Instead, Big Blue will draw weather straight out of one of those NFL Films clips where the players played in 20-below temperatures before gloves were even invented. Not only that, but they'll be going against America's quarterback, Brett Favre, on the tundra of Lambeau Field (tundra, by definition, is frozen, so no need for redundancy). It won't be easy, but the Cheeseheads will punch their ticket to Glendale, because Eli's got a couple of tricks to learn from the old man before he's ready to make the big jump.
Last Week: 2-2-0
Playoffs: 4-3-1 (Regular Season: 65-47-6)
Real Men of Genius
This week, we salute you, Jerry Jones, and we'll be the only ones to commend you for a long time. As if it weren't bad enough that Jones' No. 1-seeded Dallas Cowboys lost their playoff opener last weekend to the New York Giants, it appears that Jones may have been the one to blow it for his team. The Cowboys owner put two tickets to the NFC Championship Game in the locker of every player before the matchup with the Giants. The result? Dallas loses at home, and now everyone in the organization gets front row seats for the Packers-Giants championship contest on the loveseat or barstool of his or her choice. Why does anyone ever do the guaranteeing thing? Don't they realize why Joe Namath's Super Bowl guarantee was such a big deal? Because it actually worked! Recent history has shown us that these declarations (Benny Agbayani, Anthony Smith, Rasheed Wallace, etc.) work a lot more like Jones' did than Namath's.
YouTubin'
See the video at
youtube.com/villanovansports
Over the semester break, the college football bowl season played out, and Out of Bounds would be remiss not to mention it. Ohio State got creamed in the BCS Championship Game for the second year in a row, leading to the glee of LSU and Michigan fans alike. One fan made this video to remind the Buckeye faithful of their latest "bad day."