Out of Bounds: How to throw a Super Bowl party, finding the logic of the halftime show and a prediction for the big game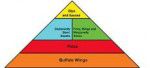 The Super Bowl party-throwing FAQs
Chances are, whether you're a sports fan or not, you'll be attending a Super Bowl party of some sort this Sunday. Before you throw your Super Bowl fiesta this year, be sure to consult this handy "Frequently Asked Questions About Throwing a Super Bowl Party" guide.
What do I wear to a Super Bowl party?
A football jersey is really the best choice for either guys or girls. If you're a fan of either of the teams playing, it's a no-brainer to support your team. Most likely, however, your team is already eliminated from contention, and in this case, your jersey choice will determine what your personality will be:
a) If you root for a team that made the playoffs but got kicked out before the Super Bowl, you will be expected to rehash all the moments where the refs blew calls or something out of the ordinary happened to keep your team from advancing. Read up on your conspiracy theories. Citing examples will help your argument.
b) If your team was terrible this year (especially if they're drafting in the top 10 picks and didn't pull off a trade to get that high) then you will be looked to as the comic relief of the party. Be like Eminem in "8 Mile" and make fun of yourself before anyone else has a chance to; otherwise you'll be be entering a fight where you're stuck backing a 4-12 team with salary cap issues and a quarterback controversy. Something like, "Hey, it's a tradition for my team to sit down every year and watch the Super Bowl from home. I'm just supporting them," should work well.
One more note: Girls looking to score points with guys at the party can easily win some by wearing a jersey, especially if it's the jersey of a defensive tackle instead of the star QB.
What do I eat on Super Bowl Sunday?
While there are many choices out there, the menu should come down to a few staple items and their variations to create a greasy, unhealthy and delicious experience. Luckily, I was able to lay out these items in the food pyramid above. The base is buffalo wings, which are the ultimate Super Bowl food because you can eat a lot of them and they're messy.
During the regular season, I go to the bathroom during all the John Mellencamp commericals. But during the Super Bowl, the commericals are good. When do I go?
The halftime show, no doubt. See the left column for further details.
I don't normally watch football, but I want to seem like I know what I'm looking at during the game. Where can I throw in my two cents?
No matter where you watch the game, there will at least be a few guys who think they're the second coming of Chuck Noll and will look to share their "knowledge" with everyone at the party. Just play the role of the studio host setting up the "token former athlete who has to be a good broadcaster because he played in the NFL for 12 seasons." On a play that requires instant replay, be the first to say, "Wow, that one looks pretty close." After a team scores a touchdown, say something like "They're moving the ball real well." By the time John Madden Jr. gets done taking your setup and rambling about it for three full minutes, everyone's head will hurt so much that they won't be able to realize that you don't know what you're talking about at all.
I always hear about Super Bowl pools. How can I make money off of the game?
Well, since betting on sports is illegal outside Vegas, I can't condone it (which is contradictory for someone who offers picks on point spreads every week). There are some smaller ways to enjoy a little wagering action. The most common game played is "Super Bowl Boxes," where players can win money from the pot if the ones digit of the scores of both teams at the end of a given quarter match their assigned box. Outside of that, you can bet among yourselves on pretty much any proposition: most all-purpose yards, the coin flip or the number of times Joe Buck alludes to having a crush on Tom Brady. The most challenging game is called "Seacrest?" If anyone can give a logical reason for why Ryan Seacrest was picked to host the Super Bowl pregame show this year, then he or she instantly wins $1,000 from everyone at the party.
BATHROOM BREAKS MADE EASY
Hey, football fans! Excited for that Super Bowl halftime show this year?
Oh, you haven't heard who's performing? And you really don't care? Well, yeah, I kind of figured.
Well, if you haven't heard, this year's Super Bowl lineup must have been generated randomly by a computer program or something because there's no way a rationally minded human being sat down and came up with this list:
Tom Petty and the Heartbreakers: Ever since the Janet Jackson incident in 2004, the organizers of the halftime show have tried their hardest to give us headliners upon whom no one would ever wish a wardrobe malfunction (following in the tradition of Paul McCartney and The Rolling Stones).
Kylie Minogue: A British pop singer who hasn't had a hit in America in a while but should appeal to international audiences.
Paula Abdul: An American pop singer who hasn't had a hit anywhere in decades, but should appeal to all the teeny-bopper "American Idol" fans who didn't know that Paula used be a singer before she became an alcoholic reality TV star.
Soulja Boy: Got hired to perform because the guys who sang the "Macarena" were already booked for a bar mitzvah.
Jordin Sparks: The game is on FOX, Ryan Seacrest is hosting the pregame show (because when I think football, sure, I think Seacrest), Paula is performing and now Sparks. We get it, FOX, you have the No. 1 show on TV and the Super Bowl in the same year. While I would have preferred Carrie Underwood, at least its not Taylor Hicks, Clay Aiken or William Hung.
Akon: He had 10 songs out on the radio this year, so it was hard to leave him out.
So what do these performers have in common? Absolutely nothing, other than the fact that Paula and Jordin were on "American Idol" for one season together. Who hasn't thought to themselves, "Man, you know what would be ill? A collabo joint between Tom Petty and Soulja Boy." You'll know what I mean when they duet on "YOUUUU! Don't Know How It Feels."
This only could have been thought up by a boardroom full of marketing executives who didn't pay attention in college and fell into the trap of trying to be all things to all people. "Hey, let's get some chicks, an old fart and a couple of those rap-hop guys that the cool kids listen to on their Walkmans! That sounds like gold."
I won't judge the show before I see it, but the execution will be interesting to watch. I'll try sticking around to check it out, but the early results are making this look like the frontrunner for the no-brainer bathroom break of this year's Super Bowl. I wonder how many toilets will flush simultaneously?
Lucky 7 Picks
Giants (+12) over Patriots: After coming to grips with the fact that the man I fondly refer to as "America's Quarterback," Brett Favre, will not be in the Super Bowl, I have started to appreciate what this matchup presents. It's the juggernaut against the little guy: Tom Brady vs. the other Manning, trying to avenge his family's good name. (By the way, if there were odds on Joe Buck using some play on the "it's Brady vs. Manning, but not Peyton, believe it or not, it's Eli Manning" quip in his introduction to the broadcast, I would bet on that much faster than I would on the game itself).
The Giants have been a fun team to watch lately; they're winning, but spectators aren't always exactly sure how. A quarterback who's never come up big, a star offensive player injured and a secondary that features one guy (Corey Webster) who was deactivated during the season and another (R.W. McQuarters) who has trouble cleanly fielding punts – wait, I'm excited about this team's chances of beating the undefeated Pats?
I'm taking the Giants to cover because of karma (they didn't give up in Week 17) and the Pats haven't covered the big ones lately. But don't despair, New England … you'll be home to the champions, again.
Patriots 30, Giants 24
Championship Week: 1-1-0
Playoffs: 5-4-1 (Regular Season: 65-47-6)
YouTubin' clip of the week
See the video at
youtube.com/villanovansports
Due to our "very special episode" of Out of Bounds last week (not to be confsued with a "very special episode" of "Blossom" dealing with teen pregnancy), YouTubin' was regretfully not present on the page for the first time in history, so you're getting a double dip of videos this week.
The first clip is simple: basically, if you dislike the Cowboys at all, check out this rant about them not winning a playoff game in 11 years by Adolf Hitler. One of the best YouTube clips ever.
Our other clip is my choice for the greatest of all Super Bowl commercials (trust me, I'm a marketing major … or at least that's what my diploma will say). Do yourself a favor and rediscover Terry Tate: Office Linebacker (pictured above).