MLK celebration includes Day of Service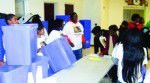 For many of us, Martin Luther King Day is another day off, a day to sleep late and put off homework and, if we're diligent enough, remember the revolutionary man that was Martin Luther King Jr.
While it is crucial to remember King and his message, it is even more inspiring to take his words to heart and keep his vision alive through action.
That is precisely what one student wished to do for the Villanova community and herself.
This past Monday because of her dedication to Martin Luther King's cause sophomore Shreya Trivedi created a day of service in honor of King.
"Injustice anywhere is a threat to justice everywhere," King said.
This was one of many Martin Luther King Jr. quotes that inspired Trivedi to hold the day of service.
She feels that simply remembering the King legacy on Martin Luther King Day is not enough.
"MLK day should not only be a day of rest but of action and inspiration," Trivedi said. "It should be a day when we give back."
In cooperation with the Office of Multicultural Affairs, Trivedi and others decided to serve at five inner city sites in Philadelphia.
Volunteers were encouraged to participate in the day of service and truly achieve King's dream.
"We were a little nervous about what to expect this year, since this is the program's first year in action," Trivedi said.
The turnout, however, was very encouraging.
Between 80 and 100 volunteers braved the freezing temperatures and showed up to board vans at 8:00 a.m. From there, they were taken to the service sites, where they spent the day participating in various community service activities.
One group of volunteers painted the inside halls of the Millennium Baptist Church, while another group participated at a Read-a-Thon at the KIPP Philadelphia Charter School.
The kids, ranging from fifth to eighth grade, were challenged to read a certain number of pages and the volunteers read with the kids and encouraged them to reach their goals.
"So many of the volunteers were surprised by this great program," Trivedi said. "They were so pleased to see that programs and activities such as these existed even in the most struggling neighborhoods, and it gave them a renewed sense of hope and a passion to do more."
Upon returning in the afternoon, the volunteers and event coordinators reflected on the day by talking about their experiences and what the day meant to them.
Through service, the volunteers felt directly connected to King and his values. They felt the day truly made a difference.
The University community also remembered King through the Enduring Legacy Ensemble, which presented an entire evening of music, narrative, quotes, speeches and interpretive dance to pay tribute to King.
The lecture, titled "Keep the Dream Alive," was held in the Villanova Room of Connelly Center.
Martin Luther King Jr. received the Nobel Peace Prize at the age of 35. He delivered his famous "I Have a Dream" speech during a peaceful march on Washington D.C. in 1963. This year is also the 40th anniversary of King's assassination in 1968.
For those who didn't participate in the day of service this year, they now have another service activity to look forward to.
Trivedi has big hopes for the event and hopes that it will now be easier to get the word out.
She hopes to collaborate with the Center for Peace and Justice Education, as well as expand the number of service sites.
She also hopes to publicize the event more so more community members will be encouraged to participate as well.
"It was a fantastic day, and a great experience for everyone involved," Trivedi said. "Everyone that participated was truly interested in giving back and helping out. The desire to help was tremendous, and the spirit of community service was definitely felt."