Stacie Witman: Local from Plymouth Meeting emerges as team leader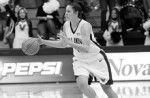 Every good team has an all-star – the player who scores all the highlight reel goals and always makes the headlines. Successful teams also have great leadership – the player that everyone else on the team and in the stands can look to when times get hard.
It is a truly fortunate team that has one player who excels in both categories. The women's basketball team is one such bunch with senior captain Stacie Witman.
Witman started off her basketball career as many athletes do, playing the sport at the township level as a young kid.
"My brothers and sisters and I played just about every township sport," Witman says. "And then I ended up loving basketball more and more as I got older."
Witman found her way to Villanova because of its close proximity to her hometown and its reputation for providing a great education. Witman's college career began as a redshirted freshman. Gaining this extra year of experience allowed her to develop her game and mature as an athlete.
Witman has been a staple on the Villanova court since her first full season in '04-'05. With the exception of missing a portion of last season with an injury, Witman has seen playing time in every game with the Wildcats. She currently leads the team in minutes, playing about 32 per game, and has started every game this season.
Witman's steady rise in playing time has been fueled by her exceptional on-court production. This season Witman has teamed up with juniors Lisa Karcic and Laura Kurz to create a majority of the team's scoring. Currently Witman leads the team in scoring with 308 points on the season, averaging 15.4 points per game. She also leads the team in free throws, sinking 44 out of 49 attempts (89.7 percent). Witman is second on the team in field goals and 3-pointers made as well.
While Witman and Karcic have been trading the lead for most 3-point shots all season long, it is perhaps the triple-point baskets that Witman will be best known for after she leaves Villanova. In an 83-58 victory over South Alabama, Witman tied a school record with nine 3-pointers in the Odwalla Classic at the University of San Francisco, going 9-for-12 from 3-point range and 12-for-15 from the field. Witman cites this event, which occurred over Thanksgiving break this season, as one of her fondest memories playing at Villanova.
The hometown girl from Plymouth Meeting, Pa., is not only known for her on-court talents. Witman's leadership qualities have developed throughout her career and have led to her being named as a captain for the Villanova squad this season. Her aptitude for leading stems from watching Hall of Famer Michael Jordan growing up.
"I always liked Michael Jordan because he always stuck with it," she says. "It didn't matter how many shots he made or how many games he won he still came out the next game and played just as hard. I don't base my game on him, but just sort of the mentality – just always keep playing."
Witman's role of leading her team on the court expounds much of these same attitudes. From early on in the season, Witman came to recognize that a great captain not only guides her team by scoring a lot of points but must keep the team motivated through her actions as well.
"If it's a close game and we're down, I have to be there to pick us up because if they see that I'm sulking, that will spread throughout the team," she says. "So I just have to keep my spirits up."
When not showing her brilliance on the court, Witman is just like any other college student who loves to relax, go out with friends and go shopping.
Witman graduated last year as a secondary education major and is currently enrolled in graduate school. Although her plans aren't solidified for next year, she is currently deciding between trying her luck playing ball overseas or becoming a graduate assistant here at Villanova.
Before looking too far into the future, however, the Wildcats still have some work to do this season. The women's basketball team currently rests at 11th in the Big East standings and has nine games remaining, all versus conference foes. The 'Cats will have to keep up their strong play in this second half of the season to secure a spot in the 12-team Big East Championships held in the beginning of March. Witman remains confident about her team's hopes for the tournament, citing that they will just have to keep "doing the little things that we do in practice and just focusing and playing our game and not allowing the other teams to disrupt us."
With a leader and point producer like Stacie Witman donning the blue and white, the Wildcats have a good look at the tournament and a bright end of the season in front of them.