Out of Bounds: The best championships that were never played and my pick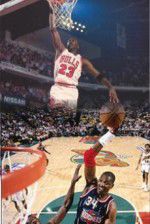 The best games that never happened
This year's NFC Championship between the Packers and the Giants was a thrilling memorable game, filled with the emotional ups-and-downs that fans always hope for in big games. However, the Giants' triumph kept the ageless wonder and national hero Brett Favre from being the final hope to stop the Pats from going undefeated, and brought to mind other great games or series that people wanted to see but never actually came to fruition. Whether they would have written new chapters in old rivalries, broken curses or kept an entire franchise from getting deported from its home country, here are the top 10 "what if" championship matchups of the last 15 years from the NFL, NBA and MLB.
1994 World Series: Expos vs. Yankees (Actual: None)
There was no greater casualty of the 1994 baseball strike than the Montreal Expos. Before their relocation after the '04 season to Washington, D.C., "les Expos" were often known as a farm club posing as a Major League franchise. Almost every time one of their players became a star, he got shipped out of town before free agency came knocking. However, it looked like the '94 Expos had caught lightning in a bottle. Montreal was tearing up the National League with a 74-40 record (six games better than any other NL team) at the time of the strike. Their roster was chock full of all-star caliber players, including Pedro Martinez, Larry Walker and Moises Alou. If this team had continued at their Major League-best pace and won the World Series (pitted fictitiously here against the AL team with the best record at the time of the strike, the Yankees), the Expos might have garnered enough of a fan base to stay in Canada. Conversely, if the Buck Showalter-managed Yankees of the same year went on to win it all, we may never have seen the Joe Torre dynasty of the late 990s. The '94 strike remains one of the biggest "what-if"s in sports history.
Super Bowl XXIX (1995): 49ers vs. Steelers (Actual: 49ers vs.
Chargers)
The race was on in the NFL for which team would be the first to five titles, as the Niners, Cowboys and Steelers all advanced to their respective conference championship games. Pittsburgh ruined the chance for an epic battle between elite franchises, however, by losing to San Diego in the AFC Championship. San Fran creamed the Bolts and was easily the first team to win five titles.
1995 NBA Finals: Rockets vs. Bulls (Actual: Rockets vs. Magic)
Once Michael Jordan left the NBA to pursue a baseball career after the 1993 season, Hakeem Olajuwon's Rockets ruled the NBA, winning back-to-back championships in '94 and '95. Jordan (sporting the number 45) returned to the NBA during the '94-'95 season, but his Bulls got eliminated in the semifinals against Shaq's Magic. Since the Rockets never made it back to the finals after their second consecutive title, it seems like '95 was the only chance we had to see the two most successful teams of the '90s go head-to-head for the NBA championship.
1995 World Series: Braves vs. Mariners (Actual: Braves vs. Indians)
There may not be a more classic "if only" career of the last 20 years than that of Ken Griffey Jr. Junior has one of the sweetest swings that baseball has ever seen, and he's undoubtedly one of the greatest outfielders to play the game, but a series of bad-luck injuries derailed his excellent pace to break Hank Aaron's career home run record. Griffey's star-laden Mariners teams of the late-'90s also never made it to a World Series (despite a roster that included Alex Rodriguez, Randy Johnson and Edgar Martinez). '95 was their best shot before falling in the ALCS.
Super Bowl XXXI (1997): Panthers vs. Jaguars (Actual: Packers vs. Patriots)
A lot of fans thought it would be interesting to see two expansion teams make the Super Bowl in what was just the second year of existence for both Carolina and Jacksonville. Both made surprise runs through their respective conference's playoffs, but lost one step short.
2002 NBA Finals: Lakers vs. Celtics (Actual: Lakers vs. Nets)
Larry Bird's Celtics and Magic Johnson's Lakers went head-to-head three times in the NBA Finals in the '80s, forming one of the greatest rivalries in NBA history. Both teams fell off a bit after the departure of their aforementioned stars, but returned to prominence at the beginning of the new millennium. While no one was beating the Shaq-Kobe Lakers that year, many thought it would be cool to see the two old foes at it again.
2003 World Series: Cubs vs. Red Sox (Actual: Marlins vs. Yankees)
If the Cubs were going to win a World Series in the last 100 years, this was really their shot. After the Yankees and Red Sox played one of the most grueling and epic series in postseason history, it didn't seem like either team would have much left in the tank for the World Series. Of course, this was also before the Red Sox had broken their curse, so pitting the two lovable loser franchises against each other would have been a sportswriter's dream. At least Sox fans eventually got their World Series, while the Cubs just wait … and wait … and wait …
Super Bowl XLI (2007): Colts vs. Saints (Actual: Colts vs. Bears)
After Hurricane Katrina, who didn't want to see the Cinderella Saints make it to the Super Bowl? Instead, we got Rex Grossman.
2007 NBA Finals: Spurs vs. Pistons (Actual: Spurs vs. Cavaliers)
Sure, LeBron may be the best thing the NBA has going these days, but his '07 Cavaliers could easily be the worst NBA finalist in league history. The Pistons, who had a great season but ran out of gas in the Eastern Conference Finals, would have been a much better matchup for the Spurs than Cleveland, who got absolutely smoked.
Super Bowl XLII (2008): Patriots vs. Packers (Actual: Patriots vs. Giants)
Many fans were disheartened to see Favre, who has become a national folk hero, not make it back to the Super Bowl 10 years after his last appearance in the big game. If the Packers had advanced to the Super Bowl and Favre knocked off the undefeated Patriots, it would have been one of the most memorable and cherished sporting events of our time. Instead, we're left to just sit and wonder "what if"?
'08 NBA ALL-STAR PICKS
The fan-chosen starters for the 2008 NBA All-Star Game are being announced tonight, while the coach-selected reserves will be released a week from today. With so many surprise teams and bright stars in the NBA these days, it's natural that someone is going to get snubbed. My selection process pays no attention to the fan vote and gives the slight edge in most to the guys putting up big numbers for the league's best teams.
EASTERN CONFERENCE
StartersPG Jason Kidd, NetsSG Paul Pierce, CelticsSF LeBron James, CavaliersPF Kevin Garnett, Celtics C Dwight Howard, Magic
ReservesGuards: Chauncey Billups, Pistons; Richard Hamilton, Pistons; Joe Johnson, HawksForwards: Caron Butler, Wizards; Antawn Jamison, Wizards; Richard Jefferson, NetsCenter: Chris Bosh, Raptors
Apologies to: G Michael Redd, Bucks; G Dwyane Wade, Heat; F Gerald Wallace, Bobcats
Comments: Too many good forwards in the league and no centers other than Howard, so Bosh will be a "center" here. Jefferson has had a breakout year, Jamison and Butler are having their finest seasons in Washington in the absence of Arenas and Johnson deserves a spot for the surprising Hawks' success.
WESTERN CONFERENCE
StartersPG Chris Paul, HornetsSG Kobe Bryant, LakersSF Carmelo Anthony, NuggetsPF Tim Duncan, SpursC Yao Ming, Rockets
ReservesGuards: Baron Davis, Warriors; Allen Iverson, Nuggets; Steve Nash, Suns; Brandon Roy, Trail Blazers;Forwards: Carlos Boozer, Jazz; Dirk Nowitzki, MavericksCenter: Amare Stoudemire, Suns
Apologies to: C Chris Kaman, Clippers; G Tony Parker, Spurs; G Deron Williams, Jazz
Comments: Any point guard over Nash is a tough call, but Paul has been that good and his Hornets have a better record than the Mavs and Spurs right now. I would love to see Roy make it to represent the first place Blazers. Kaman is a tough cut. He'd make it in the East.