MBB Recap: 'Nova cruises to victory over West Virginia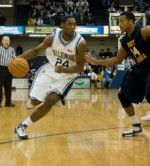 With snow coming down as last night's Pavilion crowd made its way into the arena, it was clear that spring is still far away from the Main Line.
Jay Wright's Wildcats, however, are blooming a few weeks before the change in seasons, just in time for the onset of Villanova's toughest stretch of the regular season.
In what Wright called his Wildcats' best defensive performance of the season, Villanova (16-9, 6-7 Big East) came out of the locker room red-hot and led wire-to-wire in a 78-56 blowout win over the West Virginia Mountaineers (18-8, 7-6 Big East).
In a game where Scottie Reynolds played just 18 minutes, some new faces in the spotlight, most notably Dwayne Anderson and Corey Stokes, led Villanova to its 10th win in 10 tries at the Pavilion this season.
"Every guy on the floor is committed to defense," Anderson said. "That's been the difference."
It has been Anderson's commitment to defense and hustle that seems to be entrenching him in what has been a constantly changing starting five this season. Anderson added four steals and a block to his game-high 17 points, which fell just one shy of his career-high.
"Having Dwayne out there gives us someone out there who is older, a great communicator and a great team-defense player," Wright said.
Anderson knocked down three 3-pointers and scored 11 points in the first five minutes to fuel Villanova's 13-2 run after the opening tip. A layup by Stokes put 'Nova ahead by double-digits for good with 8:07 to go in the first half. The Wildcats extended the margin even further, going up by 21 after a pair of free throws by Antonio Peña, and never let the Mountaineers get to within 20 again. 'Nova shot 47 percent from the field and led by as much as 30.
"I honestly thought we were ready to play," West Virginia Head Coach Bob Huggins said. "They came out and smacked us in the mouth, and we didn't like it, but we didn't do anything about it."
Once Anderson cooled down, Stokes heated right up, hitting three 3s of his own on his way to scoring 16 points, which topped the career-high he had set just four nights prior.
"Corey was one of those guys who was very patient being a freshman," Wright said. "He approached it patiently and has gotten to the point where he is really sound and really solid."
Villanova is starting to make fans forget about the defensive struggles that led to a five-game losing streak that was punctuated by a demoralizing loss to archrival St. Joe's. Since hitting what seemed like rock bottom at the Palestra on Feb. 4, the 'Cats have come out with a new defensive attitude in the four games since. Their 60-42 win over St. John's on Saturday, in which the Wildcats held the Red Storm to an anemic 25.5 percent from the field, marked the lowest point total scored by a Big East opponent against the Wildcats in Villanova history.
That effort seemed to board the bus with the 'Cats at Madison Square Garden and make its way to the Pavilion with the team for last night's contest, as Villanova held West Virginia to 2-for-20 shooting from beyond the arc.
"They were very physical with us," Huggins said. "I've watched all their tapes, and I haven't seen them be that physical all year."
The Wildcats will leave the friendly confines of the Pavilion, where they have won 14 straight games dating back to last season, to take on Connecticut and Marquette at the Wachovia Center before heading to Louisville to take on Rick Pitino's red-hot Cardinals. The team's momentum, however, seems to be at its highest point since the beginning of the new year.
"That was a big game," Wright said. "We needed to prove something to ourselves."
Wright's 'Cats have finally proved they can "D up" against the big boys of the Big East. The team has held its opponents to under 56 points per game in its last four contests, three of which were victories. During its losing streak, the 'Cats yielded over 80 points per game to their opponents.
"I knew these guys were going to be good eventually," Wright said. "I was afraid we wouldn't find a way to get it done this season. Dwayne and Corey have been the difference."