OOB: The HGH saga continues and the slam dunk contest brings the fun back to pro sports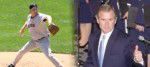 Human Growth Hangover
Andy Pettitte's apology and question-and-answer session on Monday marked the first time ever that an active, high-profile athlete has spoken openly about performance-enhancing drugs.
"Author" Jose Canseco certainly doesn't count, even if he was preparing to try out for the Newark Bears or Long Island Ducks at the time.
Neither does Jason Giambi whose "apology for the sake of apologizing" was just as pathetic as his entire sham of a career has been.
Whatever one's feelings are toward Pettitte, it is almost impossible not to give him a little credit for the way he handled Monday. He hung in there and answered questions for nearly an hour, being asked about the details of his friendship with Roger Clemens and whether or not he considered himself a cheater. Pettitte avoided the repetitive, evasive nature that many athletes use when embroiled in difficult situations.
Given the enormity of Monday's media event, I sprung to action. Through the use of some personal connections I was able to get reactions to the Pettitte situation from some big names and those closely involved with the situation.*
Brian McNamee: "Did you hear that? Andy backs me up. I told you guys I wasn't a total liar and creep. I just play one on TV."
Roger Clemens: "Andy Pettitte is a dear friend of mine and a great baseball player. I respect his decision and his integrity, and I believe him to be truthful and sincere. That being said, I think he may have miss-said some of the things that he misintended to say when he misheld his press conference on Monday."
President George W. Bush: "Misintended? I like that one, Rog. I'm going to have to use that in my post-presidency memoirs, 'The Finer Points of Presidenting the United States of Amtrak.'"
Tim Donaghy: "I've got 3-to-1 odds that Pettitte was lying about only taking HGH twice. I also like the Rockets -15 over the Heat tonight, if anyone is interested …"
Shawne Merriman: "Poor Andy. When I took HGH, I got a month off and a video game cover."
Rodney Harrison: "And I got to play in the Super Bowl without anyone questioning my integrity because I get to hide behind a helmet and a face mask."
Curt Schilling: "Andy's press conference was today? Quick, to the blog cave! America won't know how to interpret today's events without me!"
David Ortiz: "Hey, Curt didn't put anything in there about me using HGH or steroids, did he? I went from getting released from a team in desperate need of power hitting to becoming the No. 3 hitter for a perennial contender through nothing but hard work. You believe me, don't you?"
Schilling: "Tell Big Papi not to worry. I'm just finishing up another entry about how terrible A-Rod is for baseball. Uh, oh. I think I'm getting carpal tunnel from blogging so much. But hey, if I come back and pitch after that kind of injury, the Hall of Fame would love having my bloody glove."
O.J. Simpson: "That probably wouldn't be such a good idea, Curt."
* The opinions expressed in these "interviews" are not necessarily the opinions of those they are attached to, nor are they necessarily the opinions of, well, anyone.
A cupcake and the Man of Steel: perfect together
Welcome to NBA superstardom, Dwight Howard.
Or should I say Superman?
After the show Howard put on at this year's dunk contest, he's certainly deserving of the nickname.
This year's dunk contest was just flat-out fun, which, as a sports fan, was incredibly refreshing.
But, wait, aren't sports supposed to be fun? Well, maybe that used to be the case, but in the last few years, "fun" has been replaced in the definition of "sports" with:
"Recruiting violations." "Steroid scandals." "Videotaped Super Bowl walkthroughs." "Referees winning 73 percent of the time when taking the home underdog."
As I cheered and laughed during this year's dunk contest, I couldn't help but think that it had been years since I had had that much fun watching a sporting event. Lately, watching sports has been an exercise in skepticism. "Who's cheating?" is sometimes a more important question than "who's playing?"
That's why this year's dunk contest will be so memorable for me. It's not the Super Bowl, World Series or, yes NASCAR fans, even the Daytona 500. It doesn't even have any impact on standings or statistics, but it helped sports fans reconnect with what games should be all about.
Games should be about the players showing passion and the fans showing excitement. They should be about creativity and amazement. They should be an escape from all the hardships day-to-day life can bring.
That's what Saturday night was about. Everyone at New Orleans Arena was having a blast. Gerald Green blowing out a candle on a cupcake … who comes up with that? That's one of the most creative, outside-the-box dunks we'll ever see.
But the man of the evening was definitely Howard. I still can't decide which dunk is my favorite. The first one, bouncing the ball off the back of the backboard and slamming it home with his head behind the glass was probably the most difficult and impressive dunk he did. But the third one, tapping off the glass and switching hands, was innovative in its own right, and don't forget about his use of the mini-Orlando-Magic suction hoop as a prop.
The moment of the night for me was still Howard donning a Superman cape to soar through the air and, literally, throw it through the hoop. As he flew through the air, he resembled a kid dunking on a lowered hoop in his driveway more than he did a 22-year-old millionaire pro athlete.
You could literally see Dwight making the leap from great player to NBA megastar and Superman bringing the fun back to sports, faster than a speeding bullet.
Random Ruminations
How agonizing is it to watch ESPN's "The Greatest Highlight" series? Don't get me wrong, it's a cool idea, but Chris Berman doing play-by-play of moments like Kirk Gibson's pinch-hit home run or "The Immaculate Reception" like he's just seeing them for the first time feels more forced than Kanye West clapping for Herbie Hancock at the Grammys.
Today is one of my favorite days of the year: NBA trading deadline day. With Jason Kidd, Pau Gasol, Mike Bibby and Shaquille O'Neal already switching teams, I'm really excited to see how teams like Denver and Cleveland could respond to some of the league's superpowers getting even better. This year's playoff push is going to be nothing short of great.
As tumultuous as this Villanova season has been, St. Joe's losing to La Salle on Monday means that the Wildcats clinched at least a tie of the Big 5 Championship. That means we still own Philly … even if it takes us 30 minutes to get home from the city.
No number of steroid allegations can take away from the welcome arrival of Spring Training. The smell of the spring air, the crack of the bat and the pop of the mitt will finally make everyone focus on what's going on at Wrigley Field and Citizens Bank Park, and not at Capitol Hill.
YouTubin' Clip of the Week
See the video at
youtube.com/villanovansports
I already mentioned this year's dunk contest, but for those fans who are still in awe of all the '08 contest had to offer, check out this clip from Slam Dunk Champion Dwight Howard. Last week I lamented the robbery that occurred in last year's contest when Howard's "sticker dunk" was misunderstood by the judges and led to the Magic center getting prematurely eliminated from the dunk contest. This week's clip gives fans a look at what could have been if Howard advanced to the finals. Wait until you see Dwight give some love to the rim in his own creative and interesting way.