BNN: Four teams separate themselves in Big East pack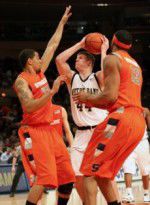 When the Big East Conference added four men's basketball teams in 2005, the league morphed into arguably the most difficult conference in America. Combining the high level of play with the fact that four teams miss out on the conference tournament has given each Big East game an atmosphere that once only existed in March. As this year's regular season begins to wind down, some teams have put themselves in prime position for postseason play, while others can barely survive the daily rigors of the Big East.
STRUGGLING TO MAKE IT TO THE GARDEN
16. SOUTH FLORIDA BULLS
Things appeared to be looking up for South Florida and new Head Coach Stan Heath when they won their first conference game, but since then the team has dropped 10 straight. However, the Bulls appear to be a lock to make the Big East Tournament next year when all 16 teams automatically qualify.
15. RUTGERS SCARLET KNIGHTS
Rutgers started off the season with six straight conference losses, including one to the dreadful South Florida. While making the Big East Tournament still appears to be a stretch, the Scarlet Knights have been playing better basketball with wins over Villanova and Pittsburgh and a narrow overtime loss to Cincinnati. Although 2008 appears to be a lost season, Rutgers could be a surprise team next season.
14. ST. JOHN'S RED STORM
Once considered just an afterthought, the Red Storm reeled off three straight wins after starting the season 1-7 in the Big East. Despite starting the season poorly, St. John's has done enough to at least give itself a chance to make it to Madison Square Garden. If it can get that far, the Red Storm could be a dangerous team with the home crowd behind them.
13. PROVIDENCE FRIARS
Due to a soft schedule to open up Big East play, the Friars got off to a hot start and looked like they could make some noise within the conference. Unfortunately for Head Coach Tim Welsh, his team has ran into some bad luck. Six of the Friars' first seven losses were by eight points or less. The team will need to quickly learn to win those close games with a brutal set of games left on the schedule.
ONE FLAW TOO MANY
12. DEPAUL BLUE DEMONS
DePaul, led by outstanding senior guard Draelon Burns, has surprised many by hovering around .500 all year in conference. If the team can continue to play smart basketball and improve its rebounding, it will make it back to New York this year.
11. SETON HALL PIRATES
There is no doubt that the Pirates can light up the scoreboard with their two sensational perimeter players, Brian Laing and Eugene Harvey, but Seton Hall ranks last in the conference in both scoring defense and rebounding margin. Quick corrections must be made if they are to make any sort of noise in March.
10. VILLANOVA WILDCATS
During its five-game losing streak, Villanova went from a serious contender to a team just looking to survive. After a win against Seton Hall, the 'Cats hope to have found the right combination of players because with games against the Big East elite on the horizon, there is no more time to experiment.
9. CINCINNATI BEARCATS
The Bearcats looked horrible in non-conference play but have blossomed into a different team since starting their Big East schedule. With only two players averaging double figures, Cincinnati appears to be an easy victory on paper, but the team has surprised many as it has built a winning record in conference games.
GOOD, BUT NOT GREAT
8. SYRACUSE ORANGE
After the loss of leader Eric Devendorf for the season with a torn ACL, many left Syracuse for dead. The stellar play of sensational freshmen Donte' Greene and Jonny Flynn has resurrected the Orange back into contention. Syracuse needs to finish strong to improve its resumé, otherwise Jim Boeheim will be giving the committee another earful.
7. WEST VIRGINIA MOUTAINNEERS
Bob Huggins' team has been on the wrong end of two heartbreaking losses at the hands of Georgetown and Pittsburgh this season. Nevertheless, West Virginia has surprised many in what was supposed to be a down year. The Mountaineers' remaining schedule is set up nicely, with only two games left against the league's top eight.
6. MARQUETTE GOLDEN EAGLES
The Golden Eagles look strong from afar, but they have only beaten two ranked teams all season. The majority of their Big East victories have come against the lower half of the conference. They should be a lock for the NCAA Tournament, but to avoid being one and done, Dominic James must get back in his freshman groove.
5. PITTSBURGH PANTHERS
Despite losing Levance Fields and Mike Cook to injury, Pittsburgh's incredible depth and Jamie Dixon's coaching has kept the team strong. If Fields can return at close to 100 percent in March, the Panthers could once again become serious contenders.
THE CREAM OF THE CROP
4. NOTRE DAME FIGHTING IRISH
Once thought to be a team that could only win at home, the Fighting Irish have played well everywhere recently. The team is led by sophomore forward Luke Harangody, who has become a Big East Player of the Year favorite by averaging a double-double and leading the league in scoring.
3. CONNECTICUT HUSKIES
After starting off slowly this young Huskies team has reeled off seven straight victories and earned a national ranking. Sophomore center Hasheem Thabeet is one of the major reasons for Connecticut's resurgence, as he has quietly blossomed into one of the best centers in the nation.
2. LOUISVILLE CARDINALS
Despite several bad losses early in the season, Louisville seems to finally have found its groove, as shown by its victory this past Saturday against Georgetown. The Cardinals roster is one of the most talented in the conference, and when they are performing at the level they should, the Cardinals stand among the nation's elite.
1. GEORGETOWN HOYAS
Even with a loss to Louisville, the Hoyas are the best team in the conference. Georgetown never seems to force a bad shot, and its suffocating defense has allowed the least number of points in the conference. While they may not be as good as they were last year, the Hoyas could make another run to the Final Four.