Star Watch: Sepich to compete in two championships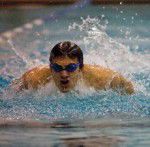 It's not everyday that a Villanova athlete, or any college athlete for that matter, qualifies for two tournaments in different sports during the same season. For junior Bill Sepich, however, this incredible story is reality, and one that he has come to know well.
"I've always been told that there is a reason for everything," Sepich said.
In the past few months, this has become a slogan for Sepich's athletic career.
Growing up in a family with a strong swimming background, Sepich took to the sport at the early age of 7, starting his competitive swimming career coached by his father, Bill. Both his parents were members of the Seton Hall University swim team, and he says their experience and encouragement have been vital to his athletic success.
In high school, Sepich took to track in addition to swimming to help keep him in shape. By his junior year, Sepich began to show his dual sport potential, placing fifth in the New Jersey Track Meet of Champions in the 1,600-meter run. A nagging ankle injury prevented him from repeating this success senior year, but he still managed to pick up a South Jersey Championship in swimming.
As college approached, Sepich faced a tough decision between swimming and track.
"It was really difficult to choose one sport for college," Sepich said. "Because of my size, I figured I wouldn't get much faster at swimming, but I thought I had more potential with track. I didn't want to waste the opportunity to run."
He ultimately found Villanova to be the perfect fit and decided on track, with the intention to end his swimming career.
Sepich's first two years at Villanova were a bit difficult as he adjusted to college life and to the demands that track placed on him. The increased mileage gave Sepich a series of injuries that left him frustrated and prevented him from reaching his goals. Finally, Head Coach Marcus O'Sullivan came up with a solution: he proposed that Sepich train a few days in the pool in order to get in shape, giving his body a break from running. This decision began the first of a series of coincidences that have led to Sepich's incredible success story.
While swimming laps one day, the swimming and diving team's Head Coach Rick Simpson noticed Sepich's talent and approached him, asking if he would like to swim in a few meets. Sepich's priority belonged to track, so the decision ultimately lay with O'Sullivan. The two coaches sat down, and it was actually O'Sullivan who proposed that Sepich train in both sports.
Sepich swam in four meets last year, and these performances impressed both coaches and contributed to his development as a two-sport athlete. Right away, Sepich enjoyed the challenge of the varied training as well as an additional team atmosphere.
"I just loved being there for the team," Sepich said.
Last summer Sepich devoted himself almost entirely to training in the pool, and this year he has officially become a member of the swim team.
"It has been a great experience getting to know everyone on the team," Sepich said. "We're a very closely knit unit. We spend so much time together – we train together, live together, even go bowling on weekends."
His teammates have taken a liking to him as well.
"Bill has been a great addition to the team both in and outside the pool," senior swim team Captain Joey Mechak said. "He scored us a lot of points when we needed him, but he was also a great guy that we were always happy to have with us."
Sepich's first big moment on the swim team came just over two months ago, when his time of 55.1 seconds in the 100-yard backstroke qualified him for the Big Easts in a dual meet against Georgetown. After two frustrating years with track, Sepich was determined to qualify for Big Easts this season.
Sepich and his coaches soon learned that qualifying in both sports had not been accomplished in recent history by a college athlete, Big East Olympic Sports Commissioner Jim Siedliski told the Burlington County Times.
This knowledge only served to further motivate Sepich to qualify in track.
Sepich finally accomplished his three-year-long goal on Jan. 27, when he qualified in the 1,000-meter run at Penn State. His time of 2:29.41 became his new personal best by over four seconds and is the highlight of his track career so far. He was going to the Big Easts – now in both swimming and track.
"When I got my qualifier in the 1,000, I was just so happy," Sepich told the BCT. "It's been a while since I've been satisfied in any sport. The last two-and-a-half years have been pretty frustrating. It feels so great to finally be where I was hoping to be in track and to keep getting faster in swimming makes it just unbelievable."
When Sepich's coaches first learned that both Big East Tournaments were being held the same weekend of Feb. 20-23, they were disappointed, thinking that Sepich would only be able to commit to one competition. However, a change in venue for the conference track meet from the usual Syracuse to the Bronx was yet another coincidence that has worked out in Sepich's favor.
The Big East Swimming and Diving Championships are to be held in East Meadow, N.Y., with the distance between the two events just 31 miles. To top it off, Sepich is scheduled to compete in the events on separate days. On Thursday and Friday Sepich will swim in either one or two relays for Villanova, as well as the 100-yard backstroke, and on Saturday he will run the 1,000-meter run.
To his teammates and coaches Sepich is truly sensational. Not only has Sepich managed to train for two sports simultaneously, but he is also working on his biology major in preparation for physical therapy school at Thomas Jefferson University in Philadelphia.
"It is Bill's selflessness and willingness to help our team that has impressed me most this season," Mechak said. "Doing a college sport on top of school is tough enough as it is, and for Bill to give up what free time he did have to help us out says a lot about the guy he is. Anytime we needed Bill or asked him to swim a meet with us, he was willing to do it in a second, no matter what he had going on."
Although training in both swimming and track has meant that he has had to limit each, it has only been an asset to his success.
"He's only running maybe 25 miles a week, and he's in the pool the rest of the week," O'Sullivan told the BCT. "It's helped his running, and it's obviously helped his swimming. Really, [it's] one of the most remarkable things I've ever seen." This compliment coming from a four-time track and field Olympian and world champion truly indicates Sepich's extraordinary potential.
The series of events that have unfolded in this unheard-of accomplishment are a worthwhile reward to such a dedicated athlete. Fate may have helped Bill Sepich get this far, but only preparation and perseverance will have a bearing in what will undoubtedly be the most important weekend of his athletic career.