Star Watch (Akilah Vargas): Big East Champion in midst of final season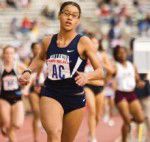 A passion that began developing over a decade ago has begun to reach its full potential.
Akilah Vargas of the women's track and field team started running at the age of 8 simply for fun. Now she has established herself as an elite runner for a university with a storied track and field history.
Vargas has had top finishes in several postseason competitions throughout her collegiate career. In indoor competitions, Vargas was a member of the 4×800-meter relay team that finished first in 2005 and of the '06 distance medley relay team that finished second at the Big East Championships. Outdoors, Vargas finished third at the '07 NCAA Regionals competing in the 1,500-meter race, second at the '06 Big East Championships in the 800- meter run and was a part of the first placed distance medley relay team at the '06 Penn Relays. Vargas' greatest successes came last year, however, capped by a victory in the 800-meter race in both the indoor and outdoor Big East Championships.
Currently in her final year of eligibility, Vargas is striving for her concluding year to be her best in hopes of contributing to the wall of fame that originally inspired her to come to Villanova. Vargas has rolled over her successes in 2007 to this indoor season. By posting excellent times in two events, Vargas is provisionally qualified for five events in the postseason meet: the 800-meter run, 1,000-meter run and the mile, along with the distance medley relay and the 4×800-meter relay. This indoor season Vargas holds the top Villanova time for the 800-meter race (2:09.46 at the New Balance Collegiate Invitational on Feb. 9) and the mile with a personal-best time of 4:46.27 recorded at the Penn State National Open on Jan. 26, and the second best Wildcat time in the 1,000-meter run.
The Villanovan recently had the opportunity to ask Vargas some questions about life both on and off the track and her plans for life after Villanova:
What made you choose to come to Villanova?
I saw the wall that connects the Pavilion and the Field House with all those track trophies and plaques and the National Championship trophy and thought, "I want to be a part of that." There's just such a huge history here, and I knew that Villanova would be right for me.
You had a great season last year and are having an equally successful indoor season this year. What's the past year been like for you?
I graduated last year. I came back because I wanted to see what I could do, to see if I could make any improvements.
Winning the 800-meter race at the Big East Championships both indoors and outdoors last year must have been a thrilling experience. What are your memories of those meets?
It was really exciting because before I didn't really have too many good Big East [meets], so that was an exciting time for me, and it was also good because it was my senior year.
What is your favorite event to compete in?
I like the mile. It's the hardest for me but I like the challenge.
How did you first get started running competitively?
I started running when I was 8, just like club track for fun. We would just run all out, like really hard and then die. It was so fun. We wouldn't train or anything like that; it was just fun. And then I started running competitively when I was in high school.
What hobbies or activities do you enjoy outside of running?
Obviously I like reading. I just started hiking and camping, and I love it. And traveling – I love to travel. My favorite place is the Grand Canyon. It's beautiful.
What are you going to miss the most about Villanova?
I'm going to miss running. It's like when you're with the team every day, you dread running, but you know you are going to run. When you're not doing that, that's pretty scary. Running's something that I've done pretty much all my life and knowing that I'm going to do it without having other people to support me is pretty scary. I'm going to miss that a lot. Even though running is hard, it's also one of the biggest rewards.
What are your plans for next year?
I'm in the English program this year, so I'll finish the program and get a secondary teaching certificate and then hopefully teach high school. People always ask, what are you going to do with an English major? They assume that the only thing you can do is teach; even though that's what I want to do, I could do other things.