MBB Recap: St. Joseph's drops 'Nova in Holy War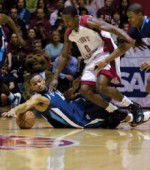 Phil Martelli still thinks Villanova is the preeminent program in Philadelphia. But that wasn't enough to help Villanova win this year's edition of the Holy War or snap their losing streak, which now stands at five games.
"This team, my team, is better than their team this year," Martelli said. "Their program is the preeminent program in Philadelphia and I'm not ashamed to say that and I welcome the opportunity to compete against them."
Saint Joseph's (15-5, 2-0 Big 5) used a huge boost from the raucous crowd at the Palestra to get out to an early lead and bury the Villanova (13-8, 3-1 Big 5) quickly, cruising to a 77-55 win. St. Joe's used an 11-0 run in the middle of the first half to increase their lead from one point to 12. The 'Cats were never able to get back to within single digits.
"I thought St. Joe's was great," Jay Wright said. "Their defense was outstanding. They were great at moving the ball and making the extra pass. They're a very, very good basketball team. I was very impressed."
The Hawks used that ball movement to hit a bevy of shots from the outside and score 45 points before the half. Three-point defense has become a chronic problem for the Wildcats this season, as they've allowed opponents to shoot 40 percent from beyond the arc.
Senior forwards Rob Ferguson and Pat Calathes led the Hawks with 20 points apiece. Ferguson made the most of his open perimeter looks, burying five of his six 3-point attempts.
"Right now, Jay's team is just young," Martelli said. "I was honest with my team. I think that they have guys on that team who are better than the guys that I have but we're older and right now we're playing on the uptick."
Offensively Villanova struggled to overcome what Martelli called Saint Joseph's best defensive performance of the season. The Wildcats, who trailed by as much as 31 points, surpassed the Hawks first-half point total of 45 with just 2:06 remaining in the second half.
"We have certain lineups that can score and certain lineups that can defend but we haven't found a lineup or rotation where we can score and defend consistently," Wright said. "We've got to get that down."
Wright also stated that its natural for any team to lose confidence during a stretch like the one the Wildcats are on, but it's up the team's leaders to keep that from happening.
"Every team goes through their own journey," junior Dante Cunningham said. "Right now we're learning how to deal with the down. We're just trying to fight and scrap our way out of this."
The latest Villanova loss, in addition to being a drubbing at the hands of the team's biggest rival, also snapped the Wildcats' record of 14 consecutive wins over Big 5 opponents. Wright said that records aren't important to the team now, especially when there are more important issues at hand, but it will be something everyone looks at after the season and regrets.
"I would suggest it was a little overdone about the dominance," Martelli said, regarding to local media coverage focusing on the Wildcats' recent Big 5 success. "We weren't playing for anyone other than Saint Joseph's tonight. We weren't playing for the city or to save the Big 5. That's for the Crusades, and in the Crusades, a lot of people were slaughtered. We're not interested in doing that. We're just interested in our individual team."
With just nine games remaining on the schedule, Villanova's postseason fate is in limbo and the schedule won't get any easier, with nothing but Big East games left on the docket and Seton Hall up next on Saturday.
"You know it's coming, so you try to prepare for it in your practices in October," Wright said. "Looking back at it now, the coaches could have done a little bit better job. The players could have done a little bit better job. But now, you got to battle to get better.
"We're not done yet. We're going to get better. I'm telling you this team will get better."