Out of Bounds: A letter to myself 14 years ago when I starting rooting for the Jets (instead of the Giants) and David Cassilo's take from the winning side of Super Bowl XLII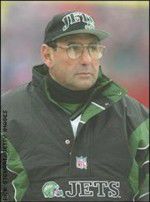 An 8-year-old cost me one of the best celebrations ever
As a New York Jets fan, watching this year's Super Bowl was incredibly bittersweet. Seeing the Patriots fall just one step short of 19-0 was tremendous. The Pats have caused me plenty of pain and broken furniture in recent years, so it was a no-brainer for me to pull for the Jets' roommates, Big Blue.
When I started to make the rounds on calling and texting my friends who are Giants fans, congratulating them on their win for the ages, I started thinking to myself what it would be like to have a moment like that. Will I ever see the Jets win a Super Bowl? What does it even feel like? Could I have been basking in the glory of this win, as a fan of the victorious team, if not for a twist of fate?
Growing up in a household with no pre-determined rooting interests (somehow, neither of my parents are big pro sports fans), it was up to the elementary school version of me to find my own favorite teams. I still remember the day I became a Jets fan, so I am currently in search of Doc Brown so I can borrow the DeLorean and give myself this letter 13 years ago and possibly change the fate of my football fandom forever.
September 11, 1994 – 7:45 PM EDT
Dear Kyle,
You just saw Nick Lowery kick a game-winning field goal to lead the Jets to a 25-22 win over the Broncos, and now you've sworn yourself to lifelong Jets fanhood. I get it: it was the first football game you watched on your own and you're really excited about this new team you found.
But I'm going to give you a little heads up. They're going to lose next week to Dan Marino's Dolphins. You're going to throw a stuffed football at the wall and just miss breaking a picture frame. Relax, it won't be the last time you see this happen.
In fact, now that you're a Jets fan, you're going to go through a lot of heartache over the next 15 years of your life. The Jets lose five straight to end the '94 season after starting 6-5. The next year, a guy named Rich Kotite becomes the team's coach and wins four games … in the next two years combined. You'll spout conspiracy theories when, just two years after Kotite, Bill Parcells' Jets go 12-4 and lead Denver at halftime of the AFC Championship Game, only to lose to John Elway in his final season.
You'll have some good times, like when the team's new quarterback in 2002, Chad Pennington, rallies the team to the AFC East title from out of nowhere, or when they beat the Chargers in the 2004 playoffs and become the surprise team of the NFL to make the playoffs again in 2006.
But every time, it ends in misery. You'll see them choke on the final week of the season in 1997 and 2000 and miss the playoffs. You'll Vinny Testaverde get hurt in 1999 and Pennington go down in 2003 and 2005, meaning every year your Jets have expectations to be good, the starting quarterback will get injured and effectively end the season in September. And one day, you will stand paralyzed in fear as Doug Brien attempts a game-winning field goal in the playoffs against the Steelers.
For a moment, now, consider that you live just outside New York City. You have options for what team to root for, an opportunity hardly any other area gets. In the very same stadium, you have the New York Giants. Now, things won't go so well for them right away, but on February 3, 2008, they'll win the greatest Super Bowl ever played. Going into the game, the Patriots will be undefeated and will need just one more win to go down as the greatest team ever (and yes, you will grow to hate them more than you hate the Dolphins).
But along comes this scrappy Giants team, who no one expected to make the playoffs before the season started, let alone the Super Bowl. They come from behind in the final minute to shock the world in one of the greatest sports moments ever.
So think about what you're doing here. You're costing yourself the chance to be on the winning side of this historic game. You'll ruin every chance you have of telling your kids where you were when Eli Manning somehow escaped the rush and David Tyree and his helmet somehow caught that ball. Fourteen years from now, you'll stand in your living room while attending college at Villanova (congrats, by the way), wearing your Jets jersey wondering what could have been. You'll talk to your friends and hear the jubilation in their voices after winning the best football game you've all seen during your lifetimes.
I've told you a lot of things about the future, so you may want to ask me when you'll get to see the Jets win the Super Bowl. Well, I can't tell you that, because I haven't seen it yet.
But now that I think of it, that's why you should just hang in there and remain a Jets fan. When they finally do win one, that will undoubtedly be the greatest Super Bowl of all time.
Your self,
Kyle – February 7, 2008
P.S. – Tell Mom and Dad to invest everything they've got in something called Google.
And now, a word from a winner …
I decided Sunday's Super Bowl was historic enough to warrant another historic event. For the first time in the history of this page, we have a guest columnist. Here's my good friend David Cassilo's take on what it was like to see his Giants win one of the biggest games in NFL history:
Each second felt like an eternity. My New York Giants were giving the New England Patriots everything they could handle, and even better, they actually had a chance to win. With all of the intensity and emotion I was feeling, the commercials were a welcome pause to catch my breath. Late in the second half, one of those commercials stood out to me. In a Coca-Cola advertisement, parade balloons featuring Underdog and Stewie from Family Guy engaged in a city wide chase for a Coke bottle balloon. After battling it out, Charlie Brown sneaks out from behind a building and steals the prize. That's right, the same Charlie Brown who could never win a baseball game, never got his beloved redheaded girl and never was able to even kick the football had finally won.
What I saw in Charlie Brown, I saw in my Giants. This was the team who I saw fail to score a touchdown in their last Super Bowl, the team that botched that final snap against the San Francisco 49ers, the team that was shutout in the playoffs two years ago and the team that broke my heart when they allowed David Akers to hit a game winning field goal in last year's playoffs.
No one had taken on that Charlie Brown role more than Eli Manning. He was the face of the Giants and everyone, including a great number of his team's own fans and one outspoken running back, expected him to fail. Heck, Eli even looked like the lovable loser with the black and yellow zigzag shirt.
However, on a Saturday night in late December, Eli and the Giants did not want to be the loser anymore. They saw a perfect team across the sidelines, and after 60 minutes of back and forth football, they saw themselves, as equals. When the playoffs began, they showed the nation what they saw. However even after a dominant win in Tampa Bay and two epic drama filled victories in Dallas and Green Bay, the world still expected them to fail.
For the Giants, it didn't matter what the world thought. They knew they were no longer the losers, no longer the team that collapsed down the stretch every season and no longer the source of my annual broken heart. So when Eli Manning took that final kneel and the Giants bench exploded in celebration, why was anyone surprised? This was the best team in football, and they knew it. No matter how many times they failed and how many people expected them to fail, they never stopped trying. In the end, they finally got their prize. Just like Charlie Brown.
Random Ruminations
How bad is it to be a Minnesota sports fan right now? Your quarterback is a combo platter of Tarvaris Jackson and Brooks Bollinger, the T'Wolves have won about 20 percent of their games and now the Twins have traded baseball's best pitcher for a handful of ifs, maybes and projects. Meanwhile, will there ever be a better week to be a Giants and Mets fan?
I can't decide if SportsCenter's ESPN Deportes segment is marketing to a growing demographic or stereotyping at its finest.
Eli Manning: Super Bowl MVP. I still can't believe that it's not just a misprint.
Lost in the midst of a fantastic Super Bowl were the ads. While I felt this was a down year for the ads as a whole, there were still some pretty good ones to be found.
The best, once again, goes to Budweiser, with the dalmatian training the clydesdale to the backdrop of "Gonna Fly Now." Now, if they only could have CGIed the horse yelling "Drago!" as it ran up the snowy mountain … nah, that would have ruined it.
My vote for the worst ad? Here's a bit of an upset: the Victoria's Secret ad starring Adriana Lima. It started out really promising, then attempted to throw a wet blanket on a legendary football game by having the audacity ot mention Valentine's Day on Super Bowl Sunday. Shame on you, Victoria.
YouTubin' Clip of the week
See the video atyoutube.com/villanovansports
Sad news to report as Coach Bob Knight, one of the reasons pages like Out of Bounds even get to exist, has stepped aside as head coach at Texas Tech, meaning this could be it for one of the greatest and most infamous coaches in sports history.
However, fans can relive the greatness of Coach Knight in this week's YouTube clip. Didn't know Bobby Knight knew anything about golf? He doesn't, but filmed an instructional video about it anyway. What do you get when you cross one of the most cantankerous men off all time with the world's most frustrating sport?
Sit back and enjoy.