Out of Bounds: Billy Crystal signs with the Yankees and America's Quarterback calls it quits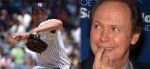 Crystal clearly not the craziest Yankee signing
There have been some head-scratching signings by some of the MLB's richest franchises in recent years, but this one, at least on paper, is the most bizarre.
In case you haven't heard, the New York Yankees inked comedian and lifelong fan of the pinstripes Billy Crystal to a contract earlier this week. Crystal, 60, worked out with the team yesterday and will suit up and play for the Yanks today in their game this afternoon against the Pittsburgh Pirates. While it hasn't been disclosed what Crystal's role will be in his short stint as a Bronx Bomber, early reports that his arrival will drop A-Rod to eighth in the Yankees' order have been deemed untrue.
Crystal has some pretty strong ties to baseball and the Yankees in general, directing the HBO movie "61*" and, along with Bob Costas, accepting Mickey Mantle as his one and only lord and savior. But the "When Harry Met Sally" star is obviously past his athletic prime and has no pro-baseball experience. Still, unless his play on Thursday somehow translates into a career-ending injury to Derek Jeter, the signing of Billy Crystal will never come close to touching some of the ridiculous acquisitions the Yankees have made in recent years (let it be noted that I'm a Yankees fan, so my bashing comes from the heart):
Jason Giambi (2002-present)
What they gave up: $120 million over seven years … roster spots and millions-more dollars to sign back-ups who could play first base … the chance to re-sign World Series hero (and my favorite Yankee ever) Tino Martinez
What they got: One of the biggest financial albatrosses in Major League Baseball … a broken down, overweight DH who was terrible defensively even in his prime … a .208 average in 2004 … 39 RBI in 2007 … one of the most unathletic-looking people to ever get paid to play a sport … Barry Bonds' partner in crime in the BALCO scandal … the only Yankee I've ever openly rooted against in my life.
Jeff Weaver (2002-2003)
What they gave up: Ted Lilly, a young, blossoming left-handed starter
What they got: A total headcase from day one … a 5.99 ERA in 2003 … the home run to Alex Gonzalez in the '03 World Series (which he shouldn't have even been on the roster for), which gave the Florida Marlins (yes, the Marlins) their second world championship.
Jose Contreras (2003-2004)
What they gave up: $14 million over two years … whatever it cost to book every vacant room in the hotel closest to where he was being scouted so the Red Sox had to be inconvenienced in their attempts to scout him
What they got: A 5.50 ERA in 2004 … a demotion to A-ball for a guy who they pegged to be a long-term fixture in their rotation … a home run by David Ortiz that almost lost the '03 ALCS for the Yankees.
Carl Pavano (2005-present)
What they gave up: $30 million over three years plus a buyout of his fourth year and subsequent minor-league deal for '08
What they got: An injury-prone pitcher who threw just a few more innings for the Yankees in the past three seasons than Abe Vigoda has … shoulder, buttocks, rib and elbow injuries, along with chronic chapped lips and a really, really bad case of the sniffles that landed him on the DL for most of his stay in New York … the biggest joke for an opening day starter (2007) in franchise history.
Kei Igawa (2007-present)
What they gave up: $20 million over five years
What they got: A 6.25 ERA in 14 appearances … another demotion to A-ball for a guy who they pegged to be a long-term fixture in their rotation … one of the only pitchers in history to pitch while wearing sunglasses.
Say it ain't so, Brett
America's quarterback has finally called it quits, or at least, that's what we're being led to believe.
Brett Favre, the only athlete of our current generation who has gained the reputation of folk hero, called it quits last week in an emotional press conference. So ends one of the greatest careers in NFL history, the saga of a former MVP, Super Bowl Champion and surefire first-ballot Hall-of-Famer and the constant speculation he's going to retire at the end of every season.
Favre, the "gunslinger" who "played the game like he was in the backyard with his friends," will certainly leave a lasting impact. What athlete in recent years has been more beloved? Even Derek Jeter, a model as a respectable athlete and all-American role model, carries the cross of wearing the pinstripes. Favre was loved by all, except Bears fans, who've had to watch Erik Kramer, Shane Matthews, Cade McNown, Jim Miller, Chad Hutchinson, Rex Grossman, Brian Griese and Kyle Orton over the last 15 years, and thus, don't know anything about quarterbacks anyway.
Favre's departure leaves an interesting question lingering: who's the next athlete who will be as revered as Favre was? Even casual fans know some of the distinguishing details of Favre's personal life: raised in Kiln, Miss.; married to his high school sweetheart who later survived breast cancer; saw his family's home destroyed by Hurricane Katrina; and played one of the greatest games of his career (399 yards, four first-half touchdowns) just one day after his father died in an automobile accident. Throughout all this, he started a record 275 straight games (including the postseason) as the quarterback of the Green Bay Packers.
For these reasons, and for the way he played the game with a carefree, happy attitude, even fans outside of Wisconsin felt a special bond to Favre. Fans don't just know him for his stats or, as is the case with many of today's elite quarterbacks, for who he's dating. Favre was a one-of-a-kind athlete who could be respected by all.
Looking back on it, I'm glad this "will he or won't he retire this year" drama unfolded after the last few seasons, because every time he came back for "just one more year," I really enjoyed and appreciated each opportunity I got to watch him play football.
We all knew that even the great Favre would have to hang it up someday, and sadly that day has come. He came as close as you could, overtime in the NFC Championship Game, this season to reaching his third Super Bowl, but fell short. At least he's going out on a high-note, ending the career of one of America's most beloved athletes.
Unless, of course, he plays a pick-up game in the backyard one day and gets the urge to come back and don his number four one more time.
Random Ruminations
I was watching ESPN the other morning ,and Jay Crawford informed me during a "SportsCenter Right Now" break that Eddy Curry will need arthroscopic surgery on his right knee, but he will "try to put off surgery if at all possible." Now I'm just waiting for the announcement that Curry, apparently the only person in the world willing to risk further injury to play for Isiah Thomas' New York Knicks, is being prescribed a straight-jacket and padded cell.
The Houston Rockets hadn't lost a game since Jan. 27 entering last night's action against Atlanta. To put that into perspective, the Rockets win streak (43 days and maybe more) is now longer than any period of sobriety Lindsay Lohan has had since her eighth birthday.
The New York Rangers want to play an outdoor game in Yankee Stadium to close "The House That Ruth Built." I've never disliked hockey before, but that is seriously one of the most sacreligious suggestions I've ever heard as a sports fan. Yankee Stadium will close one of two ways: with either the Yankees winning the World Series, or the Yankees getting eliminated from contention and Hank Steinbrenner falling asleep in a chair after firing the team's groundskeepers and burning the stadium to the ground with a lit cigarette. Yankee fans wouldn't want it any other way, trust me.
YouTubin' Clip of the Week
See the video at
youtube.com/villanovansports
With March Madness upon us, it's time for champions to be crowned, hearts to be broken and friends to be made fun of. One of the biggest things at stake is bragging rights because there aren't too many feelings greater than the hatred of one's rival school. Seriously, everyone's rival has ugly colors, a wussy mascot, less than desirable cheerleaders and low standards of admission. Everyone knows these fundamental disses in the world of college sports rivalry, but this Alabama student adds some new ones and really just can't stress enough how everything about Tennessee is the worst thing ever.