Out of Bounds: A viewer's guide to the Sweet 16 and predictions for this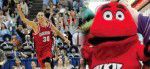 Becoming Elite sounds pretty freakin' Sweet
What a weekend! The NCAA tournament never seems to disappoint. We had game-winning buzzer beaters, Cinderellas, upsets, surprises, bad calls, lucky breaks, breakout performances and out-of-nowhere superstars.
While it will be tough to top the first four days of March Madness, the Sweet 16 and Elite Eight will try their best to serve up an exciting encore this weekend. With 12 more games on the schedule for this Thursday-Sunday, here are some things to look for in "2008 Viewers' Guide to the Second Weekend of the NCAA Tournament."
You've got to feel good if you've got them picked to win it all: North Carolina
You're starting to feel scared if you've got them winning the whole thing: UCLA
Least missed team from the field of 65: The team everyone loves to hate, Duke, failed to make the Sweet 16 for the second straight year but could have just as easily been knocked out in the first round for the second consecutive tourney. How did this team win 27 games with no frontcourt?
The other big program that we shouldn't be surprised isn't here: Every year we hear about how talented UConn is, but then the Huskies don't reach their potential because of a lack of heart and motivation. I know Jim Calhoun has won two national championships with the Huskies, but at what point do we start questioning the job the he's doing in Storrs?
Coach least likely to get ejected from a game this weekend: Unless he's asking to get fired, expect Stanford coach Trent Johnson to be as obedient as a poodle at the Westminster Dog Show.
Most likely to become the subject of a Disney movie if he reaches the Final Four: Stephen Curry, not only because he's torching everyone in the nation after getting dissed by every ACC school in the recruiting process, but because he also looks young enough to own a pretty substantial Disney DVD collection.
Most intimidating mascot: While some may think I'm going to pick a bear, tiger or Spartan here, I have to go with Big Red from Western Kentucky. All of the other mascots are known entities with recorded strengths, abilities and weaknesses in combat. No one knows what on earth the blob-like Big Red is. He could be a tame, gentle creature, but would anyone be surprised if he tried to eat Darren Collison?
Team with the most pressure: Perennial choke artist Kansas has to be the pick here, not only because of its history in the tournament but because of its matchup on Friday. I mean, all they have to do is beat some Cinderella No. 12 seed to reach the Elite Eight. Unfortunately for them, that No. 12 seed isn't from the Southeast Atlantic Sun Belt Mountain Valley Coast Conference; it's from the Big East, and Bill Self still hasn't made a Final Four.
Dark horse Final Four team: If they somehow upset UCLA, would it be totally out of the question that Western Kentucky could advance to San Antonio?
Dark horse Final Four team with an even better shot to get there: West Virginia, who's more likely than Western Kentucky to reach the Elite Eight, then would just have to pray that the zebras didn't ruin their chances of knocking out UCLA in the Regional Final.
My picks to make the Final Four: North Carolina, Wisconsin, Texas, UCLA
Reasons to trust someone who only got nine out of the Sweet 16 right: None.
Sweet 16 Picks
West Virginia (-1) over XAVIER: Joe Alexander was one of my favorite players of the week, not only for leading the way in the demise of Duke but for the great things he said about the Big East following the Mountaineers win. Big East-tested WVU will come out on top over a Xavier squad that couldn't make it through the A-10.
NORTH CAROLINA (-8) over Washington State: UNC was the most dominant and flat out scary team of the first weekend. They showed the ability to run and score at will, albeit against less-than-excellent competition. Washington State, a defensive-minded, grind-it-out team that held a high-powered Notre Dame offense to 41 points, provides a contrasting matchup for the Tar Heels. Wazzu will keep it close most of the way but won't score enough to win.
Davidson (+4.5) over WISCONSIN: Wisconsin is a lot like Georgetown. They play great defense and usually don't blow teams out. This could be the best game of the Sweet 16, and while I think the Badgers will win, does anyone want to bet against Stephen Curry right now?
TEXAS (-2) over Stanford: Brook Lopez's off-balance game-winner against Marquette guaranteed another week of "Isn't this cool? They're twins!" features all over the media as Stanford advanced to the Sweet 16. Give Texas the edge here because of its guard play and home-state advantage.
MEMPHIS (-5) over Michigan State: I can't ever figure the Spartans out in March. They either flake out and lose their first game or make a run deeper than people expected. Memphis' talent should be too much for Michigan State. (Note: I am already totally prepared to regret this statement when the Spartans make the Final Four).
Random Ruminations
If you think it was inconvenient for Red Sox fans to wake up at 6 a.m. to watch Boston's opening series of the season, consider what it must be like for Athletics fans on the West Coast, where the games started at 3 a.m. That's why it was really nice of A's management this offseason to effectively kill any fan interest in its club and save many of their fans a ton of sleep.
The Sixers' win on Monday over the Boston Celtics put Philly over .500 for the first time this season and in striking position of the No. 5 seed in the East playoffs. While the Sixers' bandwagon has been completely empty the last few years, local fans better grab their seats quickly. Look at what happened when the Phillies got good.
I understand that Bobby Knight being a TV analyst is a big deal, but I lost count of the number of times that other ESPN personalities referenced his "pick" of Pitt to win it all. Should Knight saying something along the lines of "I guess Pitt could win it" be treated like scripture? It was this week at the Worldwide Leader.
While Donnie Walsh seems set to take over as Knicks president, the only man who could save the Knicks at this point is Jack Bauer, but he is both fictional and overqualified (bonus points if you get the "Office" reference).
YouTubin' clip of the week
See the video at
youtube.com/villanovansports
Too much emphasis is put on history by the sports media, so I'm not going to say that Villanova's huge win over Kansas in 2005 is any kind of predictor of what will happen tomorrow night when no current Wildcats were on that team. What I will say though is that this win three years ago was a program-altering victory that put this generation's Wildcats on the map. It was the turning point of the Jay Wright era and set in motion the first Sweet 16 season in the three out of four run. Plus, watching highlights of Curtis Sumpter and Allan Ray drain 3-pointer after 3-pointer against the Jayhawks is just plain fun. Relive one of 'Nova's best recent wins with this week's clip.