MBB Recap: Hot shooting propels 'Cats to next round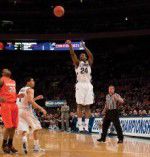 The Big East Championship opener was a do-or-die matchup for both the Villanova Wildcats and the Syracuse Orange, two teams squarely on the bubble entering the conference tournament in New York City yesterday. Going into the game, both teams knew what was at stake: a loss in the first round would likely end their chances at an NCAA tournament bid.
After shooting around 33 percent in the first half, the Wildcats caught fire in the second half and rolled to an 82-63 win over the Orange to keep their NCAA tournament hopes alive for at least another day.
"That was a big-time win for this team because I think Syracuse is a tournament team, and I think we beat a tournament team, and that's what this group has to do," Head Coach Jay Wright said. "This group is kind of making their own name. I'm really, really proud of them, really happy for them."
Syracuse's interior strength was clearly evident in the game's early stages. The bigger Orange team stacked its size advantage inside the paint with a zone defense. The Wildcats tried their hand at testing their offense inside the paint but to no avail. Attempts to get inside the key resulted in turnovers, missed shots and blocked shots.
Syracuse's zone eventually forced 'Nova to try scoring from the outside, and Jim Boeheim's defensive scheme worked like a charm for most of the first half. A quick flurry of 3-pointers by Donte' Greene and Paul Harris accounted for much of Syracuse's first-half offense, as the Orange shot 5-for-10 from beyond the arc in the first half and grabbed the early advantage.
"I thought we did a pretty good job in the first half defensively," Wright said. "We couldn't score, and we were turning the ball over. So I wasn't that concerned defensively starting the second half."
'Nova hung in and finally came alive in the first half's final minute. After a deep 3 by Corey Stokes pulled Villanova to within six a minute before halftime, Scottie Reynolds threw an outlet pass to a wide-open Shane Clark, who finished with an emphatic two-hand jam.
Another empty Syracuse possession put the ball back in the hands of Reynolds, who threw another long pass, this time into the hands of Dwayne Anderson. Anderson buried a 3 from the right corner as time expired, cutting Syracuse's advantage at the half to one point.
Anderson, Reynolds and Stokes making plays and hitting big shots in that final minute foreshadowed what was to come in the second half, as the 'Cats' hot shooting finally melted the impenetrable Syracuse zone. As Anderson and Stokes heated up, though, so did Syracuse, as the teams traded baskets through the early part of the second half.
The game was tied at 41-41 when an 11-1 run finally created the separation that Villanova needed to bury the Orange. Two 3-pointers by Stokes, who tied his career-high with 18 points, and an and-one by Anderson, who finished with 14 points, fueled the Wildcats' run, which got their lead up to 10 with just under 10 minutes to go.
"Corey [Stokes] just keeps getting better and better and better," Wright said. "And he's just making us a much better team."
As 'Nova's shots started falling, its defensive effort went from solid to stifling, as the young Syracuse squad crumbled in front of a largely supportive crowd at the Garden.
The Wildcats' trio of perimeter gunners did not quit, as 'Nova shot 80 percent (8-for-10) from 3-point range in the second half. Meanwhile, Syracuse's defense, which had willingly yielded similar open looks in the first half, watched innocently as its tournament hopes were likely buried.
Meanwhile, Reynolds, who ran the show offensively with 'Nova's bigger lineup sitting freshman Corey Fisher, played the point with precision and efficiency.
"We just got great leadership from Scottie," Wright said. "I told him walking over here, I had no idea he had 22 points, but I knew he had six assists and no turnovers. When he came out, I said that was a big-time point guard game."
The Wildcats will have a chance to add another signature win as they earned a rematch with Big East regular-season champion Georgetown today at noon, marking the first time the two teams will meet since the Hoyas' controversial win in February's nail-biter at the Verizon Center in Washington D.C.
"Oh, I hope it's enough," Wright said of yesterday's win on NCCA tournament chances. "You hope it's enough. But you get to play another day, so that's really what's most important to you."