Star Watch (Taryn McKenna): Junior leader fills up stat sheet for Wildcats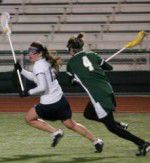 It's difficult to look at a Villanova women's lacrosse boxscore without seeing the name Taryn McKenna. Establishing herself as a prolific goal scorer, junior McKenna has become a staple of the Wildcats' frontline and a player who can be counted on when her squad is down by a few goals.
Not quite halfway through the season, McKenna has almost matched her totals from 2007. As a sophomore, she posted 19 goals and three assists in 17 games. So far this season, McKenna has registered 17 goals and four assists in just nine contests. As the old adage goes, "If you want goals, go to the net," and McKenna follows this mentality every game. In the '08 season, she has recorded 52 official shots on net, over 30 more than the next closest teammate. McKenna has scored over a quarter of Villanova's goals and has taken 28 percent of the team's shots this season.
When it rains, it pours goals for McKenna. Like Lays potato chips, McKenna finds it hard to have just one. In Villanova's nine games through Tuesday's play this spring season, McKenna has five multiple goal games. Of those five, she has scored three or more goals in four matches.
Although an obvious offensive talent, putting the ball in the net is not the only thing for which McKenna wants to go down in Villanova lacrosse history. One of her goals is to be recognized for her two-way play and ability to help out on the defensive end as well.
"As far as goals, I think I'm doing pretty well at that," McKenna laughs. "But I'm always looking to get better. I'm looking to improve on my one-v-one defense, for one. Also, transitions, working the ball around the field – things like that."
With McKenna excelling so much at lacrosse, it's hard to imagine her playing any other sport. However, the junior lacrosse standout actually excelled in three sports throughout high school, earning varsity letters in soccer and basketball as well as lacrosse, and she received offers to play all three at various universities. Lacrosse, however, was always a perfect match for McKenna.
"I think I was in fifth grade and I was at a camp playing tennis and the owner of the camp called my parents up and was like, 'She's wasting her time playing tennis. She's too athletic for this,' " McKenna said. "So he actually put me with high school freshmen playing lacrosse. That's how I started, and it fit. Once Villanova called me, I was like, 'That's it; that's where I want to go.' And I'm really happy with that decision."
Off the field, McKenna's studies are currently focused on economics with an interest in working in the real estate field after graduation. Amid a demanding schedule of lacrosse and challenging courses, McKenna relishes any time to simply relax and spend time with friends.
The young and perhaps slightly inexperienced team relies on several key upperclassmen. McKenna is one such player. Along with her daily performance on the field, McKenna continues to gain experience that will help mentor the 19 freshmen and sophomore players throughout her final season and a half at Villanova. McKenna will use her favorite memory playing for the blue and white to help motivate the young Wildcat players.
"Last season we played La Salle, we won in double overtime, and it was just the best feeling to win," McKenna said. "It was just a great feeling. We had a lot of fans there, and it was a lot of fun."
With the magnificent combination of offensive prowess, growing defensive reliability and a radiating positive attitude, McKenna is an excellent leader. Whether scoring multiple goals a game or simply supporting her teammates, McKenna is one of the most exciting players to watch on the field simply because she enjoys playing the game with teammates she loves.
As long as Villanova has a gifted athlete such as McKenna on their side, the Wildcats certainly have a bright and winning future ahead of them.