Out of Bounds with Kyle Scudilla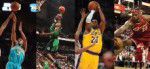 Pop quiz, hot shot. Who's your MVP pick?
Having trouble making up your mind about who should be MVP in the NBA this season? I definitely am, and so are many other hoops fans, which is why I've developed a quiz to help out, if you too are still undecided about who you think is most deserving, answer the following questions then follow the instructions at the bottom to see who you've chosen, and please don't cheat. Copying the answers of the presidential scholar sitting next to you just isn't right.
What job description sounds most valuable?
A. A swingman who can score at will and D it up, in addition to hitting just about every clutch shot you could ask for, even when everyone knows he's getting the ball
B. A big man who can do a little of everything: score from all over, pass, board, play defense in the post and scare guards away from taking it to the rim
C. A swingman who can score from anywhere on the floor, has great court vision and also has been making a habit of hitting big shots late in the game
D. A floor general who can drive, shoot and pass while being a terror on defense and stepping up as a leader at a young age
What stat line is most MVP worthy?
A. 46.0 fg%, 28.4 ppg, 6.3 rpg, 5.4 apg, 1.9 spg, 36.3 3p%
B. 54.0 fg%, 19.0 ppg, 9.3 rpg, 3.5 apg, 1.4 spg, 1.2 bpg
C. 48.4 fg%, 30.0 ppg, 7.9 rpg, 7.2 apg, 1.8 spg, 1.1 bpg
D. 48.5 fg%, 21.1 ppg, 4.0 rpg, 11.6 apg, 2.7 spg, 36.6 3p%
What should the MVP's supporting cast look like?
A. A former All-Star who's never won in the playoffs and a future All-Star on the other block
B. A pair of perennial All-Stars who haven't won the big one
C. A bunch of nice role players to do the dirty work and knock down the occasional three
D. A young All-Star power forward with a bunch of underrated supporting players to dish to
Which of the following statements makes the best case for MVP?
A. "See, I totally knew what I was doing a few years ago. I told you all I could win without him. I just needed a little help, that's all."
B. "My team went from tanking for the No. 1 pick last year (and ending up with the No. 5 pick) to finishing with the best record in the NBA."
C. "I may go down in history as the best player in the history of the game, and I'm putting up the best overall numbers of my career on a playoff team."
D. "I took a team that didn't make the playoffs last year and put them at or near the top of the West all season."
What's your philosophy for picking an MVP?
A. If a guy led his team to the top of what's been a conference dogfight all year, then he deserves it, especially if he hasn't ever won before
B. Even if his numbers aren't the greatest, his presence alone has led this team to the top after they were at rock bottom a year ago
C. Without him, this team would be a joke and the franchise would be largely irrelevant.
D. This team has come out of nowhere to be the biggest surprise of the season and this guy is what made it possible
Now tally up your answers. If you answered …
… mostly As, then your choice is Kobe Bryant, who has the Lakers back on top for the first time since Shaq left La-La Land.
… mostly Bs, then your pick is Kevin Garnett, who took the Celtics from laughing stock to title favorite, all while making Doc Rivers suddenly look like a genius.
… mostly Cs, then you're going with LeBron James, who's putting up career numbers while guiding the Cavaliers to their third-straight postseason.
… mostly Ds, then your man is Chris Paul, the best point guard in the league whose elevation to elite player status made the Hornets the early surprise of the season, then proved to everyone that they were no fluke.
The best part is, unlike all the rest of the exams you'll be taking in the coming weeks, there are no wrong answers here. You're safe from academic probation … for now.
See ya, Seattle
It's the 24th largest city in the United States with over 560,000 citizens. It's the birthplace of grunge music and the city responsible for the American coffee craze. It's home to an NFL team, a Major League Baseball franchise and recently was given an expansion MLS squad.
But apparently neither David Stern nor anyone else in the NBA felt Seattle was worth sticking up for when a bunch of greedy tycoons decided to steal the Emerald City's beloved SuperSonics.
So on Sunday, the Sonics played what is likely their last game in Seattle before packing up and moving to Oklahoma City. Likely Rookie of the Year Kevin Durant will be suiting up in a new uniform that's no longer green and gold and doesn't bear the name "Sonics" on the front.
I know I can't be the only sports fan pining for consistency these days. As if it wasn't bad enough that players change teams at a blinding pace in the free-agency era, now we can't even count on the teams to be the same. Logos and uniforms change all the time. Vintage stadiums and arenas are all quickly being replaced. And now not even the teams themselves are safe, with relocation rumors popping up in the pros all the time.
Jerry Seinfeld had a famous bit in his stand-up routine about how fans, ultimately, rooted for laundry because the players in the uniforms were constantly changing teams. Now, we can't even rely on the teams (and their laundry) to be where we're used to looking for them. I know sports become more of a business every single day, but can we please have some observance for history and tradition? What happens to Sonics history now? The Oklahoma City team won't be the Sonics. So what happens to the retired jerseys and the 1979 NBA championship banner? They'll become just memories in the minds of fans who, despite being loyal for 41 years, have now been left abandoned without a basketball team to call their own.
Well, I guess there is some hope. Seattle could always get a team again through expansion. But does the NBA need more teams right now? Nope, so it looks like we've got relocation.
As a fan of another team being moved from its home and stripped of its identity (the New Jersey Nets), let me pass along my sincerest hope that it isn't your team taking off across state borders.
Random Ruminations
The NBA playoffs are just around the corner, and the Western Conference playoffs could be one of the greatest sporting showdowns of our lifetimes. If you like basketball (even if you've abandoned the NBA in recent years), do yourselves a favor and put it on in the background of your NovaFest party at the very least.
This goes double for the locals, who get to see the Sixers in the postseason for the first time in three years. Granted, with a matchup against the Pistons in the opening round, be careful you don't blink or you might miss it. So quick, hurry up and learn those names. Time's running out, and you need to pretend you've watched these guys post-Iverson!
As a final thought for the NBA, let us all just have a moment of silence for the Golden State Warriors' playoff hopes, which bit the dust on Monday night. The '07 run was nothing short of magical, and the only people happy you're not in as the eight seeds are Nuggets fans and the team you would have played in round one.
I'd also like to apologize to Tigers fans for picking them to win the World Series in the last Out of Bounds I did. I realize with my track record (picking the Bulls to win the East this year), I should probably abstain from making picks so as not to run a team's season into the ground. But don't despair, Miguel Cabrera's batting average should be within 100 points of his weight before you know it.