Women's Club Soccer: Club soccer team captures national title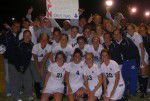 The women's club soccer team crushed the competition in the 14th annual NIRSA Collegiate Soccer Club Championships, bringing the gold medal and the national title back to Villanova. The tournament took place Nov. 15-17 in Pensacola, Fla., where the team competed in the open division of 20 teams.
After losing in the semifinals in last year's tournament, the Wildcats knew they needed to take it up a level to capture this year's title. With a smaller team than usual and two players out with mono, the Wildcats realized they had their work cut out for them. However, the backline swept the competition. Five Wildcats were named to the all-tournament team. Juniors Tiffany Villalba and Emily Werner and sophomore Meghan Hall received the award, while freshman Lindsay Hazlett was named the Tournament's Most Valuable Goalie, and freshman Christina Sangiacomo was named the Tournament's Most Valuable Player.
The first team that Villanova conquered was University of Vermont with a final score of 4-1. Although the game started with a quick goal by Vermont, the 'Cats responded quickly, with a tying goal by Sangiacomo. It was all Villanova from there, as the team found the net three times with goals by senior captain Jenna Iselin and juniors Lauren Hazlett and Mary Elizabeth Donovan.
After a positive start, Villanova was ready to take on Kansas. Similar to the Vermont game, Kansas scored the first goal. 'Nova fought back, putting three goals on the board for a final score of 3-1. With two wins behind them, the team was confident on the field against Florida, its third and final opponent in the first round of play. They shut out Florida 3-0 and entered the playoff rounds of the tournament seeded No. 2.
Villanova squared off against Texas State in the second round of play. Texas State gave the 'Cats a run for their money as the clock ran down with the scoreboard knotted. It was a goal by Iselin off a corner kick from Sangiacomo in overtime that put the team ahead. The 'Cats held off Texas for the last five minutes of post-game play to claim the victory and head to the semifinals to play Virginia. They defeated Virginia 2-0.
California was the last and final obstacle between Villanova and the national title. A quick goal by Sangiacomo and two goals by Villalba secured the win and crowned the 'Cats as national champions.
"We had so much fun with it; other teams were taken back because we had a lot of character and were outgoing on the field," Iselin said. "Any given day, heart will take over skill."