Out of Bounds with Kyle Scudilla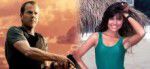 Cue up the Boys II Men, it's time for me to say goodbyeA look at what lies ahead and some thank yous
My acceptance speech:
I'm always most inspired to become famous when I watch awards shows. I think to myself "having tons of people fawn all over me being 'Best Supporting Actor in a Mini-Series or Movie?' I could do that."
Well, just in case I never get on stage at an awards show, I've decided to award myself the first ever "Out of Bounds Career Achievement Award for Writing Excellence," ("Most Colorful Page in the Paper" didn't seem to be as distinguished of an award to win) and believe me, the competition was tough. Without further ado, I'd like to thank …
… God for blessing me with all these gifts: intelligence, a great sense of humor, a keen sense of observation, a set of opinions that are always right, a solid sense of grammar and writing structure, good looks, excellent sports predicting skills and, most importantly, the ability to stay humble.
… my Mom, for reading my page every week even if you had no idea or interest in what I was talking about. But seriously, your influence has always encouraged me to take the next step and get better at everything I do and I couldn't love you more for it.
… my Dad, for not being a sports fan and allowing me to make the mistake of becoming a Nets and Jets fan. It has made me the bitter, self-deprecating conspiracy theorist of a sports fan that I am today.
… Uncle Paul, for buying me my first baseball glove ("signed" by Don Mattingly) and making me a Yankees fan, thus giving my childhood as a sports fan plenty of smiles and happiness to break up the tears and punched walls.
… my younger brother, Jesse, who I talked to about this page more than anyone. Whether it was trying out jokes on you, discussing NFL picks or just making fun of the Knicks again, you were always just a phone call away. So what if you had your XBox Live headset on the other ear?
… Mrs. Herwitt, my 7th and 8th grade English teacher who first encouraged me to write.
… the Sports Guy, Bill Simmons, for inspiring this page and being my favorite writer despite his love of everything Boston.
… my good friend and fellow Villanovan writer Dave for being the only guest columnist in the history of the page.
… Charles Barkley, for getting the most mentions for things only positive in the history of Out of Bounds, in addition to being the most entertaining person in sports today.
… Jack Bauer, America's greatest hero.
… Matty B., for putting up with my endless photo requests after midnight.
… Bellotti, the star of the Nova Nation.
… Rocky Balboa, for ending the Cold War in "Rocky IV" and Mickey Goldmill for being the greatest coach in the history of sport.
… Aaron Boone, for hitting that home run in the '03 ALCS and prolonging the pain just one more year.
… Kelly Kapowski, for being my first crush.
… Deadspin, for pointing out all the great stories no one else reports.
… my best buds, Short Stack and Ray Jay, for always losing to me in pick-up basketball and talking sports.
… Jason Kidd, for making the Nets a legitimate NBA franchise.
… Isiah Thomas, for, well, everything.
… Dameshek, creator of The Jerk List.
… Tim, Kathleen, Tom, Ally and everyone else at the paper who, when possible, looked the other way and let me get a good joke in the paper.
… Brett Favre, for being America's Quarterback and keeping everyone talking even after we thought you definitely retired.
… Christopher Walken, for being the best SNL host ever, hands down.
… my roommate Eric, for being the only member of the Out of Bounds appreciation group I made on Facebook but never actually invited anyone to. Respect.
… Jay Wright, for being the easiest coach in the world to cover as a beat writer.
… Maddox and Tucker Max, for showing me that there's a slim chance that someday I could get rich and famous off of writing funny stuff on the Internet.
… modern-day philosopher Chris Rock, the closest thing we have to Plato.
… Britney Spears, Kevin Federline, John Madden, Lindsay Lohan, Bud Selig, this year's Notre Dame football team, Jason Giambi, Paris Hilton, Miguel Cabrera, ESPN, Matt Millen, Michael Vick, Tim McCarver and my roommate Andy, for always being there for me when I needed a joke for the page.
… and finally, the biggest thank you goes to anyone who has ever read this page. It was a lot of work to do this every week and I appreciate anyone who has taken the time out to check this out. Extra thanks if you actually found anything here funny. If you're a fan, Google me someday down the road. If I play my cards right, I could be getting paid 10 times my current Villanovan salary to continue writing.
That concludes the longest acceptance speech ever. Strike up the orchestra, I'm ready to exit stage left.
My series finale
As some of my loyal readers may know, I'm a senior, and with this being the last issue of The Villanovan for the year, that means that this is, indeed, the final edition of Out of Bounds. Being a huge fan of TV, though, I'd prefer to refer to it as the "series finale." With that said, there were a lot of ways I could handle the series finale: the long-time "will they-won't they" love interests finally connecting ("Friends"), the family moving to a new house ("The Fresh Prince of Bel Air"), the stupid ending that disappoints everyone ("Seinfeld") or Jamie-Lynn Sigler trying to park her car outside Holstein's just before everyone in America screams thinking their cable went out ("The Sopranos").
Instead, I've opted to go with the finale technique employed by "The O.C." The teen drama (I refuse to call it a soap. I don't watch soap operas, so it can't be a soap. Oh, the reruns currently air on SoapNet? Well … someone get me out of these parentheses!)
Anyway, in case you didn't see it, the finale of "The O.C." tied up the loose ends of the season four storylines and then "flashed forward" to show us what would have happened if FOX didn't put the show on against "Grey's Anatomy," wonder why the ratings were bad and pull the plug so we could see more great shows like "Are You Smarter Than a 5th Grader?" and "So You Think You Can Dance."
I loved that the final episode did this, because it took a little of the sting out of the show coming to an abrupt end and, just like "The OC," my college career is coming to an end after just four years that went too fast. So I've decided to flash forward and show you what I'd be writing about if I stuck around Villanova for four more years. The following are the expected "air dates" (issue dates) and "episode descriptions" of what the next four "seasons" of Out of Bounds would look like.
Season One: 2008-09
Sept. 12: After acquiring a bunch of new players and heading into the season with a renewed sense of hope, the Jets' quarterback controversy ends when Chad Pennington and Kellen Clemens get injured in the season opener at Miami. Kyle laments his terrible luck while all his friends who are Giants fans mock him.
Oct. 23: After opening the season 2-5 and heading into their bye week in a state of despair, the Packers are boosted by the return of Brett Favre. Unfortunately, the mood is somber, as Kyle writes an homage to the late John Madden, who suffers a massive heart attack after Favre's return.
Nov. 6: After the Red Sox sweep the Diamondbacks to win their second straight World Series and third title in in the last five years, Kyle asks for the week off from Out of Bounds. A cliffhanger episode (just in time for November sweeps) has Kyle questioning if he has any reason to continue being a sports fan.
Nov. 12: Kyle returns with a sterling effort, blaming Joe Buck and Tim McCarver's awful postseason announcing for all of the Yankees' recent problems.
Mar. 15: Kyle writes a tribute to Isiah Thomas, the silent consultant.
Season Two: 2009-10
Nov. 5: Kyle writes about LeBron choosing the Knicks over the Nets in the offseason and knows that the Nets are headed for another really, really dark period.
Apr. 8: The Nets play their final game in New Jersey and Kyle writes an entire page dissing Jay-Z and the NBA for moving his team to Brooklyn.
Apr. 29: Kyle stops following the NFL after the Jets use the first overall pick in the draft to take a fullback.
Season Three: 2010-11
Nov. 4: Kyle ponders his feelings after witnessing the first game in the history of the Brooklyn H.O.V.A. The team, still coached by Lawrence Frank, features a starting five of Jamaal Tinsley, DeShawn Stevenson, Ruben Patterson, Kwame Brown and Jason Collins.
Feb. 10: Kyle reviews "Grand Theft Auto V" for the Wii, in which players can play as their Miis and use their controller to feel like they're real slapping their "employees."
Mar. 17: After the WNBA folds, Kyle writes a story commenting that it was "about 15 years too late," and gets slapped with a sexual harrassment lawsuit.
Season Four: 2011-12
Dec 8: Kyle celebrates as his CentSports.com account finally reaches $5.00.
Apr. 12: After getting swept at home by the reigning world champs, the Tampa Bay Rays, Hank Steinbrenner cuts Derek Jeter and wonders aloud if A-Rod's 0-4 performance in the last game of the series was because he was "too busy cheating on his wife again." Kyle considers framing Hank for murder to get him banned from baseball.
May 3: The H.O.V.A. agree in principle to make Isiah Thomas their new president, general manager and head coach, bringing the history of Out of Bounds to a tragic close as Kyle swears that Wiffle Ball will be the only sport he cares about ever again.