Breakout Athletes of the Year: Laura Kurz & Paul Webber/Tim Driscoll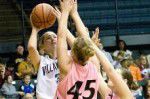 The Villanovan has awarded three athletes with the Breakout Season of the Year Award.
The female recipient of the Breakout Season of the Year Award goes to 6-foot-2-inch junior basketball forward Laura Kurz. Kurz, a graduate of Germantown Academy, finished her high-school career as the all-time leading scorer with 2,247 points.
The first half of her college basketball career was spent playing for the Duke Blue Devils. In her sophomore season at Duke, Kurz averaged 5.4 points and 2.4 rebounds per game.
Despite her moderate success at Duke, it was announced in June of 2006 that Kurz planned to transfer to Villanova. Last year, due to NCAA transfer rules, Kurz was forced to sit out.
However, this year, in her first of two years of eligibility, she turned heads as she earned the No. 1 spot in many team statistics. Kurz led the team in shooting percentages, averaging 49.5 percent from the field and 43.8 percent from 3-point range, with her average from the field earning her a 14th-place finish in the Big East standings. Additionally, she averaged 14.9 points per game and 15.3 points per contest in Big East conference games, which placed her 12th among all Big East contenders. Kurz also led the team in rebounds, averaging 6.4 per game, making her the only Villanova player to be ranked in the Big East in this category.
As if all the records and stats were not enough, Kurz just recently became one of four Villanova players to earn First Team All-Big Five honors. There is no doubt that Villanova can expect great things from Kurz next year, as it seems that her potential is just beginning to show.
Co-male winners are junior Tim Driscoll and sophomore Paul Webber of the men's lacrosse team. Both men had outstanding seasons this year, sharing the lead for points in the team's statistics.
Currently, Driscoll stands at the No. 1 spot on the team in goals with 25, is tied for first in the Colonial Athletic Association with three game-winning goals in conference games and is ninth in the CAA standings with 1.79 average goals per game.
Webber, with 29 points this season, is second to Driscoll in goals but leads the team with 11 assists. Additionally, in Villanova's game against Sacred Heart on March 29, Webber scored six goals, which tied him for the CAA's '08 record for highest number of goals per game by an individual. Among conference games, Webber ranks highest in the CAA in both assists per game and points per game.
Although Driscoll and Webber were not near the top of the roster in statistics last year, they both have shown tremendous improvement and will be a strong force in the Wildcats' coming CAA championship games this year and in future seasons.