MBB: Wildcats add transfer from Duke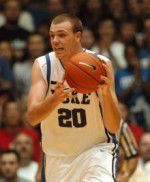 Before the '07-'08 season, Jay Wright was busy recruiting arguably the two best long-range shooters in the nation: McDonald's All-Americans Taylor King and Corey Stokes. Stokes chose Villanova, while King opted for Duke. The question was: did the Wildcats or Blue Devils get the best pure shooter available in the '07 recruiting class?
One year later, the Wildcats have their answer.
After spending his freshman season at Duke, King, who announced on March 31 that he would be leaving the Blue Devils, has decided to join the Wildcats. King was scheduled to visit Southern California and Gonzaga before making his decision at the end of the month, but the 6-foot-6-inch forward apparently didn't need the rest of April to decide where he wanted to resume his basketball career.
"It just couldn't be a better fit for me," King said, according to ESPN.com. "It wasn't about getting it over with. I wanted it. This gives me the best opportunity to start right away."
King will, by NCAA rule, have to wait until the '09-'10 season to begin his career at Villanova, but he sounds excited to have found a new home.
"I asked blunt questions, but I wanted everything they offered," King said. "They laid down their game plan for me, and I couldn't resist."
King played in all of Duke's games in his rookie campaign, averaging 5.5 points and 2.0 rebounds per game. The Huntington Beach, Calif., native who played his high school ball in Santa Ana hit five 3-pointers and scored 20 points in Duke's first game of last season. Later in November, King went 6-for-11 from downtown for a team-high 27 points in a Blue Devils win over Eastern Kentucky. King immediately followed that performance by hitting five 3-pointers and scoring 15 points in a win over Wisconsin. The sharpshooter scored in double figures three more times in non-conference play.
King's minutes decreased once conference play began, and the forward played 10 or more minutes just four times after the beginning of February. King finished the season shooting 41.4 percent from the field and 37.7 percent from 3-point range with 43 conversions from beyond the arc.
Duke Head Coach Mike Krzyzewski said that King has "the ability to be a good player" and said that he supported King's decision to transfer.
King, who is now the third All-American on Villanova's roster, in addition to Stokes and Scottie Reynolds, had a storied high school career in southern California. King's lefty stroke from 3-point range earned him some of the state's top honors. He led Mater Dei High School to the California Division II state title in his senior season, scoring 29 points and grabbing 15 boards in the championship game.
King also set the Orange County career scoring record and became the fifth player in California history to score 3,000 points. He is now fourth on the state's all-time scoring list. As a senior, he was named California's Mr. Basketball after averaging 26.7 points and 10.9 rebounds per game. He was a two-time Los Angeles Times and Orange County Register Player of the Year selection in addition to earning a spot on Parade's All-American Second Team.
Though Wildcat fans will have to wait anxiously to see Villanova's new star in action, King's debut will help fill some holes left by graduation. With Dwayne Anderson, Shane Clark, Dante Cunningham and Frank Tchuisi all graduating after next season, King will be a welcome addition to the Wildcat frontcourt.
King will join Stokes and guards Corey Fisher and Reynolds on the perimeter for Villanova and could give the Wildcats one of the best long-range shooting tandems in the nation in the '09-'10 season.