'Nova's Cinderella story ends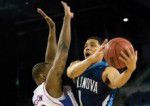 When the final buzzer sounded at almost midnight in the almost empty Ford Field in Detroit, it signified the end of perhaps one of the most turbulent seasons the men's basketball team has had in recent history. The 72-57 loss to the No.1-seeded Kansas Jayhawks in the Midwest Regional showed a Villanova team that was not out hustled or out coached by any means, but rather a team that was just on a different playing field.
Throughout the whole game, the Jayhawks imposed their will on the 'Cats, taking a 41-22 lead at the half that would never be relinquished. They did it by outmuscling the 'Cats, suffocating them on defense and going over the top of the much smaller Villanova team with a final tally six alley-oops in the game.
At the post-game conference, Head Coach Jay Wright said something that was perhaps symbolic of the season as a whole.
"[Kansas] plays for the name on the front of their jersey, not the back," Wright said. "Not to say that we don't; we just don't do it as well, yet."
Operative word: yet.
The '07-'08 basketball season may be best characterized as a roller coaster. A season of ups, downs and all-arounds is characteristic of a young team that lacked true experience on the big stage. Sure, junior forward and quad-captain Dante Cunningham was a presence during the '06 march to the Elite Eight, but it takes much more than one player's experience to constitute a consistent program from season's beginning to season's end.
After getting off to a red-hot 11-1 start (which featured games such as the miraculous 21-point comeback against LSU and the heartbreaking defeat against NC State on a controversial call in the final of the Old Spice Classic), the team entered the dog fight known as Big East play.
Here, the Wildcats showed their inexperience and youth as viewers were never quite sure which Villanova team would show up: one that was electric with strong guard play with sophomore guard Scottie Reynolds and freshman guards Malcolm Grant and Corey Fisher with Cunningham as the anchor inside, or a team whose inexperience and youth would have them scrambling for victories in a conference many touted as the toughest one in the country.
After starting out 3-2 in the Big East with the two key losses to Cincinnati and DePaul and a big win over Pittsburgh, the team headed into a downward spiral that almost no one thought it would recover from.
Though the thought of a five-game losing streak was bad enough, it was the manner in which the team lost that had 'Nova Nation concerned. After an 80-68 loss to a Rutgers team that had not won a Big East game until that point, the losses kept coming in an ugly fashion. Ten-, 12- and 14-point losses to Notre Dame, Syracuse and Pitt, respectively, were bad enough, but the exclamation point on the team's drought came in a Holy War that may as well have been renamed the Philly Massacre.
The always-heated Big 5 saw the men's team fall flat on its face as the St. Joe's Hawks cruised to a 77-55 victory in front of a hostile St. Joe's crowd at the Palestra.
But the St. Joe's loss was clearly a turning point for Wright and perhaps a catalyst as he often struggled to find the right lineup combinations.
"We have certain lineups that can score and certain lineups that can defend, but we haven't found a lineup or rotation where we can score and defend consistently," Wright said in a press conference after the St. Joe's game. "We've got to get that down."
But almost right after that, Wright stood behind his young team and the potential the team had to make a run.
"We're not done yet," Wright said. "We're going to get better. I'm telling you, this team will get better."
And it did get better – a lot better and sooner than anyone had thought. After three straight Big East wins, including a thriller over then No. 11-ranked UConn, it was clear that the Wildcats were starting from scratch. There could not have been a better time for the turnaround, with a 3-6 conference record, there was a great possibility that the 'Cats' season would end without an NCAA tournament or even a Big East tournament bid.
The 'Cats finished their Big East run with an impressive nine-game stretch in which they went 6-3, including a devastating two-point loss to Georgetown on a controversial call made with 0.1 second left. Still, the team's NCAA tournament future was left up in the air as the year presented a myriad of bubble teams that had work to do in their conference tournaments.
After a big 82-63 win over Syracuse in the Big East tournament, the team followed with a big 82-63 loss over Georgetown that had all of 'Nova Nation unsure of the team's future. Fortunately for these 'Cats, bubble teams were falling off the map, making way for Villanova to make its run.
Seeded No. 12 in the Midwest Region, many wrote off Villanova against a streaking Clemson team who had just knocked off Duke 78-74 in the ACC tournament and almost followed the victory up with an encore over UNC.
The rest, as they say, was history, as Villanova danced on with the other upsets in Tampa, Fla., with a heated 75-69 victory over Clemson after trailing by as much as 18 points and an 84-72 win over the No. 13-seeded Siena Saints.
Though its Cinderella season ended in Motor City in front of an emptied Ford Field in the Sweet 16, Wright said in the post-game conference that his team has much to look forward to for next year.
"We're going to learn a lot from this game," Wright said.
And they should. Losing no seniors should provide yet another thrill ride for fans during the '08-'09 campaign.