Beyond Nova Nation: MLB power rankings for opening week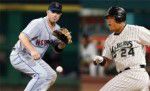 Every season a fuss is made about the lack of financial balance in baseball. If the baseball fan has learned anything during the past season, it is that any team, regardless of payroll, can make a run to the World Series. Last year major market teams like the New York Mets and Los Angeles Dodgers missed the playoffs, while the Colorado Rockies and Arizona Diamondbacks excelled in October. This year expect more of the same as one of the teams picked to do poorly in the following rankings will inevitably wind up shocking the baseball world. The opening-day rankings …
Doormats
30. Baltimore Orioles – With Erik Bedard and Miguel Tejada now departed, the Orioles should get accustomed to being the doormats of the AL East for the foreseeable future.
29. Oakland Athletics – Jack Cust led the AL in strikeouts by whiffing a mind-boggling 164 times in 395 at bats. Considering he will be looked at as one of the better offensive players on the team, it will be a long year.
28. Pittsburgh Pirates – The Pirates have now entered rebuilding mode for the 25th time in the last decade, so expect "star" Jason Bay to begin packing his bags quickly.
27. Washington Nationals – The new ballpark looks great, but having Odalis Perez as the opening day starter does not.
26. Florida Marlins – What's worse than having Odalis Perez as your opening day starter? The Marlins deciding to use Mark Hendrickson as theirs.
25. San Francisco Giants – Matt Cain and Tim Lincecum are possibly the two best young arms in all of baseball, but with a lineup that features Bengie Molina hitting cleanup, they may need to throw a shutout to win.
24. Minnesota Twins – OK, let's recap: Instead of using that $47 million to add to their Johan Santana offer and keep him a Twin, they gave it to a 33-year-old closer who may finish last in save opportunities.
23. St. Louis Cardinals – Albert Pujols has complained of a balky elbow all winter but insists he will not have surgery during the season. When he realizes Todd Wellemeyer is the team's No. 2 starter, he may change his mind.Playing for .500
22. Texas Rangers – Ron Washington's club made a few smart moves this offseason by picking up Josh Hamilton and Milton Bradley. If this team can ever find some reliable pitching, they could be ready to contend again.
21. Kansas City Royals – Hiring Dayton Moore two years ago as the team's general manager was possibly the best move the team has made in a decade as he has transformed the Royals into what his former organization the Braves looked like before their run of dominance.
20. Cincinnati Reds – With Jay Bruce, Joey Votto and Johnny Cueto, this team has a bright future, but new manager Dusty believes that drawing walks is just "clogging up the bases," and that is a problem.
19. Houston Astros – The Astros believe they are close to a World Series, which is highly misguided, but the additions of Tejada and Jose Valverde give them enough talent to remain around .500 despite their horrendous starting pitching.
18. Toronto Blue Jays – In any other division, Toronto would be able to compete for the title, but in the AL East, they just do not have enough talent to contend.
17. Chicago White Sox – Adding Orlando Cabrera and Nick Swisher should help the White Sox rebound nicely, but their pitching still does not compare to that of division rivals Detroit and Cleveland.
16. Tampa Bay Rays – This may be the greatest team in Rays' history, which is not saying much at all. If Scott Kazmir can get healthy, we could be talking about the Rays in August.Postseason Contenders
15. Atlanta Braves – With a full season of Mark Teixeira in the heart of the order, the Braves will be able to hang with the Mets and Phillies for most of the season.
14. Colorado Rockies – Last year's biggest surprise will come back down to earth in a stacked NL West division. The only way to avoid a letdown is if Ubaldo Jimenez and Franklin Morales can do what they did down the stretch for an entire season.
13. Los Angeles Dodgers – Joe Torre's new club may have the best blend of youth and experience in the National League. They will need breakout seasons from Chad Billingsley and Hiroki Kuroda to take the division.
12. San Diego Padres – Even with all of the big pitching additions around the majors, Jake Peavy and Chris Young may still be the best top of the rotation in the game. However, San Diego's lineup is once again too thin to make a serious run.
11. Milwaukee Brewers – It will be a year -long battle between the Brewers and the Cubs in the NL Central, but expect Milwaukee to come up short once again due to a thinner pitching staff. The health of Ben Sheets is always a concern, but Prince Fielder should lead this team and make a run at the MVP award.
10. Seattle Mariners – The addition of Erik Bedard is clearly one of the best of the offseason, and with his help, the Mariners should give the Angels all they can handle this season. A lack of power in their veteran lineup may keep Seattle from the playoffs.
9. Los Angeles Angels of Anaheim – This is a team poised to take a step back this season as it already has experienced injuries to its top two starters, John Lackey and Kelvim Escobar. Vladimir Guerrero must have another outsanding season for the Halos to make a trip to the promised land.
8. Chicago Cubs – Everyone is saying the Cubs may be a team of destiny since it has been 100 years since they last won a title. That, and the addition of Japaneese import Kosuke Fukudome should provide interesting storylines, but in the end, it'll be time for year 101.
7. Cleveland Indians – It will be interesting to see how this team recovers from last year's playoff collapse, but the powerful and youthful Indians will most likely be blaming Joe Borowski in the bullpen rather than old memories if they fail to make the playoffs this year.
6. Arizona Diamondbacks – With Colorado's run last season, a lot of people forget that the D-Backs were in the NLCS. They are led by Brandon Webb's pitching and an energetic offense with Chris Young at the top of the order. Adding Dan Haren will make them even better.
5. Philadelphia Phillies – The Phillies, who have still failed to win a playoff game in 15 years, should win the Wild Card but do not have enough pitching to hold onto the division. The combo of sluggers Ryan Howard and Chase Utley will certainly give the Mets a run for their money.
Series Hopefuls
4. New York Yankees – This is possibly the Yankees' worst team on paper to start a season in over a decade, but they always seem to find a way into the playoffs, and that is where they will be projected until they prove otherwise.
3. New York Mets – Adding Santana should not only make up the one game they missed the playoffs by but also make the Mets the best team in the NL.
2. Boston Red Sox – Last year's champs lost virtually nothing from their title team, but the early injuries to the pitching staff may prevent a repeat in Boston.
1. Detroit Tigers – After a year out of the playoffs, Detroit will be looking for redemption, and in the process Miguel Cabrera will show the world why he's one of the best hitters of his era.