Dining Services revamps for new year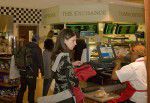 Fueled by many new and prestigious awards, Dining Services has added many meals, events and programs to satisfy even the pickiest of eaters.
As a response to student requests and meetings with SGA, Dining Services has added hours to many eateries on campus. The Belle Air Terrace will now be open until 1 a.m., on Sunday through Thursday. Also, a new late-night menu, featuring breakfast items and nachos for two, has been created to satisfy those late- night cravings.
The Court at Donahue Hall (aka the Spit) is now serving dinner until 8:15 p.m. on Monday through Friday and until 7:45 p.m. on Saturday and Sunday.
Finally, Dining Services has added earlier brunch hours on Saturday and Sunday. Brunch now beings at 10 a.m. in Dougherty Hall and 10:30 a.m. in St. Mary's Hall and the Spit. Also, the Holy Grounds at CEER, Connelly Center and The Exchange now allow two bottled beverages per MPE.
With all these extra hours, Dining Services has added new meals and events to keep students full at all hours.
Also, as a result of student requests and comments, more fresh and seasonal items have been added to the dining hall menus.
In an effort to encourage students to eat in a healthy manner, healthy, fresh vegetables have been placed at the front of the menu and dining lines.
Dining Services has also added entrees and updated favorites to incorporate more authentic international food in the menu.
New soups include Beer Cheese and Loaded Potato Chowder. Among others, the recipes for General Tso's Chicken and Bangladesh Chicken Curry have been updated to add to both the food's nutritional value and taste.
To fight repetition, Dining Services has added many events to shake things up a little. Many of the events planned this year involve traditional cultural food, such as the Rosh Hashanah meal which was held on Sept. 13.
The next cultural meal planned is a Thai dinner on Sept. 27. The owner of Cafe Talésai helped prepare this event, which includes authentic Thai recipes and two Thai dancers performing in all dining halls throughout the day.
Tim Dietzler, director of Dining Services, describes this as a "theme-focused" event rather than a "menu-focused" event, such as the End-of-Semester Celebration dinner. Theme events require more preparation in terms of decorations, music and entertainment.
Unfortunately, in the midst of studying, running activities and socializing, students often forget about the specially scheduled dining hall events.
To solve this problem, Dining Services has introduced text messaging for special events. Students can sign up to receive text message reminders. So far, several hundred students have signed up for the program, Dietzler said.
Dining Services has also launched Web Nutrition, one feature of their newly improved Web page.
"Web Nutrition allows students to see the menus up to four weeks in advance in all dining halls and check the nutritional value of each item," Dietzler said.
While Web Nutrition currently features only main dining hall entrees and sides, Dining Services will be building the applet throughout the year. Eventually, a la carte items will be posted so students can see just how many calories are in one of the Italian Kitchen's chicken parmesan sandwiches.
Dining Services continues to strive towards creating a truly international menu, incorporating as many different authentic cultural foods as possible for students' meals.
About nine years ago, Dining Services and Chi-Fen Chu led an exchange with Chinese Dining Service members in an effort to make the most authentic food from Chinese cuisine possible.
Using the knowledge from that exchange, Executive Chef Paul Jensen strives to serve the real deal rather than serving watered down versions of ethnic meals.
Dining Services' continued strong emphasis on adding variety to menus, authenticity to ethnic cuisine and nutrition to all meals was recognized this summer.
In July 2007, Villanova Dining Services was awarded two NACUFS People's Choice Awards, one for the Inauguration of University President Rev. Peter Donohue, O.S.A., and the other for last year's "Dine Out in Dougherty" event.
These awards are two of the seven Villanova received; Villanova was selected out of a pool of 160 entries.
"We strive to serve the Villanova student body with the best dining experience possible," Dietzler said. "Our managers like comments, whether good or bad, and try to accommodate those requests as soon as possible. We look forward to seeing everyone at the Thai event."