Dining Services offers 'A Taste of Thailand'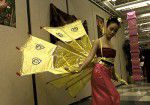 Thai dancers, Waewdao Sirisook and My-Linh Le, traveled from UCLA for the Dining Services event "A Taste of Thailand" on Sept. 27. Prakas Yenbamroong, the operator of Café Telesai in Donahue Court, also owns restaurants in Los Angeles and helped organize the dancers for the event.
The dancers performed at all three dining halls.
"We created this event to bring more Thai culture to the students," Yenbamroong said. "Now that we have Thai food on the campus permanently, we wanted to add to that experience and bring people to experience true Thai culture."
The dancers performed three dances with a wide range of styles and costumes.
Both danced the first dance, Fawn Leb ("The Finger Nail Dance"), a slow, flowing number.
They began with their hands in a position that means "Sawadee," or "may you be well," used in Thailand as hello and goodbye.
Sirisook performed the next routine, Pang Pra Teep Dance, a quicker, more playful dance. It incorporated a looser costume and a lit candle.
"The light represents wisdom and guidance," Yenbamroong said. "The dance's center around the candle represents our praying to Buddha."
Sirisook and Le performed the last dance, Mong Serng Kai Lai. One dancer began this dance and the other appeared later, surprising the crowd with her winged costume.
"The dance presents the several [aspects] of Tai Lue ethnic[ity] via the costume and the accessory," Yenbamroong said.
Sirisook is a second-year master of fine arts dance candidate in the Department of World Arts and Cultures at UCLA, and Le is her undergraduate student.
"Being from Thailand, I almost feel like it is my mission here to present the culture so that peowple can experience it," Sirisook said.
"Usually, when we dance, we perform at ceremonies for long periods of time, so we don't have to worry about keeping the audience's interest," said Le, who has also studied ballet, modern and hip hop. "It was a fun twist trying to keep it short and interesting enough to keep hungry students' attention."
Judging by the fascinated stares and enthusiastic applause at the dancers' 5:55 p.m. show in the Pit, the choreography was a success.
The Thai food Dining Services served also received rave reviews.
The menu included Thai chicken and coconut soup, tofu and green beans in garlic sauce and mango ice cream.
The food and atmosphere in the dining halls provided an enjoyable experience for all students.