Dining Services keeps up with trends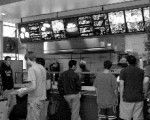 Nationally, students are tending to eat in more traditional dining halls. Universities that shifted to more à  la carte options in the early '90s are shifting back to residence dining.
"A new dining trend which is just beginning across the nation has several campus dining operations being consolidated into very large, and fewer, display preparation style venues," said Tim Dietzler, director of Dining Services.
These trends are referred to as "destination dining experiences" and incorporate theatrical and educational experiences into traditional residence dining. It has been initiated at schools like Virginia Tech in order to facilitate community interaction and stronger student bonds, in addition to addressing environmental concerns.
"Dining Services is monitoring this new trend very closely," Dietzler said.
While this new style has not been implemented at Villanova, student eating has shifted with other trends over the past 10-15 years. In the early '90s, the national trend involved students requesting more à  la carte options, and Villanova students followed this trend, specifically requesting more flexibility.
In the past, students were assigned to specific dining halls rather than having the option to pick which dining hall they would eat at. This created a problem of convenience and often conflicted with schedules. For example, nursing students with classes on West Campus could be assigned to eat in Donohue Court, creating clear practicality issues.
"In 1992 we observed the trend across the country to offer more flexibility in meal plans, and we implemented the MPE and food points," Dietzler said. "In the late '90s, there was a growing trend to place convenience stores on campuses as a way to serve efficiently in to the late night hours. We added the Donahue Market in 1996, followed by the 2nd Storey in 2000."
Since that point, the change toward more flexibility has been well-received and even more flexibility is added yearly to an ever-increasing demand. The student body has appreciated the increased flexibility and taken full advantage of it.
"Over the last decade, Dining Services has expanded the hours of operation and opened a number of new retail operations on the Main Campus," Dietzler said. "These new retail operations allowed us to remove the restrictive dining polices, add food points, guest plans and the Meal Plan Express options to meal plans.""
The Dougherty Hall dining complex, containing the Italian Kitchen and the Corner Grille, is the busiest on campus, serving over 22 percent of all meals. The Belle Air Terrace is the busiest retail operation on campus.
"Another more recent trend is our Late Night options becoming as popular as breakfast," Dietzler said. "Each of these meal periods represents about 13 percent of the meals served each day on campus."
Dining Services introduced the Late Night option several years ago, and students have taken advantage of it. In 1992, 100 percent of meals were served by 6:30 p.m. Today, however, over 20 percent of the meals on campus are served between 7 and 10 p.m.
Dining Services has also noticed the trend on increasing allergies on campus, as well as an increased demand for more dietary-conscience foods and more environmental consciousness. In January, Dining Services will be introducing a program to replace Styrofoam boxes with a substitute made from a corn product. In the surrounding area, the trends have been similar.
"While meal plan options vary from university to university and are largely based on the number of students on meal plans and the type and capacity of the dining facilities, most, if not all, have been responding to major dining trends," Dietzler said.
While some smaller area schools, such as Haverford College and Bryn Mawr College, base their meal plans solely on dining hall options because it's more practical and economic, many local schools are including retail options while still keeping dining halls.
Similar to Villanova, La Salle University offers an "all-you-care-to-eat" option and a food point option, allowing students to pick the plan that works best for them.
"We made a change to the meal plans we offer at La Salle two years ago when we opened a new dining facility," said Stephen Greb, director of Auxiliary Services at La Salle. "Previous to this we operated just one dining hall that primarily accommodated resident students. Now we have two, plus we operate a food court and a restaurant."
The University of Pennsylvania and University of Delaware Dining Services offer comparable programs with more retail options.
Because of the wide range of retail restaurants available in the surrounding areas, UPenn and Delaware have more flexibility in their dining plans.
Students can apply their meals toward off-campus retail providers. However, the size and location of both schools makes this option more viable than at Villanova.
Retail options create less financial flexibility for the University and tend to increase prices, making it hard for Dining Services to control prices and keep costs down.
At Villanova today, many students on campus seem to prefer à la carte options, though they keep a soft spot for dining hall eating.
The general consensus seems to be that quality is at the à la carte eateries, while quantity is in the dining halls.
"I have Pit love, but I have more love for the à  la carte options," freshman Justin Day said.
Sophomore Brett Madres also expressed satisfaction with the a la carte dining.
"It's all about the Grille because it's where the real men go to eat meat," he said.
Some students base their love of à la carte options on more tangible reasons. For some it is cheaper and more convenient.
"I like the à  la carte options better because it's like off-campus food for cheaper prices," freshman Travinna Nerestant said. "It's also more convenient."
For others, however, it's the atmosphere.
"Nothing beats Eskimo Pie at the Pit, but the Italian Kitchen has the nicest people and better food," freshman Jimmy Kane said.
Still, many students prefer the traditional dining hall option, perhaps reflecting the national trend back to residential dining halls.
"I am completely content with the Pit," freshman Hannah Lee said. "You get the most for your money, and it's more healthy."
Among those who prefer the residential dining options, health and variety do appear to be the major factors in their Villanova eating experience choices.
"I would rather eat at the Pit because they provide more options and I can better balance my meals," sophomore Gabe Galanski said.
For now, the current setup with a mix of both à la carte and residential dining halls appears to be the best solution to both areas and trends. Dining Services continues to add more hours and flexibility while expanding its residential dining options.