Dining Services announces February events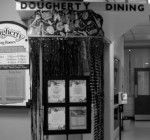 Villanova students have a lot of food to look forward to in February, with a variety of Dining Services events scheduled. The month kicked off with the Trends of 2008 lunch and Mardi Gras dinner and continues with Valentine's Day events, as well as the Tastes of South Africa and the West Indies dinners.
Bringing in February in a big way, last Friday's Trends of 2008 event featured new and exciting entrees from various vendors. Lines rounded Dougherty Hall's ramp with students looking forward to new options. The normally subdued lunch-time dining hall buzzed with noise as vendors continually made and refreshed their items.
"I've never seen the Pit lunch line so long," freshman Dan Love said. "We waited 30 minutes for stir-fry."
The offered entrees included a stir-fry station, specialty sandwiches and grass-fed meat, among countless other sides and options. Names of food trends were placed by each vendor's options and included pomegranate, Ethnic Fusion and Eco-Friendly.
After dining, students were asked to rank the entrees offered so that Dining Services can evaluate the popularity of each and update their menus. Students could rank the options on a scale from one to five and leave their remarks at the bottom of the feedback sheet.
"From the feedback we received, every item was popular," said Tim Dietzler, director of Villanova Dining Services. "The menu committee will evaluate which menu items will be featured in the resident dining halls or in the retail operations based on results of the surveys."
Students expressed similar sentiments, with many raving about the event afterwards.
"I really enjoyed the stir-fry; it was delicious," freshman Joanna Steward said.
The event, because of its popularity and incorporation of vendors, requires more effort than the average event. Dining Services also changed the always popular event slightly this year, requiring more planning.
Previously, the event was known as "the Vendor Showcase" and was only held in Dougherty Hall. This year, in addition to a new name, the event was extended to all three dining halls. Chefs researched major dining trends and picked vendor options that exemplified the trends instead of simply presenting random vendor options.
"Our chefs did a fantastic job researching the major trends across the country and presented them to our students to judge," Dietzler said.
Trends of 2008 also incorporated Dining Services' new "Go Green" initiative, serving items on compostable plates and serving sustainable seafood. Dining Services' new partnership with Monterey Bay Aquarium insures that all seafood served on campus is sustainable.
The Trends of 2008 event, however, is only the beginning of February's smorgasbord of dining events. Last Tuesday's Mardi Gras dinner continued the event line up.
The event featured crayfish boil, smoked pork shoulder, banana fosters and king cakes, as well as a festive, celebratory atmosphere.
Valentine's Day dinner will include a Chocoholics' Dessert Extravaganza.
"I'm looking forward to the Chocoholics event," freshman Courtney Aquilina said. "What could be better than Chocolate, Valentine's Day and the Pit?"
The Chocoholics Dessert, Mardi Gras dinner and the Trends of 2008 event are February's staple evenst.
"This year in celebration of Black History Month, Dining Services' menu committee decided to add three new special events in February: Tastes of South Africa, Soul Food Dinner and Tastes of the West Indies," Dietzler said.
The Tastes of the West Indies dinner will replace the Tastes of the Caribbean, a consistently popular event. The Soul Food dinner is the first in the new string of events and will take place next Wednesday. The dinner will include fried chicken, BBQ baby back ribs and apple pie, as well as a celebration of African American history.
While the menus for the other events are not yet definite, Dining Services plans for well-received dining experiences.
"Our Senior Executive Chef Paul Jensen and his culinary team, have created delicious menus for these multi-cultural events which will provide authentic foods and tastes from home for many of our students," Dietzler said.
Dining Services is especially looking forward to the Tastes of South Africa event. In addition to serving authentic South African food, dining staff members will be dressed in authentic South African Dashikis.
From menu development to cooking to setting up decorations, each event requires a lot of planning and effort.
However, Dining Services enjoys finding new options to break up dining monotony.
"Our staff loves serving our students and coming up with creative menus for special events," Dietzler said. "While intended to be a monotony breaker for students, special events can be very entertaining for our staff as well, taking them out of their routines and providing a great educational experience for all."