Football: Talley inks fifteen incoming freshmen on signing day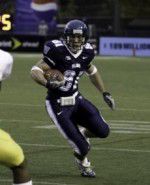 Coming off an injury-plagued 7-4 season that ended with the Wildcats defeating rival and FCS runner-up Delaware in a dramatic 16-10 victory at Villanova Stadium, Head Coach Andy Talley was looking to build on his young team that will return eight offensive and nine defensive starters in 2008. On Feb. 6, Talley filled 15 of his 19 open scholarships by officially signing a group of incoming freshmen that includes several prized recruits who look to contribute right away.
Villanova signed seven offensive players, seven defensive players and one kicker. Five of the 15 players hail from Pennsylvania.
The Wildcats snagged two players who will play in the prestigious Big 33 Football Classic, which matches up all-star teams from Pennsylvania and Ohio, two of high school football's powerhouse states. Tight end John Jackson and quarterback Chris Johnson will compete on the Pennsylvania squad and are headed to Villanova in the fall.
Jackson, a 6-foot-4-inch receiver from Warrington, Pa., is expected to have an immediate impact on the '08 Wildcats. Jackson will look to replace All-CAA tight end Matt Sherry, who will attempt to play professional football.
Johnson comes to Villanova from Roman Catholic High School in Philadelphia where he played quarterback and defensive back. The First-Team All-City selection turned down offers from Temple, Minnesota and Boston College to join the 'Cats. Johnson will most likely red shirt the '08 season to sit behind rising junior Antwon Young and rising sophomore Chris Whitney, according to Talley.
"I think the other guy who might step in and help us is running back Lawrence Doss," Talley said. "We're thin at running back, so he is a possibility."
Doss, from Bellflower, Calif., missed most of his senior season due to injury. However, he should compete with rising juniors Aaron Ball and Luca Ragone for the vacant starting spot.
"On defense, I think we've picked up some kids who can really run," Talley said. "Our defense as a whole has been getting much quicker."
Leading the newly signed defensive corps is defensive end Marlon Johnson from Baltimore, Md. Johnson, featuring dominating size at 6 feet 4 inches and 250 pounds, recorded 97 tackles and 13 sacks, 36 of which were tackles for a loss during his senior season at St. Mary's High School.
Another strong addition for the defense is linebacker Jeremy Rodriguez, a converted running back from Laureldale, Pa. Rodriguez was a Second-Team All-State running back in 2007 and brings a combination of his speed and 6-foot-2-inch frame to the defensive unit.
The only disappointment of the day for Talley came when he lost two verbal commitments to the FBS division. Wide receiver Brandon Jones out of New Jersey spurred the 'Cats for Rutgers, while defensive back Greg Castillo from St. Joseph's Prep in Philadelphia reneged on his commitment in favor of Iowa.
"The de-commitment thing is out there," Talley said. "That's always a concern. The year before we lost three commitments; players went to Iowa, Purdue and North Carolina."
Despite the losses the previous year, several true freshmen stepped up in 2007. Among the star rookies were linebacker Terrence Thomas, who was fourth on the team with 59 tackles, and defensive back John Dempsey, who earned CAA Rookie of Week for his play against Penn. Wide receiver Matt Szczur established himself as one of the fastest and most dynamic players on the Wildcats with 967 yards of total offense.
"So many freshmen came in and impacted this year," Talley said. "I'd like to think that we're developing depth and don't have to put freshman on the field right away."