MBB: Local star Evans chooses Memphis over Villanova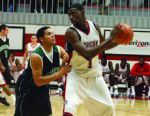 Yesterday marked the first day of the spring signing period for high school seniors, meaning that Jay Wright and the Villanova basketball team waited anxiously for an important announcement.
After several years of anticipation, guard Tyreke Evans, a high school superstar from local Chester, Pa., announced his commitment to the University of Memphis. The announcement, broadcasted live on ESPNU, was a disappointment to Villanova, which appeared to be in strong contention to land the young stud.
Evans has not yet signed a letter of intent with Memphis; he is waiting for Head Coach John Calipari to sign a contract extension before he does so. Calipari is rumored to leave the Tigers for an NBA job.
"It was a tough decision," Evans said live on ESPNU yesterday at 3:30 p.m. "I wanted to stay close to home with my mom, brothers and family, but the school I chose was the University of Memphis."
The 6-foot-5-inch guard looks to step into the vacant spot left by freshman Derrick Rose, who is expected to declare for the 2008 NBA Draft in the next few days. He is projected to be one of the top two selections along with Michael Beasley of Kansas State.
Evans, a frequent visitor to Villanova basketball games in the Pavilion and Wachovia Center during the '06-'07 and '07-'08 seasons, had been a focal point of the Wildcats' recruiting. During his senior season at American Christian Academy in Aston, Pa., Evans averaged 29 points, eight rebounds, six assists and four steals per game.
"Jay Wright is a good coach – he talked to me a lot about school and that I could stay close to home to play at Villanova," Evans said. "But Memphis is a better offense for me."
Touted for his ability to score at will, the local standout has received high praise from recruiting services as a consensus top player in the Class of '08. Evans is currently rated the No. 7 overall player in his graduating class by Scout.com, No. 6 by Rivals.com and No. 4 by ESPN.com.
ESPN.com recruiting services ranks Evans as a special player, writing, "[Evans is a] future pro. When Tyreke turns it on, he can be one of the best players in the Class of 2008. He is strong and quick. He understands how to play."
On March 26, Evans added to his accomplishments by winning the MVP award in the McDonald's All-American Game, the most prestigious high school game in the country. In just 23 minutes against the best high school seniors in the country, Evans notched 21 points, 10 rebounds and four assists on 9-on-15 shooting from the field.
Should the Chester-native have signed with the Wildcats, he would have been the fourth player on Villanova's roster to have competed in the McDonald's game. Sophomore guard Scottie Reynolds, freshman swingman Corey Stokes and recent transfer forward Taylor King from Duke had also played in the contest.