Bengals select Villanova's Sherry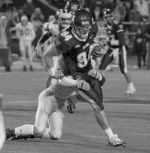 It had been six years since Villanova had heard its name called on draft day. If history is any indication of success to come, Matt Sherry should be excited.
With the last pick in the sixth round, the Cincinnati Bengals selected the Wildcats' senior tight end, the 207th overall pick in the '08 NFL Draft on Sunday. Sherry was the first 'Cat taken in the draft since Brian Westbrook was taken in the third round of the '02 draft by the Philadelphia Eagles.
Before the start of the first round, Sherry was notified by Cincinnati Head Coach Marvin Lewis over the phone that he was going to be selected by the Bengals, according to Villanova Head Coach Andy Talley.
"He told me it was the greatest phone call of his life," Talley said.
Standing at 6-feet-4-inches and 255 pounds, the Rumford, R.I., native has a mixture of a tight end's size and a wide receiver's catching ability, which makes him an asset.
"His size causes matchup problems for safeties," "ESPN Scouts Inc." reported. "He can make plays downfield and has good hands, but he offers little as a blocker at this point."
During the '07 season, the Bengals did not have a standout tight end. With four currently under contract, Lewis featured 31-year-old Reggie Kelly, who went for 211 yards on 20 catches. In the off-season, Cincinnati picked up Ben Utecht from Indianapolis, in addition to Sherry. Utecht had 364 yards on 31 catches, with one touchdown as Peyton Manning's backup tight end.
It does not come as a surprise for Wildcat fans that Sherry is noted for his catching ability. In the '07 season, the tight end gained 461 receiving yards on 37 receptions, including five touchdowns. He was also named to the All-CAA First Team.
For his career, Sherry notched nine touchdowns with 1,059 receiving yards on 89 receptions.
"He is obviously a very good receiver with good speed and hands," Talley said. "He will have to improve on his blocking, however. While he develops, he will probably be used on special teams, where his athleticism can make an impact."
In addition to his athletic ability, the soon-to-be professional athlete has performed well in the classroom during his time at Villanova. After graduating in May 2007 with a degree in finance and a 3.84 grade point average, the fifth-year senior was named CAA Student-Athlete of the Year and was also awarded the Philadelphia Inquirer Academic Football Performer of the Year after the '07 football season. He is currently pursuing an MBA degree at the Villanova School of Business.
Despite limited draft success in recent years, Villanova does currently have five graduates under contract in the NFL. In addition to Westbrook, Brian Finneran of the Atlanta Falcons, Ray Ventrone of the New England Patriots and Christian Gaddis (captain of the '06 Wildcats) of the Buffalo Bills all have professional deals.
"We expected him to get drafted; however we were sure that if he wasn't, he was going to be picked up via free agency," Talley said. "Although the plus side of being drafted is that you're given more of a chance to hang with the team because they have money invested in you."