Become the Tradition, Feel the Pride …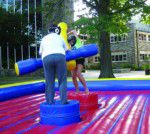 New Student Orientation is a four-day program designed to help familiarize new students with each other and life at Villanova. This year's Orientation ran from Aug. 21-24. In addition to student-run workshops, guest speakers and opportunities to break the ice with classmates, each year's Orientation features a unique theme.
The theme is chosen by the Steering Committee and the entire Orientation program is shaped around that particular theme. For the Class of '12, the Orientation theme was "Become the Tradition, Feel the Pride … As Villanova, Come Alive!"
On Aug. 22, approximately 1,500 new students boarded 40 buses bound for a surprise destination.
When the buses arrived at Citizen's Bank Park just before the Phillies game against the Los Angeles Dodgers, they were greeted with countless Phillies fans shouting, "Go 'Nova!"
"As juniors and seniors, the members of the Orientation staff have been through it before, but having someone recognize you as a Villanovan for the first time is a really awesome experience," said Becky Simon, a senior and member of the Steering Committee. "It was great to see the freshmen coming together as a class and part of the greater Villanova community."
During the game, the Orientation Counselors led the incoming freshmen in cheers like "Baby Shark" and "Get Down" so vigorously that Phillies fans who watched the game at home on TV could hear the Class of '12 chanting louder than the rest of the crowd.
Just as the Steering Committee had planned when they penned the theme for this year's Orientation program, the Class of '12 was already beginning to form an identity as Villanovans.
"The energy was incredible," said Sue Ciccone, director for Orientation. "These students had really only been together for 24 hours, and they were already feeling what it means to be part of the Villanova community."
Ciccone explained that part of the reason why new students come away from Orientation feeling part of the Villanova community is because the program is entirely student run.
"What we do during our staff training and who we become as a staff is partly why new students begin to feel that we really do have a community here because [the staff] is a community of 115, and we are so passionate about what we're doing," Ciccone said. "For freshmen, that's their first glimpse of the Villanova community existing for real. We wouldn't have a program if it wasn't for student involvement."
According to members of the Steering Committee, an advantage of having a student-run Orientation program is that upper-classmen program participants help to ease the transition from high school to college by assuring students that life at Villanova is not a perpetual cycle of partying and taking finals.
"One thing that's so special about this program is that it breaks the stigma of college where it's either a huge crazy party scene or really hard academically," said senior and Steering Committee member Murphy O'Halloran. "We try to mix those aspects together and try to show that it's a fun time in your life … it's a unique opportunity. We really try to have [the new students] break the ice and have them realize that it's a time to have fun and grow as a person and not be scared about it."
"This year we had more structured group time to help new students learn about the resources at Villanova and student life," said Colleen O'Neill, a senior and student chairperson for the 2008 Orientation program. "On Saturday, we had a large presentation from CL Lindsay about the dangers of Facebook and MySpace."
While some doubts and fears about the upcoming four years may still exist in the minds of the Class of '12, this year's Orientation program seems to have prepared the new students for the academic and social challenges that lie ahead.
"Orientation will always be remembered as a positive experience," freshman Cate Schmidt said. "Although I did not enjoy every minute, I made some amazing memories. It made the transition to college much easier. It will be very helpful to me these next few days … I will not feel lost around campus or shy. I'm ready for the school year now."