Villanova defeats Siena to advance to Sweet 16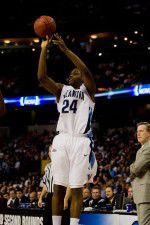 TAMPA, Fla. — In a battle of two catholic schools on Easter Sunday, No. 12 seed Villanova came out victorious over the No. 13 seed Siena Saints 84-72 to advance to its third Sweet 16 in four years. Villanova never trailed in the contest.
The Wildcats were once again fueled by guard Scottie Reynolds, who led the team with 25 points, eight rebounds and five assists. Freshman Corey Stokes also had a strong game for the Wildcats with 20 points.
Reynolds opened the game with a NBA-distance three-pointer, followed by a break-away lay-up off of a steal by Stokes. The 'Cats led by as many as 14 in the first half, but a late run by the Saints cut the lead to 10 going into intermission.
"We played okay, but toward the end they made a run, but we were still up 10. That's what I told everybody," Reynolds said. "Tried to get them fired back up … I think everybody responded in the second half."
The Wildcats came out strong in the second half, led by a scoring surge from forward Dante Cunningham. The junior captain scored all 14 of his points after the break. 'Nova's lead expanded to as many as 16 points five minutes into the period.
Even though Villanova led by double-digits most of the game, a lay-up from forward Alex Franklin cut the Wildcat lead to nine with just over six minutes to play. It appeared as if Siena had gained some momentum after Reynolds followed Franklin's basket with a missed jumper, but a steal by forward Dwayne Anderson led to a wide-open lay-up by Reynolds to put the Wildcats back up by 11. Villanova was able to maintain a double-digit lead the rest of the way.
The Saints, hailing from the Metro Atlantic Athletic Conference, were vying to become the first team from the MAAC to ever advance to the Sweet 16. They were led by Franklin with 18 points. Next up for the Wildcats will be the No. 1 seed Kansas Jayhawks on Friday in Detroit, Mich. The Jayhawks, champions of the Big 12 Conference, enter the game with a 10 game winning streak.
For more detailed coverage on today's game, read The Villanovan on March 27.