MLB: Boston looks to put a sox in 'Rocktober'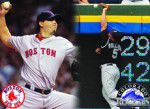 The 2007 Fall Classic features one unlikely contestant, the Colorado Rockies, taking on the 2004 world champion, the Boston Red Sox. So far, the teams have taken different paths as Colorado has swept both of its series, while Boston had to fight back from being down 3-1 versus Cleveland to advance. "Rocktober" has been fueled by a feisty group of unknown stars who have yet to make a name for themselves on a national stage. On the other hand are the Sox, who have a core of well-known All Stars that have led them to the Series. Here's a look at who has the edge at each of the positions.
Catcher
COL: Yorvit Torrealba has been a solid starting catcher all season for the Rockies, providing strong fielding and decent hitting. The Colorado backstop has seven RBIs in just seven postseason games.
BOS: Captain Jason Varitek had another solid season with 17 homeruns and 68 RBIs.
Edge – Boston: Varitek has been here before; he was one of the main catalysts in the Sox's 2004 World Series run. While his defense doesn't compare to Torrealba's, the offense is clearly in his favor.
First Base
COL: After 10 seasons in the majors, Todd Helton makes his postseason debut by leading the upstart Rockies to the playoffs. While it has not been a career year, Helton put together another solid season with fine defense, a .320 average, 17 homeruns and 90 RBIs.
BOS: One of the most patient hitters in all of baseball, Kevin Youkilis has added power to his high on-base percentage in the two-hole for Boston. He has four homeruns, nine RBIs and a .489 OBP in just 10 games.
Edge – Colorado: Youkilis is an excellent hitter, but expect Helton to lead this young Rockies team both on and off the field.
SECOND BASE
COL: The resurgent Kazuo Matsui has been a catalyst at the top of the order with a .310 postseason average.
BOS: Rookie Dustin Pedroia has been a welcome spark to the leadoff spot for the Red Sox. Although Pedroia is known for his fielding, he provided some clutch power in game seven of the ALCS with a homerun in the seventh inning.
Edge – Colorado: Perhaps the toughest position battle, Matsui gets the nod due to his experience.
THIRD BASE
COL: Garrett Atkins has provided valuable protection in the five-hole for Matt Holliday and Helton. Unfortunately for Colorado, his .301 season average has dipped to .185 in the playoffs.
BOS: The Red Sox have a powerful fifth-place hitter of their own with Mike Lowell. Lowell put together a career year with 21 homeruns, 120 RBIs, and a .324 batting average in the regular season.
Edge – Boston: Atkins is a solid player; however, Lowell is playing like a star. His production hasn't dropped off in the playoffs; he has 11 RBIs and a .333 batting average.
SHORTSTOP
COL: Perhaps one of the biggest surprises of the season has been Troy Tulowitzki, a slick fielder who showed power in the regular season with 24 homeruns and 99 RBIs. Tulowitzki is another infielder who needs to pick up his production in playoffs, sporting just a .179 average in seven games.
BOS: Julio Lugo has been a great fielder for Boston, yet he has a .229 batting average in the postseason. He has occasional power which Colorado should not overlook.
Edge – Colorado: Although both shortstops haven't hit in the playoffs, Tulowitzki is capable of being a great hitter for the Rockies and should be one of the showcase players for Colorado.
LEFT FIELD
COL: A .340 average, 36 homeruns and 137 RBIs during the regular season make Holliday a likely candidate for NL MVP. He has picked up right where he left off, with four homeruns in just seven postseason games.
BOS: Has there been a scarier hitter in the last 15 years than Manny Ramirez? Once again, Ramirez is on a tear in the playoffs, hitting four homeruns, 14 RBIs and a .400 batting average in just 10 games.
Edge – Boston: Even though Holliday is the MVP, it is a whole new ballgame in the playoffs with Ramirez. He has been there before, while Holliday has not.
CENTER FIELD
COL: Speedster Willy Taveras emerged as the starter against Arizona in the NLCS. Now hitting in the leadoff spot, Taveras needs to get on base in order for the Rockies to score runs.
BOS: Coco Crisp was the starter during the season and most of the playoffs, but youngster Jacoby Ellsbury has taken over the position ever since Crisp hit .161 in his eight playoff starts.
Edge – Boston: Ellsbury seems to be one of those impact rookies that always pop up in the playoffs. Taveras is a solid player, but the nod goes to the Ellsbury/Crisp combination.
RIGHT FIELD
COL: One of the National League's best-kept secrets, slugger Brad Hawpe fills this spot for the Rockies. Hawpe hit 29 homeruns with 116 RBIs and a .387 OBP during the season.
BOS: J.D. Drew can hit for power and has a great arm but somehow never seems to put his talents to great use. He did have a big game six in the ALCS with a grand slam in the first inning.
Edge – Colorado: Hawpe won't be a secret for much longer. Drew has the potential to be huge for the Sox but is too inconsistent to judge.
DESIGNATED HITTER
COL: While the Rockies aren't used to filling this position, utility man Ryan Spilborghs figures to get the start at Fenway. Spilborghs has some power; he hit 11 homeruns in just 264 at bats during the regular season.
BOS: David Ortiz has improved his .332 regular season batting average to .387 in the playoffs. His 35 homeruns and 117 RBIs in this "down" season for Big Papi make him a feared hitter.
Edge – Boston: The most lopsided of position battles. Colorado isn't used to using a DH, while Boston has the best in the majors.
STARTING PITCHERS
COL: There are lots of question marks here due to inexperience. The ace is youngster Jeff Francis, who has been dominant in his two playoff starts. Ubaldo Jimenez and Josh Fogg have also had strong starts for the Rockies in their first postseason starts.
BOS: Josh Beckett is as good a playoff pitcher as there is. Curt Schilling has two World Series titles, although he is way past his prime.
Edge – Boston: The wildcard here is Daisuke Matsuzaka, who can be great. The Red Sox starters have great postseason history; there is no reason why that should change.
MIDDLE RELIEF/SET-UP
COL: A myriad of ex-closers – Brian Fuentes, Jeremy Affeldt and LaTroy Hawkins – make up the steady Colorado bullpen. Hawkins is the only one with October experience.
BOS: The Red Sox have a steady trio of their own, with lefty Hideki Okajima, Mike Timlin and ex-star Eric Gagne. All three have a lot of experience in big games, although Gagne hasn't pitched well in Boston.
Edge – Boston: Okajima and Timlin are much more battle-tested than Hawkins. This is basically a toss-up, although the Sox crew gets the nod because of Gagne's potential to be lights-out.
CLOSER
COL: Many thought this would be a big hole for the Rockies, but workhorse Manny Corpas has replaced Fuentes and become a dominant closer with a 1.04 ERA after pitching in all seven postseason games for Colorado.
BOS: Jonathan Papelbon has emerged as the most dominant closer in baseball. He pitched to a sub-two ERA in the regular season and has yet to give up a run in 6.1 innings in the postseason.
Edge – Boston: At this point, Papelbon is as close to a sure-thing closer as there is in baseball. While Corpas may prove to be the same, he still has something to prove.