Football: 'Cats capitalize on UPenn errors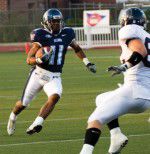 Villanova wrapped up its non-conference schedule Saturday by scoring 27 unanswered points to defeat the University of Pennsylvania at Villanova Stadium, 34-14. With the win, the Wildcats (3-1, 1-0 CAA) recorded their seventh straight victory over an FCS team, while clinching their third straight win overall and protecting a 5-0 record against the Quakers (0-2, 0-0 Ivy) in the last six seasons.
The Wildcats defense dominated the game, collecting eight turnovers, including seven interceptions. It was the third time in school history that Villanova had seven picks in a game, with the last coming in 1946 against the Georgetown Hoyas.
Junior quarterback Robert Irvin was the main culprit for UPenn, throwing five interceptions and just one touchdown. Senior quarterback Bryan Walker replaced Irvin at various points in the game; however, he threw two interceptions of his own.
"I've never seen that before in college football," Head Coach Andy Talley said. "They struggled to run the ball against us, which forced them into a passing game. We didn't do anything different."
Villanova's offense ran on all cylinders as sophomore quarterback Antwon Young threw for 241 yards and four touchdowns. In four games this season, Young has thrown for 10 touchdowns, while giving up just three interceptions.
Three of Young's touchdowns went to junior wide receiver Phil Atkinson, who caught five passes for a total of 112 yards in pursuit of his hat trick. Atkinson's first touchdown took place halfway through the first quarter when he caught a 33-yard pass from Young on a fourth and 11 to tie the game at 7. The wide out's last score was his most explosive, as he turned a short crossing pattern in the fourth quarter into a 47-yard completion from Young.
Freshman defensive back John Dempsey was one of the defensive stars for the Wildcats. His efforts earned him the honor of being named the CAA Rookie of Week. Dempsey recorded the first two interceptions of his career to go along with six tackles and one sack.
"He's a big, strong, physical guy who can really run," Talley said. "He had a wail of a game for a true freshman."
The other five interceptions went to junior linebacker Darrel Young, senior defensive backs Eugene Clay and Zach Mariacher, freshman linebacker Anthony Johnson and junior defensive back Salim Koroma.
UPenn jumped out to a great start when it opened the game with a smooth 69-yard drive that ended in a 17-yard touchdown pass from Irvin to sophomore wide receiver Kyle Derham. A few possessions later, Atkinson responded with his first of three touchdowns; however, the Quakers shot right back with another quick touchdown to bring the score to 14-7 in the first quarter.
The offense stalled in the second quarter until Wildcats junior kicker Joe Marcoux converted a 21-yard field goal with one minute to go in the first half. Villanova entered halftime down 14-10.
From the beginning of the second half, the 'Nova offense started to respond to the Quaker turnovers. In addition to stellar play by Young, sophomore running back Aaron Ball turned in the best performance of his Wildcat career, running ran for 59 yards on 12 attempts. Ball also energized the stadium crowd with an 80-yard run that was called back due to a holding penalty.
Senior tight end Matt Sherry also turned in a strong showing, catching four passes for 64 yards and a touchdown. Sherry's 10-yard touchdown reception put the 'Cats up 27-14 in the opening seconds of the fourth quarter. A few minutes later, Atkinson struck with his dynamic touchdown for the Wildcats final score.
"Sherry is the go-to guy," Talley said. "He is an outstanding tight end with wide receiver speed. He is a bona-fide pro prospect that has to play well for us every game."
UPenn had a few chances to cut the 20-point differential in the fourth quarter by twice getting within the Villanova 10-yard line. Fortunately for the Wildcats, they intercepted Irvin on both occasions, preventing a Quaker score.
The Wildcats look to win their fourth straight game when they visit James Madison University this Saturday. The Dukes (3-1, 1-0 CAA) are currently ranked No. 9 in the FCS and are riding a three-game win streak of their own. The last time the two squads faced off was last season at Villanova Stadium; the 'Cats upset No. 4 JMU in a 21-20 thriller.
"I think we have JMU's attention," Talley said. "Last year they looked past us, looking towards the playoffs, and they got beat."