Music Activities expands facilities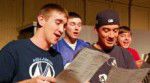 As the College of Nursing leaves St. Mary's Hall for Driscoll Hall, Music Activities looks to expand its program.
Music Activities hopes to turn the old nursing lab on the ground floor of St. Mary's into several different practice rooms. It has already moved its music library from the band room to the back of the lab.
"One of the legacies I would like to leave at Villanova is the music library," Music Activities Director John Dunphy said. "We now have over 2,500 music titles neatly sorted and easily accessible."
In addition to the music library, Music Activities would like to turn the lab into a dance studio.
"Our dancers have been dancing on poor floors for too long," Dunphy said. "Getting them adequate flooring and space is a priority for us."
Dunphy has met with Facilities Management about the possibility and has appointed a project manager. The plan has been sent out to a contractor and is awaiting a quote. Ideally, the studio would be ready for second semester next year.
Music Activities hopes to include sprung wooden floors, dance bars floor-to-ceiling mirrors and an adaptable sound system. While Dunphy is still in the process of research, the floors would ideally support all kinds of dancing, including the beating from tap, Irish and ballet shoes.
They are also looking into the possibility of raising the ceiling in the room to allow for lifts.
While it may eventually be used as a black box theater, the studio would primarily be focused on dancers. Dance groups would sign up for practice times, and the studio would be also open for individual practice.
Finally, a section of the old lab is now also an ensemble room.
"As Music Activities has grown on campus, we have quickly run out of space," Dunphy said. "The Orchestra and Jazz ensembles desperately needed this extra room to practice."
The band, which is now at an all-time high of 115 members, can now use the space vacated by the ensembles. Though the room is open to any ensemble that would like to use the space, the Orchstra and Jazz Ensembles currently use the space the most.
Additional plans include revamping the St. Mary's auditorium to include a wooden stage floor and a changing area. They are even looking at a puppet theater.
With membership around 500-600 students, Music Activities is looking to further expand.
The Campus Master Plan includes a Performing Art Center, and Music Activities is enthusiastic about the possbility.
"What I would love to see would be a facility that can be used for many different art performances,"said George Pinchock, director of the Band. "Ideally, it would seat about 1500 people and would have all the professional facilities to host national events."
Everything is still in the planning phases, but there have been talks that the facility could begin work as early as 2010.
Furthermore, Music Actvities would like to nurture informal music groups, like garage bands.
"I would like to facilitate creativitiy in our students," Dunphy said "Having a garage band program could allow for both creative and technical development of student bands."
Because the biggest concern with garage bands is noise, Music Activities is looking to create sound proof practice rooms.
In addition, they're trying to place pianos across campus for practice. Though Music Activities is expanding rapidly, there are no plans to develop the department into an academic program at Villanova.
"There are many schools that already do an excellent job of producing music professionals," Pinchock said. "There's really no need for us to develop into a full-time music program."
However, even without a full-time program and using stretched space, musical groups are flourishing on campus. Villanova currently hosts 25 performing organizations including instrumentals, dance groups, theatre groups and a dedicated stage crew.
Among other performances, many groups are featuring tours this year. The Band, for example, will travel to Orlando during spring break to perform for churches and other local groups.
"I joined the band last year and already have become part of its tight-knit community," said sophomore Zander Goss. "Tours are a great way to strengthen those bonds and form lasting friendships."
The Singers, Voices and Gospel Singers will travel to Rio de Janiero in Brazil during spring break.
"I'm really excited for the trip to Brazil," junior Christina Khattar said. "It should be a great opportunity to bond with other singers and show the world our talent.
Villanova Student Theatre is also kicking off its 20th year with a production coming up soon. Villanova Student Music Theatre also dove into the school year with its first production coming up soon.
Several new groups have developed recently, including an Indian Fusion dance team and an overall acapella organization.
Music Activities hopes to expand its diverse activities as facilities increase. The ultimate goal is to get every student who wants to participate involved with Music Activities in some way.
"With a society saturated in pop culture, Music Activities is cruvial to developing well-rounded students," Dunphy said. "Creativity is the key to solving the future's problems, and Music Activities wants to do our best to help unlock that creative stream. New facilities are the first step in that direction."