CAT releases fall concert lineup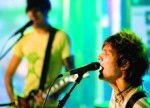 Trying to end the "Holy War", CAT is partnering with St. Joe's this year to bring the Verizon Wireless Campus Tour to Villanova. The Sept. 30 concert will feature Boys Like Girls, Cute Is What We Aim For and Lights. The concert will be in the Pavilion and doors will open at 6 p.m. with the concert beginning at 7 p.m.
St. Joe's campus activity team approached CAT during the summer about co-sponsoring the event. Because of construction on St. Joe's campus, partnering to bring the event to both campuses seemed like an ideal solution. CAT Musical Events Directors Dan DiGregorio and Audrey Scott have been working with St. Joe's and CAT Adviser Nikki Hornsberry to produce the event.
"This year, we decided to try something new and open the concert to the public," said Paul Martucci, CAT's director of public relations. "We're hoping it will increase turn-out and create a better concert experience."
Offering a temporary treaty of the schools' long-standing rivalry, the concert will be open to both schools and the general public. There will be 500 tickets distributed to both St. Joe's and Villanova students, and the rest of the tickets will be open to the general public through a third party. Students beyond the first 500 can also buy tickets through the third party.
Like last year, tickets will most likely be available for purchase online as well as in the CAT office in 108 Dougherty. Tickets will most likely be available beginning next week.
Boys Like Girls are a Boston-based pop/rock outfit featuring singer/guitarist Martin Johnson, bassist Bryan Donahue, drummer John Keefe and guitarist Paul DiGiovanni. The band secured a spot on nationwide tours after developing an online following from early demos. Its catchy hooks and youthful enthusiasm were contagious, and the band soon produced its first self-titled album in August 2006 with the record label Red Ink.
Boys Like Girls gained mainstream popularity with their 2007 hit "The Great Escape" which reached No. 23 on the Billboard Hot 100 Chart. Their songs "Hero/Heroine" and "Thunder" have also been chart successes.
Emo/pop outfit Cute Is What We Aim For features vocalist Shaant Hacikyan, guitarist/pianist Jeff Czum, drummer Tom Falcon and bassist Jack Marin. The band produced its first full-length album "The Same Old Blood Rush with a New Touch" in June 2006. The album peaked at No. 75 on the Billboard 200 Chart.
In June, the band released its second album "Rotation." On its Web site, Cute Is What We Aim For describes the album's theme as change – "external change, internal change, global change, political change, social change."
The final artist coming to campus is Lights, a female artist named Valerie Poxleitner. A Canadian synth pop singer-songwriter, Poxleitner has had four of her songs featured in 2008 Old Navy commercials, including her most recent hit, "The Last Thing On Your Mind." When on stage, she performs with Adam Weaver on synthesizers and Maurie Kaufmann on drums.
Last year's November concert featured alternative rockers Motion City Soundtrack in the Jack Nevin Field House. Metro Station, Mae and Anberlin opened the event.
Though the concert faced possible cancellation due to contractual problems, the event went on as scheduled.
The concert was well-received by the students who went even though the Field House was only half-filled. The problems the fall concert faced last year motivated the CAT team to change methods this year.