University dedicates Driscoll Hall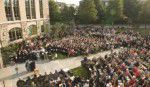 Driscoll Hall, the new home of the College of Nursing, was officially dedicated on Oct. 6. University students, alumni, faculty and staff attended the ceremony, which took place on the grass and walkways in front of the new building. The dedication and blessing of Driscoll Hall included remarks by University President Rev. Peter Donohue, O.S.A., and Dr. M. Louise Fitzpatrick, dean of the College of Nursing, among others.
"This day symbolizes the confidence and commitment of this University to its nursing students," Fitzpatrick said. Both Donohue and Fitzpatrick praised Villanova and the College of Nursing for its work on realizing the nursing program's first permanent home on campus.
The 75,000 square-foot Driscoll Hall surpasses all previous nursing facilities used by the College. In addition to classrooms and offices, the building is home to 10 clinical simulation labs and three standardized patient labs to give students realistic experiences.
Driscoll Hall is also the first "green" building on campus, utilizing recycled construction materials, low energy consumption fixtures and passive heat management design. Following the ceremony, nursing students provided tours of the facilities for all interested attendees.
Also present and honored during the ceremony was the new building's namesake, Rev. John M. Driscoll, O.S.A. Driscoll served as the 30th president of the University from 1975-1988. "This building reflects a man … who has been dedicated to Villanova for many years," Donohue said.
Driscoll originally hired Fitzpatrick as the College's dean during his time as president.
"In Driscoll Hall, we have a building that is not only inspirational but also completely equipped to complement the skills and expertise of our faculty … to care for the whole person – physically, psychologically and spiritually," Fitzpatrick said.
Driscoll Hall was designed with elements of the campus at large, both physically and spiritually, in mind.
The College of Nursing's new home combines academic facilities with common spaces for students, offices and a chapel, offering students a home conducive to the holistic care supported by Fitzpatrick.
Many of Driscoll's academic facilities, open to the public to view during the event's tours, also give students realistic experiences of a caliber never before possible on campus.
Clinical simulation labs provide students with a hospital atmosphere where they learn to deal with situations they will face as nurses.
Labs include an operating room, critical care lab and maternal child health care lab.
A control room allows faculty to remotely observe students' behavior, control scenarios and the behavior of patients and communicate with students and other faculty.
"Students will be prepared for the challenges of health care," Fitzpatrick said. "Driscoll Hall will support that development."Fitzpatrick was quick to note, however, that the opening of Driscoll Hall is only the beginning in the College of Nursing's advancement.
"As beautiful as Driscoll Hall is, it's what's inside that's important," Fitzpatrick said. "We embrace the future that this building will support. Today is a context for what will occur."