Star Watch: Slugger Morese continues to shine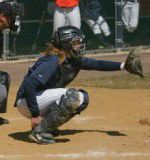 It is just weeks into her first season in '06, but Meghan Morese is about to show she is already comfortable at the collegiate level. The talented freshman from Laguna Hills, Calif., steps into the batter's box, fresh off a home run in her last at bat. As the pitcher delivers the ball to the plate, Morese simply needs a flick of the wrists to knock her second ball in as many at bats over the fence. As she rounds first base, Morese sees an opposing player is about to say something to her. She looks over in time to hear the fielder say, "Seriously, again?" It was something her opponents would have to get used to.
Morese, the team's catcher who is now in her junior year, made her first season with the Wildcats a memorable campaign. Her .364 batting average with 11 home runs and 39 RBIs earned her All-Big East First-Team honors. In the process, her 11 home runs set a new single-season mark in Villanova history.
While her fast start to her college career may have been surprising to many, Morese knows exactly why she was able to play so well from day one.
"All my hard work helped," Morese says. "I've been giving up my weekends since I was 7."
Morese has been dedicated to the game of softball almost her whole life. Instead of being out with friends on the weekend, she would go with her father to endless rounds at the batting cage. The non-stop work ethic that developed at a young age may be her best quality on the diamond.
After receiving numerous accolades the previous season, Morese was expected to have an even more impressive second year with the Wildcats. However, by season's end, her final totals in almost every category were down from the previous year, as she finished with a .240 batting average to go along with six home runs and 29 RBIs.
Many people were searching for answers to why her numbers fell off, but Morese herself offers an easy explanation.
"I was aiming too much for the fences," Morese says. "Instead, I should have been working on my fundamentals."
It was the game's fundamentals that the junior catcher focused on coming into this season. She wanted to get back to the things that had made her so successful the year before.
However, there was something beyond the fundamentals that she realized she needed in order to have success. That missing element was confidence.
"Now I'm going up to the plate and knowing, 'I'm better than you,'" Morese says.
Her budding confidence and return to fundamentals have been the spring board to one of the best individual seasons in Villanova softball history. Morese is currently tearing apart opposing teams' pitching, as she is in the top 10 in the Big East with a .357 batting average and a .581 slugging percentage. Morese also finds herself among the league leaders in hits and doubles. She only has six homers thus far this season, but after swinging for the fences too often the previous year, her 2008 numbers show that Morese can succeed without the impressive power numbers.
With such a remarkable season underway for Morese, she cannot help but notice how she compares to the rest of the league's elite.
"Before I wasn't even thinking about it," Morese says. "Now everyone is like, 'You're this' and 'You're that.' "
Morese's offensive numbers are a major reason why Villanova has been able to win several big games this season. The Wildcats have been able to knock off Big East elite teams Louisville and Notre Dame, as well as hand the league's top team, South Florida, one of its two conference losses. While the team may not be among the league's elite with a 5-11 conference record and standing at 16-24-1 overall as of Tuesday, having an all-league caliber catcher means that the 'Cats will be able to play with anyone.
Morese not only leads the way offensively, but by being the team's catcher, she has an influence on every play in the field. To make the maximum contribution to her team, she knows that she has to spread her own confidence to her pitching staff. If she can do that, the team will reach a new level.
In the meantime, the junior will just continue to hit. As the numbers pile up, the records will fall, and when all is said and done, she will finish with one of the best careers in school history.